One afternoon, Graeme and Wendy's youngest daughter presented an image of a deep pink house she'd drawn on a piece of paper. The vivid colour of her creation inspired the moniker for the family's renovation project – "Cerise", a deep, purplish red and the French word for cherry – as well as many of the playful themes that transformed this staid Victorian terrace in Melbourne into a split-level, kaleidoscopic home.
The clients, along with their three children Milla, Pearl and Molly, bought this house after five years on an eight-acre property in Red Hill. Their new home – a dim terrace on a six-metre-wide plot in a cluster of five houses – was a far cry from the old. A dowdy 1970s renovation had added various ad hoc lean-tos, and heritage overlays limited alterations beyond the building envelope.
Architect and interior designer Fiona Dunin, of FMD Architects, had to work around these issues to renovate the kitchen and bathrooms, improve natural light, incorporate flexible living and study spaces, and showcase the couple's buoyantly funky art collection.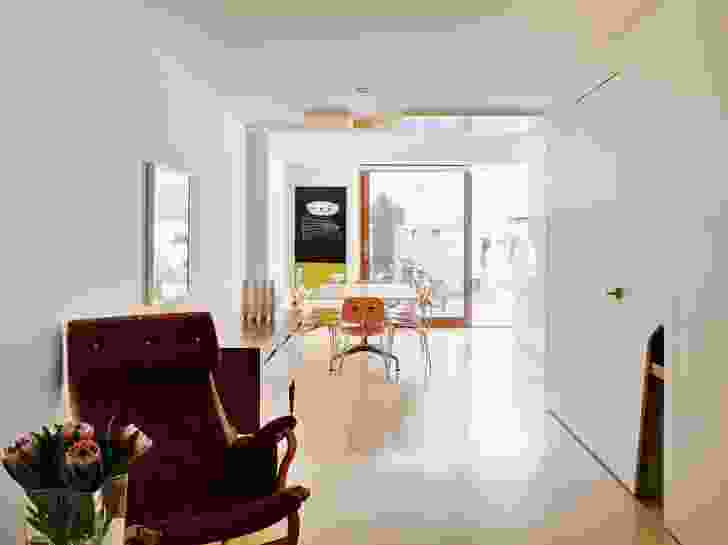 "As an architect, you often try to set things flush and square, but after years of experience working with old buildings that are consistently misaligned we decided a better technique was to take a layered approach," Fiona says. "Rather than conceal what we have added, we highlight it to reveal what was already there."
The layering begins at the Victorian front of the house, which incorporates a long hallway with high ceilings, a lounge room and a separate sitting room, with open fireplaces opposite the original staircase. Fiona left the walls white to present the art collection, but introduced a new layer of bright colour on the floors, starting with hot pink carpet at the entry. "At each threshold we introduce a different band of colour that shoots across the floor and wraps up the wall, affecting the joinery and whatever is in its path," Fiona says.
She introduced a more natural theme at the eastern end of the house. Bamboo floors begin alongside a walled courtyard and flow through an interchangeable reading and dining space with built-in study into the kitchen, which was shortened to allow for an adjoining bathroom. Sustainable design features include double-glazing in the full-height windows facing the backyard, and elevated, gravity-fed rainwater tanks.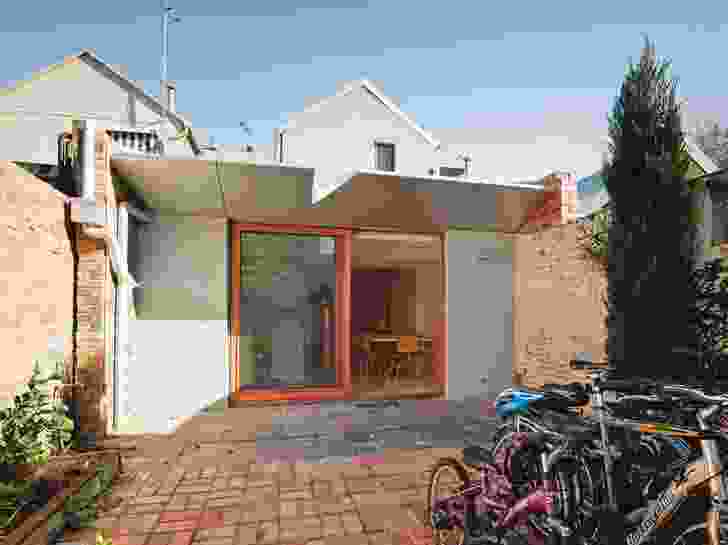 Here Fiona introduces curves and architectural incisions, a technique she first developed during her early training with architect John Wardle. Irregular shapes combine straight edges with arced lines, and appear in various sizes in the joinery throughout the house. An example is the cut-out in the bifolding doors that peeks through to the concealed study, expressing the various alignments that describe the original structure. They appear again in kitchen drawer details, in a plywood plinth hovering over the dining area and in a detail of recycled cork that marks a "messy zone" designed for general bits and pieces.
Fiona draws by hand. "After a few years of guiding this practice the ideas of layering, messiness, misalignment and not centring things have become very integral to what we do in this office," Fiona says. It's not always simple; it took ten attempts to design the cut-out panel on the balustrade, which was designed to allow large pieces of furniture to be moved from one level to the next. While she retained some original features, such as the skillion roof, she manipulated others. "We reworked the outside canopy facing the backyard, so that it tilts up instead of down, to allow morning light to come in underneath it," Fiona says.
An existing stair provides access to the three bedrooms and a bathroom, and to everyone's surprise, there was so much space concealed in the roof that Fiona was able to create an attic, storage and study area with its own access stair. Fiona has introduced a playful device here. Instead of physically manipulating the stairwells, she attached mirrors to the undersides of both staircases, using the faceted shapes to create the impression of a kaleidoscope. This allows surrounding colours, including the blue tiled floor and green vanity in the nearby bathroom, to reflect up the stairwells and also forces the house to look back on itself. "It works beautifully because it lightens the heaviness of the stair," Fiona says. "Rather than being oppressive, it reflects."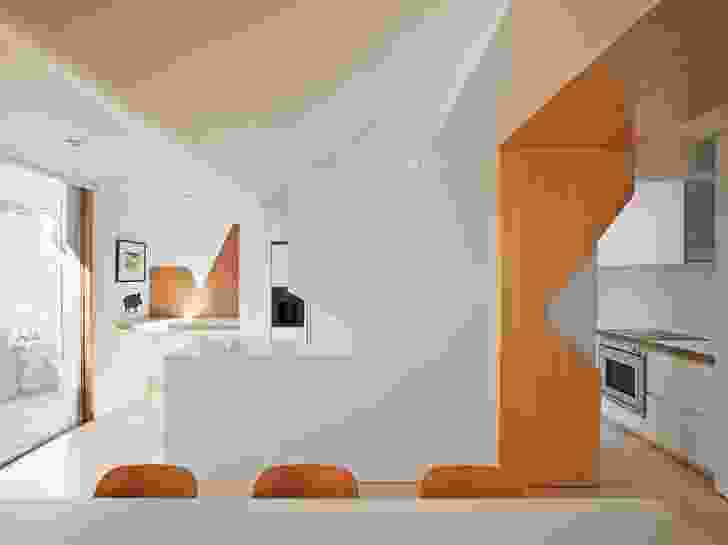 "It's a little bit dramatic in a fun way," Wendy says. "Fiona has been very clever. She worked hard to fit so much inside, and she makes it look easy." From the start, Graeme and Wendy's children were involved in concept and design meetings, and their influence is felt in the playfulness of the final design. Now it is a house that can be grown into and altered respectfully, with affectionate peeks at what was there from the beginning.
Products and materials
Roofing

Galvanized roof sheeting.
Internal walls

Plaster painted with low-VOC paints.
Windows

Clear double-glazed glass.
Flooring

Tretford carpet; bamboo flooring.
Lighting

Compact fluorescent; T5 fluorescent.
Climate control

Foster hydronic heating; natural ventilation.
Kitchen internal walls & ceiling

Finished with Dulux Specifier, colour 'Vivid White' and Dulux Enviro2 flat acrylic paint.
Kitchen flooring

BT Bamboo flooring, colour light sand with satin finish.
Kitchen joinery

Benchtops and cupboards finished in Laminex 'White' flint finish; custom plywood edge on benchtop; Splashback Classic Ceramics Ascot series tile, colour white with matt finish.
Kitchen Lighting

Compact and T5 fluorescents fittings.
Kitchen sinks & tapware

Abey SE125 kitchen sink and Oxygene sink mixer.
Kitchen appliances

Gaggenau appliances throughout; Jenn-Air refrigerator.
Bathroom internal walls & ceiling

Classic Ceramics Vogue series tile, colour white in 'Ghiaccio' matt finish; paint finishes Dulux Specifier, colour Vivid White and Enviro2 low sheen acrylic.
Bathroom flooring

Classic Ceramics Vogue series TR Colbalto ceramic tile in cobalt blue gloss finish.
Bathroom joinery

Laminex benchtops, colour 'White' with built-up plywood edge; cupboards finished in Abet Laminati 451.
Bathroom lighting

Compact T5 fluorescents; Cosmoluce sealed downlights.
Bathroom tapware & fittings

Zucchetti 3300 series tapware throughout and Zucchetti Spin handshowers.
Bathroom sanitaryware

Fowler Seido wall-faced toilet suite; Reece Quad 40 counter basin; custom-made tiled bath hob.
Credits
Architect

FMD Architects
Melbourne, Vic, Australia
Project Team

Fiona Dunin, Katherine Sundermann, Michelle Skinner, Rob Kolak
Consultants

Builder Wilstruct
Engineer Irwinconsult
Interiors FMD Architects
Joinery Gellibrand Cabinetworks

Site Details

Location Carlton, Melbourne, Vic, Australia
Building area 242 m2

Project Details

Status Built
Design, documentation 6 months
Construction 9 months
Category Residential
Type New houses

Source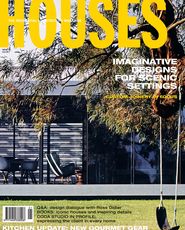 Issue
Houses, February 2010
Related topics