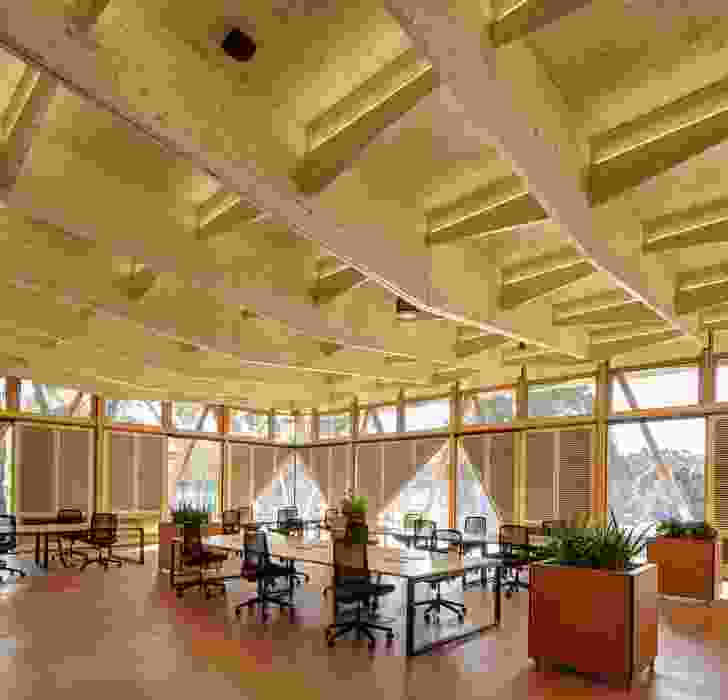 A timber, prefabricated "innovation hub" by Architectus has been named the overall winner of an awards program that rewards innovative education design.
The Macquarie University Incubator won the overall prize at the 18th Excellence in Educational Facilities Awards. The awards are organized by the Association for Learning Environments Australasia, which describes itself as the "peak body advocating for innovative learning environments throughout Australia, New Zealand and Singapore." The organization draws its membership from both education sector and design and architecture.
The Incubator was also the winner in the "New Construction / New Individual Facility over $8 million" category.
The jury said the building, which was completed in 2017 in just five months, "makes innovators want to be there and users want to innovate, linking the mind and spirit through form.
"The layout gives users a place to arrive, think, meet and explore ideas."
The building features hot desks, digital conferencing facilities and meeting spaces. It is designed to "amplify and imbue deep thinking around innovation, bringing together entrepreneurial spirit, ingenuity, collaboration and support," according to principal architect Luke Johnson, who spoke to ArchitectureAU about the project in September 2017.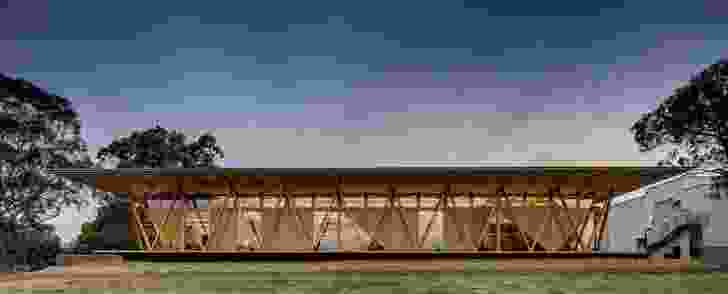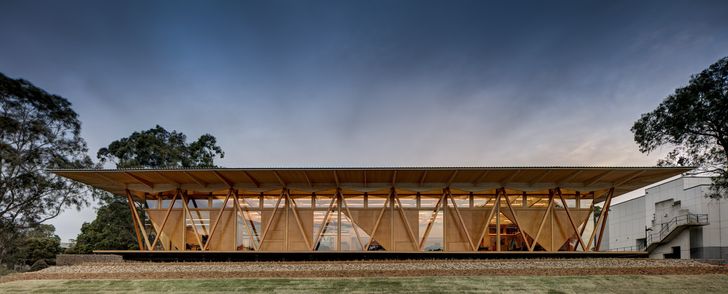 The predominantly timber building, which was fabricated off–site and assembled at Macquarie University, includes a ceiling structure made of cross–laminated timber (CLT), large span Laminated Veneer Lumber (LVL) beams and Glulam V columns. Construction involved Lipman and Strongbuild.
Johnson said the use of a range of engineered timbers allowed the architects to create "a sequence of spaces that are tactile and characteristically warm. And, somewhat unexpectedly, the natural aroma of this timber palette is a pleasure for its users."
The winners of the 2018 Excellence in Education Facilities Awards are:
New Construction / Entire New Educational Facility
Winner
Mernda Central P–12 College – ClarkeHopkinsClarke Architects
Commendation
Singapore Management University: School of Law – MKPL Architects (Singapore)
New Construction / New Individual Facility over $8 million
Winner
Macquarie University Incubator – Architectus
Commendation
The Science Place, James Cook University – Hassell
Ara Kahukura, Ara Institute of Canterbury– Jasmax (New Zealand)
Bellevue Hill Public School – New Learning Environments and Group GSA
New Construction / New Individual Facility Under $8 million
Winner
Champagnat Centre, Marist College – Y2 Architecture
Commendation
Concordia College Nautilus Centre – Russell and Yelland Architects
Renovation / Modernisation over $2 million
Winner
St Monica's Senior Centre – Baldasso Cortese
Commendation
Flinders University Student Hub and Plaza – Woods Bagot and Flinders University
Renovation/ Modernisation under $2 million
Winner
Seymour College, Yurrebilla Centre – Swanbury Penglase Architects
Commendations:
Frankston Primary School, Early Learning Centre Refurbishment – Chaulk Studio
The Victoire Flexible Learning Centre, FCJ College – No. 42 Architects
An Innovative Education Initiative
Winner:
Studiofive, The University of Melbourne – PTID
Commendation:
The New Generation Learning Spaces Project, The Anglican Church Grammar School – The Anglican Church Grammar School, Brand and Slater Architects
Landscaping/ Outdoor Learning Area
Commendation
Quantum Victoria STEM Garden – Ochre Landscape
Related topics