Life-cycle thinking has become popular in ecological architecture. However, the radical ways in which a building may need to change and adapt during its life are too rarely considered in design. Commercial buildings will be replanned and reimagined over their life spans. They may change function or program, and will certainly experience different periods of occupation and use. As our climate warms, their systems may need transforming. As technologies and industry evolve, there may be a desire for a program to move site. Should a building not be able to accommodate such change, efficiently and economically, it will become obsolete, leading to its demise.
The effect on the environment of building obsolescence is significant: a 2016 report revealed that twenty megatonnes of construction and demolition waste was produced in Australia in 2014–15, of which 7.1 million tonnes was sent to landfill.1 While change is inevitable, architectural design is often geared toward "day one," when the building opens and the keys are given to the tenants, with little thought as to what the longer term might hold. Designing in the flexibility to accommodate major change can be challenging, given that future scenarios are (generally) unknown. Yet, future change can become a dominant driver for initial design. This is demonstrated in the Macquarie University Incubator.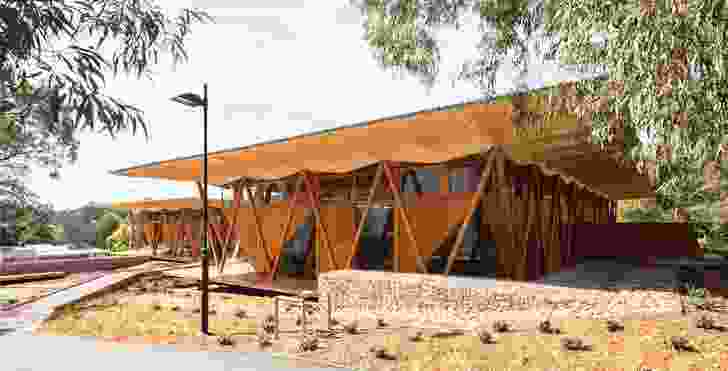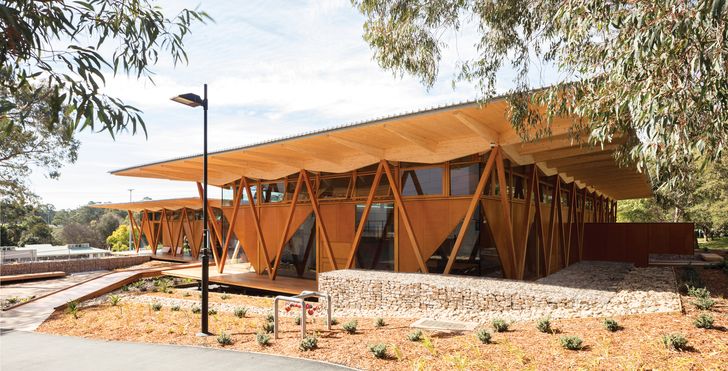 The design for the Macquarie University Incubator is informed by a new masterplan for the Sydney-based university. The intention is for a new multistorey commercial building to emerge near the university train station, and for this to house an incubator – a centre to foster the growth of innovative young businesses. This vision is several years away, but a grant has allowed for its acceleration through the creation of a new "temporary" standalone incubator. A design competition for the project was held and outlined four main challenges: no final site had been identified; the building would need to be demountable and able to change function once the permanent incubator opened; it would need to be able to be built quickly; and finally, echoing the program, it would need to embrace innovation in design and construction.
The competition was won by Architectus, which, in collaboration with Arup, had developed a prefabricated timber concept. Modular timber was chosen not only for its ecological benefits but also because it would allow for rapid construction on site, with minimal disruption to daily life on campus. Post competition, several sites were considered for the temporary incubator, with the final choice being a sloping carpark on the university's periphery. This is unfortunate, as such a remote site lacks the vitality and footfall that a program of interaction and innovation would benefit from.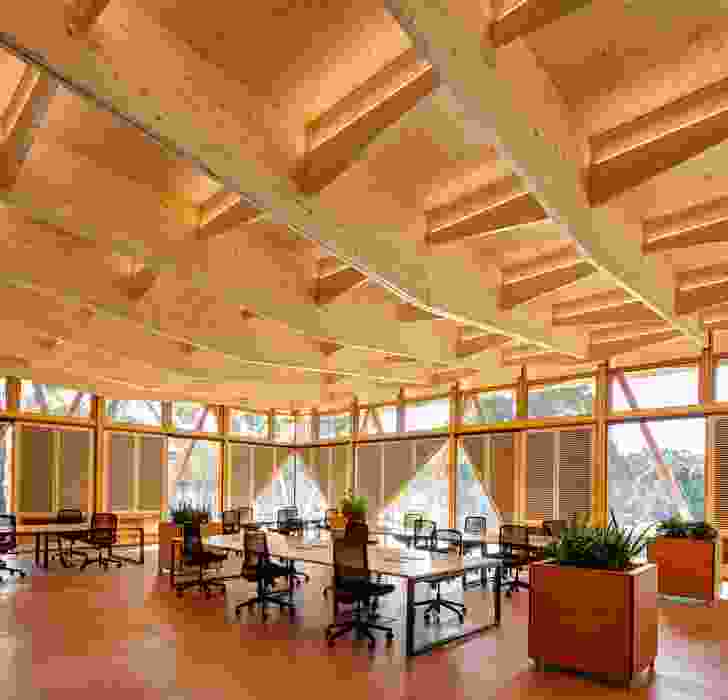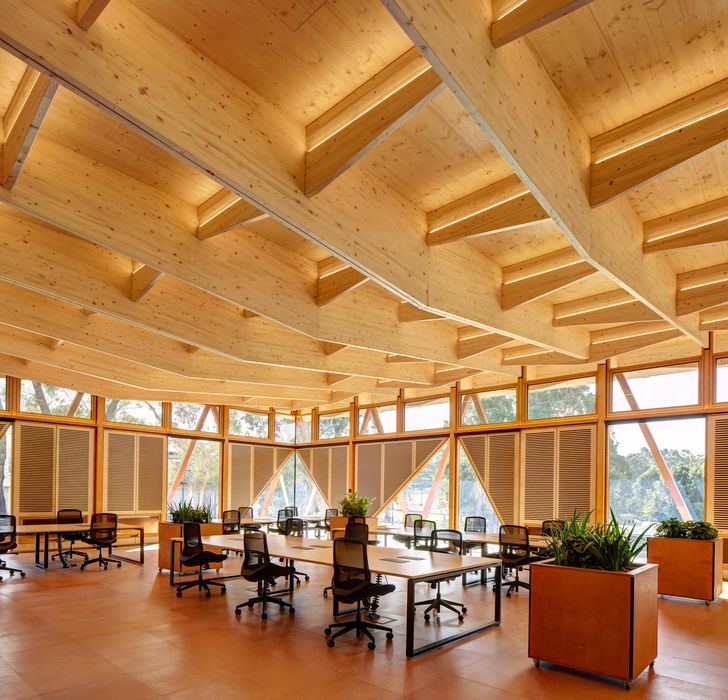 However, the clear success of the project is in the architectural integration of construction systems and technologies, demonstrating that the architects have embraced the brief for the building to be flexible and relocatable. The design consists of two pavilions connected by a link structure. This design responds to the site, breaking down the building's mass and allowing it to step elegantly down the sloping landscape. Existing mature trees have been maintained. The two pavilions also manage the accessibility of the program: one is for public events, the other for private occupation and hot-desking. A free plan has been adopted, with structure pushed beyond the envelope. Internal walls are non-structural, with services accommodated in easily accessible voids in the walls and floors.
The upshot is that, although the structure may have a short life as an incubator, it can have a long life as a useful building, as it can easily be replanned and flipped into other functions – a teaching space or creche, for instance.
Screw piles, chosen for their ability to be installed quickly and easily and for their re-useability –qualities not attributable to traditional concrete footings – form the foundation. These support cross-laminated timber (CLT) floor cassettes, fabricated offsite by Strongbuild and delivered complete with underfloor air plenums and perimeter grilles for heating and cooling, along with all cabling. V-shaped hardwood columns of Victorian ash form a perimeter structure to support the vast eighteen-by-three-metre coffered CLT and timber glulam roof cassettes. These were installed over two nights, between 2 am and 4 am to minimize disruption, and delivered complete with all services, including routed LED light strips, installed. Overall, construction was completed in just five months.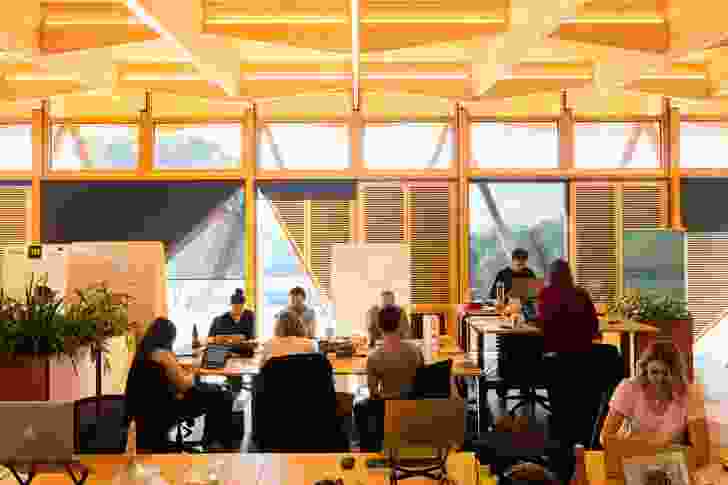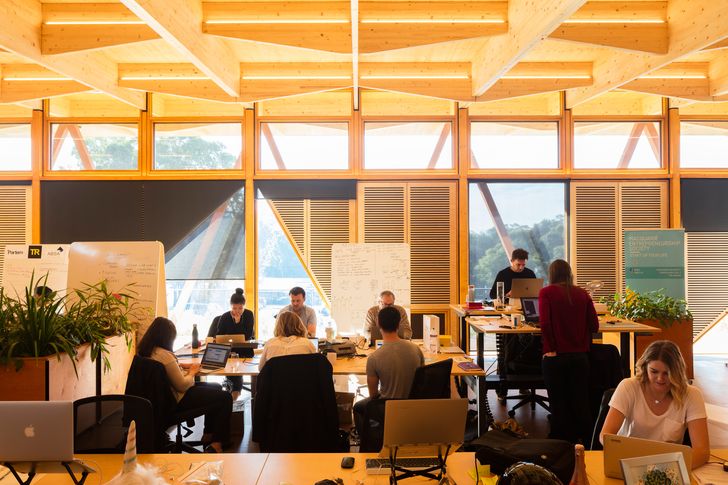 There is an absolute commitment to timber throughout, including cork floor tiles, hardwood decking and plywood wall panels. The result is a vibrant yet comfortable interior atmosphere. One incubator occupant commented, "I'm happy to be here, I love working here, and there's something about working with wood … it's beautiful." The landscaping, with its resilient native planting and use of stone gabion walls, provides a robust contrast to the warmth of the timber. The precision of the incubator's construction is celebrated in the material tectonic, with solid yet highly crafted details on show. Shadow gaps are precise throughout (during construction the sledgehammer was apparently needed only once – to encourage one of the columns to be a bit more forgiving of the cladding). Frameless glazed corners provide transparency, while the dramatic three-metre cantilevered eaves create shade and an elegant roof profile. Perhaps the least successful element is the link building, which lacks the tectonic refinement of the pavilion structures on either side.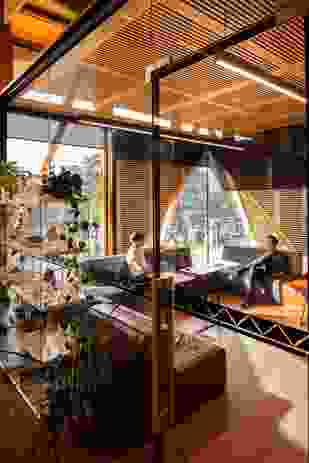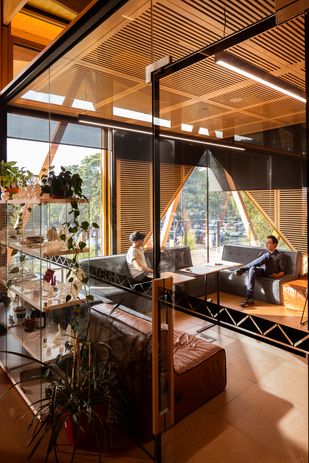 The adaptable structure is echoed through adaptable passive design. The local north Sydney climate is mild, yet varied. Likewise, the building occupation can fluctuate dramatically; at times there are only a handful of users, at others, such as when public events are held, there are more than 250. As such, the building needed to provide comfort across a multitude of conditions. The solution is a mixed-mode system. Low-level operable panels allow occupants to directly adjust enclosure and ventilation, while high-level windows are controlled by the building management system to provide greater access to air, or to allow for night-time heat purge. Overall, Arup estimates natural ventilation will be effective for 60 percent of the year. These passive heating and cooling elements, combined with the carbon sequestration characteristics of the timber and a photovoltaic roof array, result in a building that has a minimal environmental impact, both in its materials and its operation.
Such is the success of the project that it has been suggested the university no longer wants to relocate it in the future, although its function will still change. This is perhaps a shame, as much would be learnt from the disassembly, and subsequent reassembly, of such an innovative prefabricated timber structure in a different topography and context. Would it be as quick and easy as constructing it in the first place? It is difficult to know. But that's not to take away from a project that has pushed timber prefabrication to the next level, creating an engaging architecture for the present, while unlocking possibilities for an unknown future.
Credits
Architect

Architectus
Australia
Project Team

Luke Johnson (principal), Nick Elias (project architect), Angel Yi Zhang, John Jeffrey, Hope Dryden, Taija Love
Consultants

Access consultant Morris Goding Access Consulting
BCA and PCA BCA Performance
Facade fire and structural engineer Taylor Thomson Whitting
Landscape architect ASPECT Studios
Managing contractor Lipman
Project manager Root Partnerships
Quantity surveyor WT Partnership
Structural, civil, mechanical, electrical, hydraulic, fire, acoustic and ESD engineer Arup
Town planner Ethos Urban

Site Details

Location Sydney, NSW, Australia
Site type Urban

Project Details

Status Built
Category Education
Type Universities / colleges

Source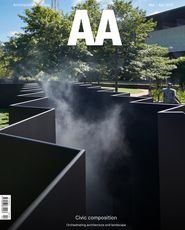 Issue
Architecture Australia, March 2019