There is something to be said for local knowledge. "Up on the ridgeline, it's definitely a sort of microclimate," says Justin Noxon, a director at Noxon Giffen, as he surveys the site of Main Ridge House. It is a sloping block typical of Victoria's Mornington Peninsula, lightly treed around the edges and descending from a curve in the road to finish at a bucolic pond and wetlands.
Having spent much of his youth holidaying in the neighbour-hood and, more recently, having worked on several projects nearby, Justin brought to the project a thorough understanding of the region's particular climatic conditions and how to work with them.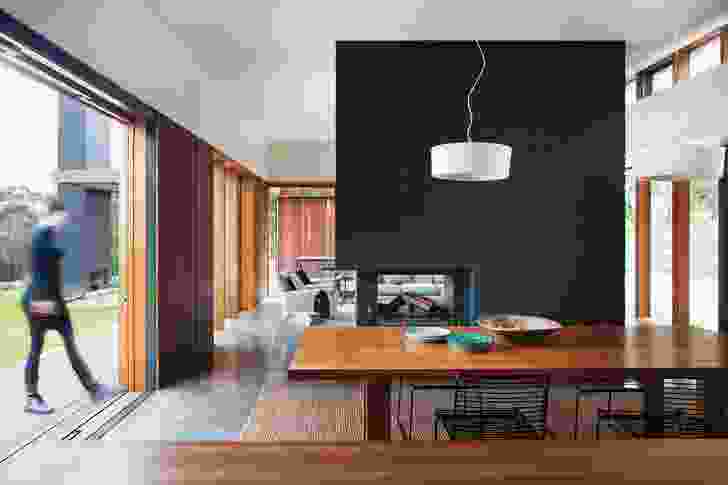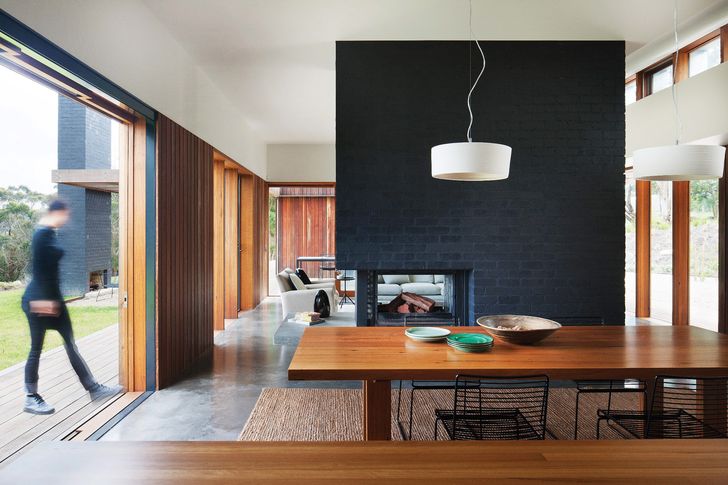 "Running the house across the site might seem counter to some of the usual sustainable design considerations, but it means that every single habitable room has a full vista and there is protection from south-westerly winds," Justin says of the house's north–south orientation. The architects explored the option of running the house down the site, but found that doing so would have resulted in a lot of areas that weren't connected to the landscape. "For this particular brief, it wasn't about hovering or cantilevering; we wanted it to be on and in the landscape a bit more." To this end, the project also harnessed the site's geothermal potential as an alternative energy source – a network of pipes was installed underground to make the most of its power-generating capability.
The client, originally from Melbourne, had spent a number of years living in Sydney and was looking to relocate. The vision was for a sturdy, comfortable holiday home that could be transitioned into a full-time residence over time. The client was drawn to Noxon Giffen by one of its other projects, the nearby Main Ridge Dairy. "She liked the idea of rawness, of simplicity, of rusticity. She wanted to capture that materiality but to still have a comfortable home," Justin says.
The resulting project is a lean rectilinear box that hugs the contours of the site. Clad in vertical spotted gum boards, it has already begun to weather gently and to nestle further into its site. The crisp geometry, simple spatial arrangements and rigorous detailing typical of the practice's work create a tranquil interior. The main entry is at the midpoint of the central volume, an open-plan kitchen, dining and living zone. The main bedroom and a study occupy the northern end while two further bedrooms and a guest bathroom occupy the southern end. A long hallway acts as the main circulation, connecting the spaces and forming a central spine.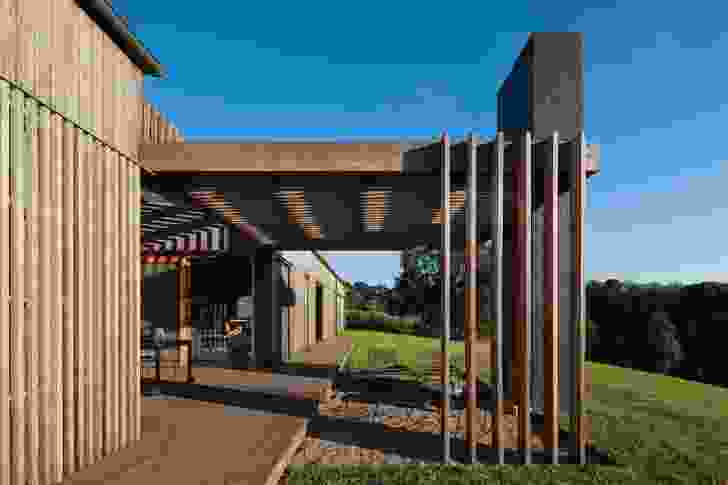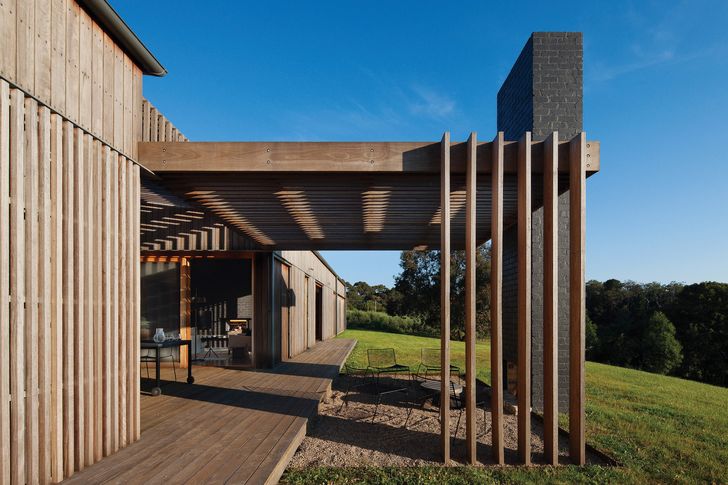 "It's a simple plan, but we knew how to work with it, to sculpt it and manipulate it [to] end up with more interesting spaces," Justin explains. "The orientation gave us all the cues for the other design elements – to make the best of the breezes, the outlook and so on." A case in point is the pair of angled nooks opposite the study. They're a clever manoeuvre, sculpting the rectilinear form to create an intimate day bed and reading nook with a large north-facing window that looks out over a bed of succulents.
Another unexpected gesture is the sheltered outdoor kitchen alongside the living room. It has been scooped out of the rectangular form and is roofed by a tracery of parallel battens. It culminates in a striking external fireplace, which Justin likens to a burnt stump in a bush setting.
Inside, the recycled brick fireplace that divides the living and dining rooms plays a similar structural role. Finished in dark grey, it is a ruggedly textured monolith, but fine enough to divide without enclosing the neighbouring living and dining spaces. A concrete plinth slides along its length, a perfect spot for artefacts or firewood. "I love the look of it," the client says. "It's beautiful and practical." The sombre shade of the painted bricks also picks up the hues of the polished concrete floor.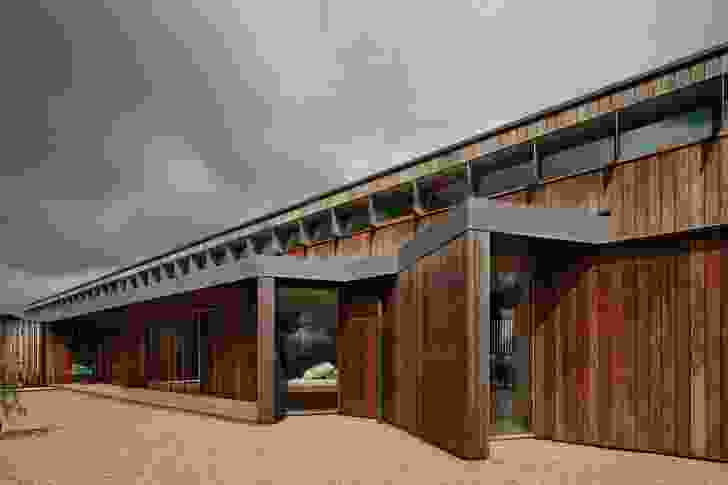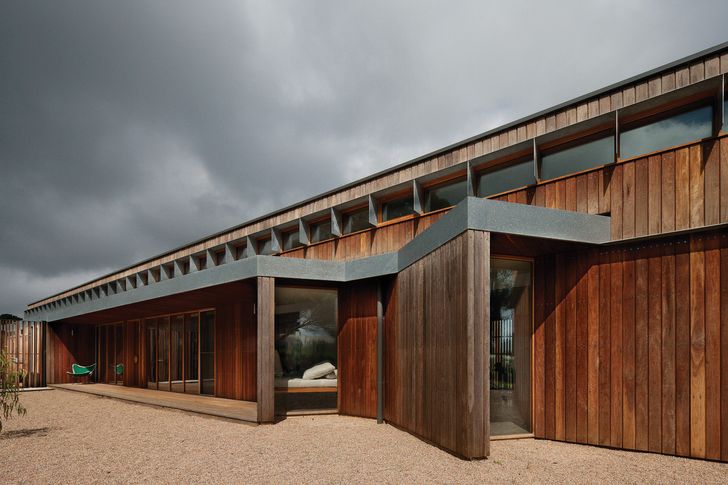 Western light can be tough to deal with in Australian conditions, so Justin equipped the windows with sliding timber screens to give the client more flexibility with lighting and temperature control. Top-hung from a sturdy steel element that bisects the walls above door height, the screens have a rustic, almost industrial feel to them. "It's been designed so that the steel acts as a structural element, wrapping around the house and acting as a lintel over the big openings. It meant that we didn't have to touch the skin of the building to add further screens," Justin says.
A row of operable clerestory windows along the eastern facade flood the interior with morning light and, working in concert with the large windows opposite, they create a Venturi effect, drawing hot air up and out. Even on a blistering summer day, the interior is pleasantly cool.
Despite the pared-back aesthetic, there is a deft feel for materiality and a love of detail evident in every space. From the handcrafted timber disks that act as doorhandles for the elegant timber joinery in the guest bathroom to the batten-and-fibreglass-clad garage that glows like a beacon at night, the architects have succeeded in bringing a subtle richness to the project.
"I like to think there is something elemental in this house," Justin says. "There is a material and spatial simplicity that weaves through it; we wanted the character of the owner and landscape to really come through. We didn't want the architecture to overwhelm that human connection."
Products and materials
Roofing

Lysaght Longline roofing in Colorbond 'Woodland Grey'.
External walls

Spotted gum cladding in Cutek oil.
Internal walls

Painted plasterboard; Ampelite fibreglass sheeting in 'Opal'; spotted gum timber lining boards; painted brickwork (interior fireplace).
Windows and doors

Blackbutt hardwood frames in Cutek oil; Aneeta double-glazed sashless windows; solid-core internal doors, painted; Hafele Hawa telescopic cavity sliding door, painted; Airport Doors fibreglass with spotted gum battens (garage door); Designer Doorware and Interia door hardware; spotted gum timber batten sliding screens on galvanized steel frames with Brio top-hung sliding track.
Flooring

In-situ concrete slab; Ardex floor screed with clear sealer.
Lighting

Porcelume ceramic pendants; Gardens by Night external LED lights; Sonic Lighting and Inlite external and interior LED lights and downlights; Gineico Interiors outdoor pendant to deck.
Kitchen

Electrolux induction cooktop in black ceramic glass; Fisher and Paykel steam oven, pyrolytic wall oven and fridge; Bosch semi-integrated dishwasher; Qasair rangehood; Gessi Oxygene tap; joinery units from Mondo Furniture in Laminex 'Natural White' and Valchromat medium-density fibreboard in black.
Bathroom

Rogerseller fixtures and fittings; Caroma toilet; Stone Italiana Grain Imperiale vanity top; spotted gum timber veneer vanity joinery; Classic Ceramics porcelain floor tiles.
Heating and cooling

Direct Energy geothermal hydronic heating; Cheminees Philippe Radiante fireplace.
External elements

In-situ concrete underground water tank; Rietmans basalt stone pavers; spotted gum timber decking.
Other

Fire dish and bench seats by R.D. McGowan Building.
Source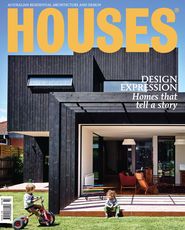 Related topics