There is something wonderful about seeing the craft that goes into a project like this. It's evident in every design gesture, in every material choice. There is a sense of purpose, of rigour. What emerges strongly in talking to Karen Alcock, who established McAllister Alcock Architects with Clare McAllister, is the firm's focus on developing a practical response to the brief and site, rather than abstract form-making.
"I like the idea of buildings that are driven by their brief and by the views, rather than saying, 'I'm going to build a house that looks like this or that,'" Karen says. "This building is about working with the views. You try to wrap the building around them and then you whittle away at it until it works."
The cranked U-shaped plan is a case in point. It might seem a little odd at first glance, but its angularity serves a purpose. The site – a rolling vineyard in Main Ridge on Victoria's Mornington Peninsula – has views to the south and the east, across the vines to a lush wetland and the bushy woodlands typical of the region. "You've got this house where all the views are away from the sun, so devising a courtyard house means that every room gets more light and they still get the views. It was about pushing and pulling the plan to make the most of what the site offered."
The brief called for a family home, a weekender, where the public space could be separated from the private. The clients own a prominent Mornington Peninsula winery, so they are often entertaining visiting vignerons. "They wanted somewhere that they could bring their overseas guests, something that would feel special. That was really important to them," Karen says, explaining the scale of the formal living area. It certainly is special – a vaulted space accommodating lounge and dining zones, equipped with enormous sliding doors to access the courtyard and the rolling meadow to the south.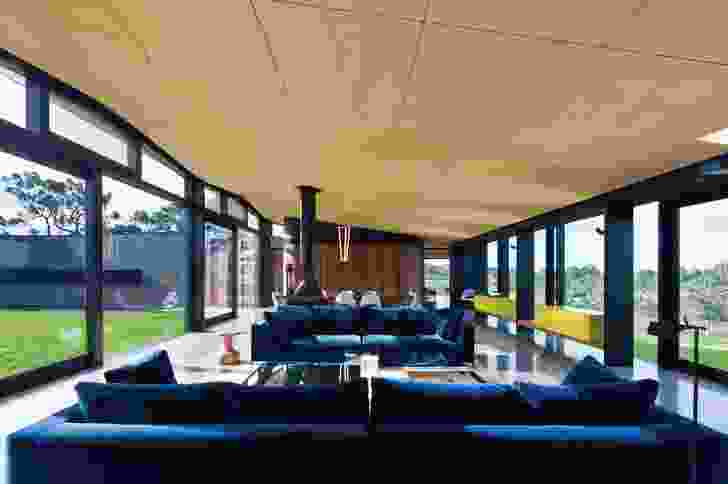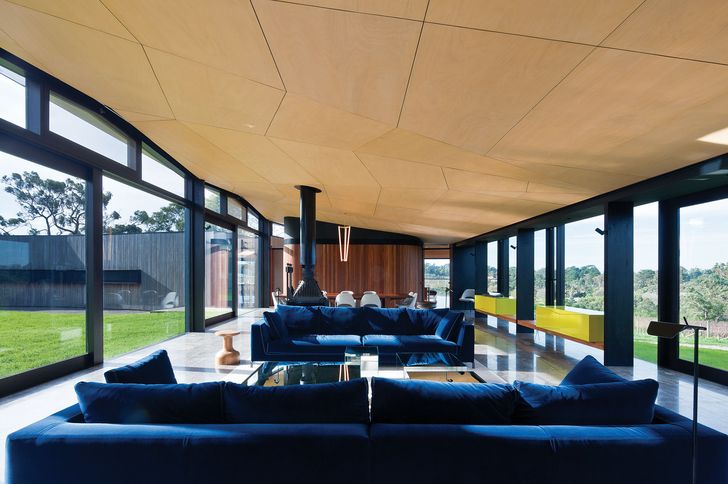 The mastery of angles evident in the plan also appears in the dramatic folded ply ceiling above. Tangram-like, it rises and falls in concert with the large portals that enclose the room. "It was really a matter of getting the angles to work," Karen says. "The ceiling is continuous and it facets around the structure. The challenge was to come up with something that felt like it wasn't driven by anything when it was, in fact, completely driven by practicality."
While this formal living zone fulfils the house's public duties, the client also wanted a house that offered private spaces for the family to enjoy by themselves. "Even though the house is quite particular, they're pretty relaxed," Karen says of the client. "It had to be something liveable." An informal living zone occupies the angled south-east corner of the plan, containing a robust kitchen, a timber table with built-in banquette seating and a lounge area. Its proportions are different from the main volume – it is smaller, more intimate, but with the same angular ceiling.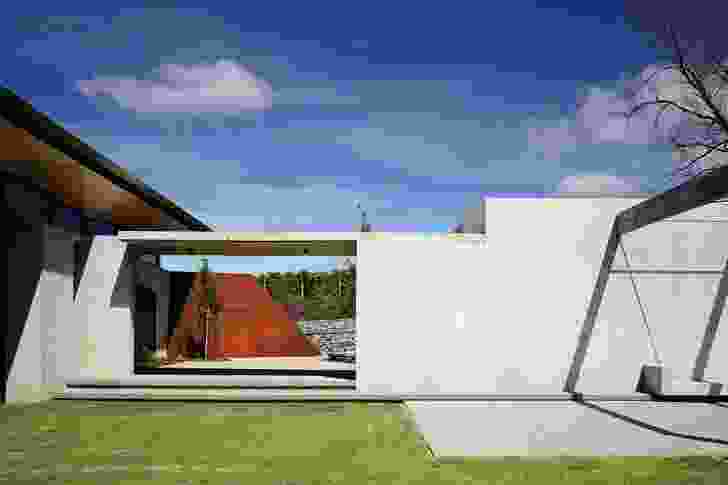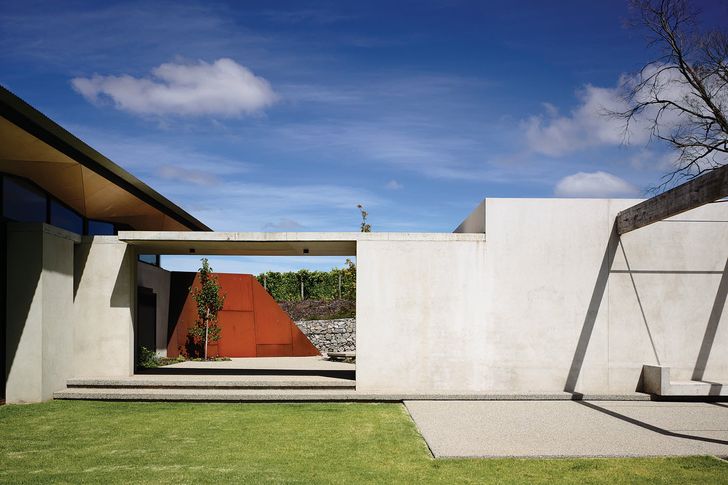 The private zone extends north from the main volume, housing the main bedroom and ensuite, two further bedrooms, a bathroom and a laundry. The windows here are scaled back, punching through the spotted-gum-clad wall to gaze down the vines. From this wing, a long slot window peers back across the courtyard to the house's entry, an angled incision between three Corten walls that protect the western facade. Visitors enter an elegant loggia, before accessing the courtyard. "You don't walk straight into the courtyard; the change of level makes you pause here. It's just a suggestion. You don't need to create anything physical," Karen says.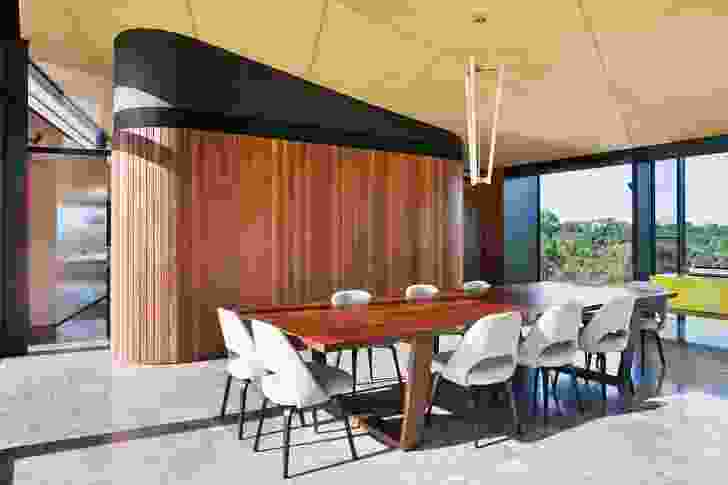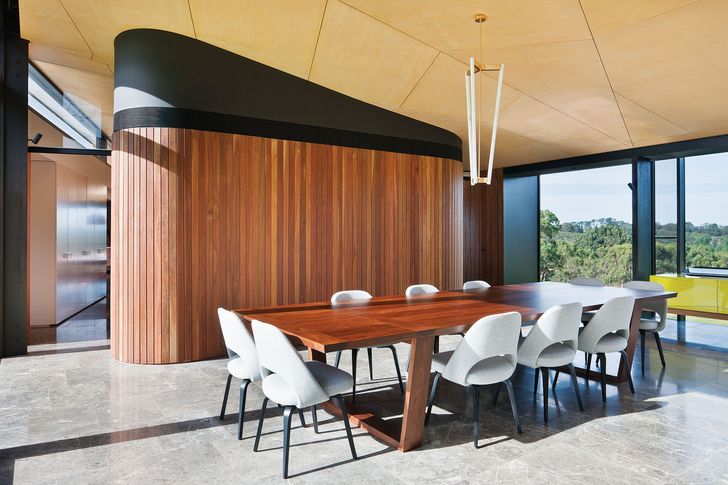 The material palette throughout is simple and robust. "You don't need a lot of materials; you've just got to use them with rigour," Karen says. Limestone tiles, chosen for their softness underfoot, give way to plush carpets in the bedrooms. Rough-hewn mosaic tiles add a tactile element to the bathrooms. Handles throughout have been handcrafted from leather straps. "We didn't want to have levers inside, so we custom-made the handles for the doors. The things that you touch feel a bit special," Karen explains.
Spotted gum timber plays a starring role too. Externally, the timber cladding has already softened and weathered to make the house at home on the site. Internally, it is used judiciously for wall panelling and to encase the striking timber drum that separates the formal and informal living zones. Within this drum hides a butler's pantry and a spiral staircase that winds down to a secluded cellar and wine-tasting room. It is surprising to hear that this bunker-like space was an afterthought, designed by the architects on site when the land had been cleared of brambles. Decked out with temperature-controlled fridges, a table and chairs, and a quiet corner for relaxing, it is dark and intimate in contrast with the open airy rooms above.
Products and materials
Roofing

Peninsula Timbers hoop pine ply interior and exterior cladding; Bradford Anticon R2.5 and Rockwool R3.0 roofing blankets.
External walls

Woodform Architectural spotted-gum Expression timber cladding in Sorrento profile; Bluescope Steel Corten steel; Alucobond cladding in 'Night Sky'.
Internal walls

Peninsula Timbers spotted-gum cladding; Australian Architectural Hardwoods tallowwood bench seating and shelves.
Windows

Viridian Energytech double glazing; custom timber frames.
Doors

Lockwood locks and levers; custom brushed-stainless-steel flush pull.
Flooring

Domus Grigio Cenere limestone tiles; Cavalier Bremworth Curlicue carpet.
Lighting

Darkon Architectural Lighting Deep Down downlight; Artemide Tolomeo suspension light and Dioscuri wall and ceiling lights; Great Dane Furniture Float light.
Kitchen

Miele electric oven, microwave combi oven, warming drawer, hotplates and gas hob; Fisher and Paykel dishwasher; Electrolux fridge; Qasair rangehood; Reece Posh Solus sink; Astra Walker Icon mixer; Woodform Architectural spotted-gum timber panel; CDK Stone Arabescato benchtop; stainless steel benchtop.
Bathroom

Astra Walker Icon wall and shower mixer sets; Capitol Building Products basin; Rogerseller toilet suite; Victoria and Albert Monaco bath; Domus Vixel mosaic tiles; CDK Stone Arabescato stone, honed.
Heating and cooling

Hydronic heating; Cheminees Philippe Radiante Design Collection fireplace; Real Flame Simplicity fireplace.
External elements

Laminated Timber Supplies cypress pine Durabeam structural columns; Woodform Architectural Lifestyle Decking spotted-gum timber decking.
Other

Enzie spiral staircase.
Credits
Architect

McAllister Alcock Architects (MAA)
Melbourne, Vic, Australia
Project Team

Karen Alcock, Clare McAllister, Maria Danos, Brett Seakins, Jack Tu, Vasili Tsekrekos, Ben Schmideg
Consultants

Builder Rob Gaffney Constructions
Engineer Bland Connard Menzies
Landscaping Landscaping Victoria in collaboration with McAllister Alcock Architects

Site Details

Location Mornington Peninsula, Vic, Australia
Site type Rural
Site area 102664 m2
Building area 483 m2

Project Details

Status Built
Design, documentation 12 months
Construction 14 months
Category Residential
Type New houses

Source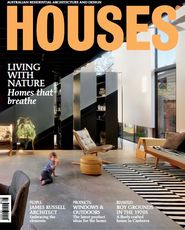 Issue
Houses, October 2013
Related topics