Contemporary combines with fantasy in the hottest design hotel in Milan, opened just weeks before the 2010 Milan Furniture Fair.
Has the world gone Alice in Wonderland mad? It seems that the symbols of Lewis Carroll's classic, recently made into a Tim Burton film, were everywhere at the 2010 Milan Furniture Fair – from rabbits to teapots, mushrooms to cats. The new Maison Moschino Hotel in Milan was no exception, with silver keys hanging from the cornices, red and white velvet bodices as bedheads and an oversized teacup table. While the literal Alice in Wonderland symbolism stops there, the hotel has a flavour of fantasy that extends throughout sixty-three guest bedrooms and two suites, each unique in its design.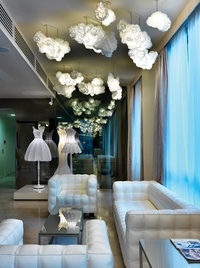 Moschino creative director Rossella Jardini and Moschino's design team are the masterminds behind the new hotel, which was converted from an 1840 neoclassical railway station. The heritage facade of the building has been rejuvenated, while the interiors are fantastical and minimal – a balance achieved by limiting the palette to only a few colours and by paring back the fantasy elements to one key feature per room.
The lobby is white with clean and crisp lines. Visitors are greeted at the door by an armchair and a sheep made with white felt cloud-like shapes stitched together, echoed in the floating white lights overhead. Across the room, three empty white bodices are lit from within - Moschino's existing lampshade dresses.
At the other end of this floor is the restaurant, where chairs have been dressed in velvet skirts and blouses, in black, white and dark turquoise – a simple and elegant concept. Each room has a different design: some have a red velvet ball gown for a bedhead, some have ivy growing from the walls, others have trees extending to the ceiling. In one, a huge black fly buzzes overhead, producing a collection of Zs on the mirror and suspended overhead. Other quirky elements include an owl and a chandelier made of tarts and lollies.
This is magic stuff, and it could so easily turn into something kitsch and over the top. But it's not – because the ideas are pared back and Moschino's über-cool fashion aesthetic oozes on every level. Instead, combining fashion and art with cool contemporary, this hotel is a perfect fit for Milan itself.
Maison Moschino in Milan is a member of Design Hotels.