Two major projects proposed for the regional NSW city of Gosford are working their way through the planning process, as the redevelopment and rejuvenation of the city's centre gains steam.
Both projects directly relate to two significant public spaces in the town that are earmarked for major renewals.
One proposal, designed by Buchan with landscape architecture by Arcadia, will front Kibble Park in the centre of the city. It will comprise a total of five apartment towers ranging from 17 to 27 storeys, each sitting above a commercial podium.
A second proposal, by DKO, will be situated adjacent to the Leagues Club Field, and comprises three towers containing apartments and a hotel atop a commercial podium.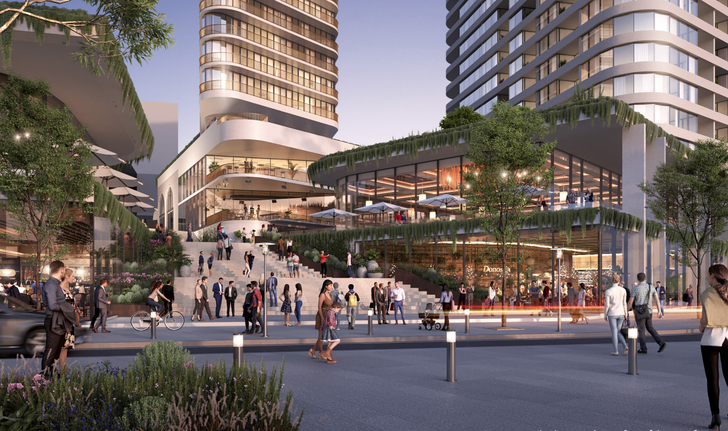 The proposals have been made as the state government prepares to overhaul the public domain of Gosford with projects that include a plan to create a new public park on the waterfront on the existing Leagues Club Field, led by Turf Design.
The design is based on the principles laid out in the Urban Design and Implementation Framework, a plan for the rejuvenation of the town's public spaces prepared by the Government Architect NSW in partnership with urban designers Chrofi, Tyrrellstudio and multidisciplinary consultancy HillDPA.
Kibble Park, which neighbours the Buchan project, is also the focus of GANSW's urban design framework.
It criticizes the park in its current form as cluttered, with vehicle access and car parking taking up too much space. The report proposes moving the various facilities contained by the park to its edges, with a new frame of eucalyptus trees creating a contained "green room" with shaded edges.
The plan also suggests that the public library be repurposed as a public building with a broader range of uses – possibly as a town hall and flexible event space.