Construction is underway at the Meadowbank Education Precinct in north-west Sydney, a major project which will replace the existing Meadowbank Public School and Marsden High School.
Designed by Woods Bagot, the precinct will cater to 1,000 primary students, 1,500 secondary students and 120 intensive English language students.
The school facilities are being built on a spacious corner block that is home to around 275 existing trees, and the design is based around a concept of "learning in the landscape."
"The specific site context and analysis developed an instinctual connection with the mature landscape and tree canopies that occupy large portions of the proposed site," Woods Bagot's design report states. "This has resulted in proposing [buildings] that enhance connections with nature and maximize outdoor learning and play opportunities."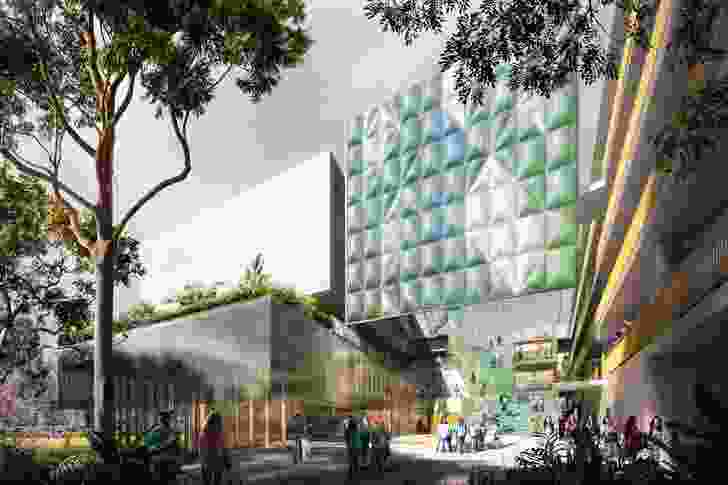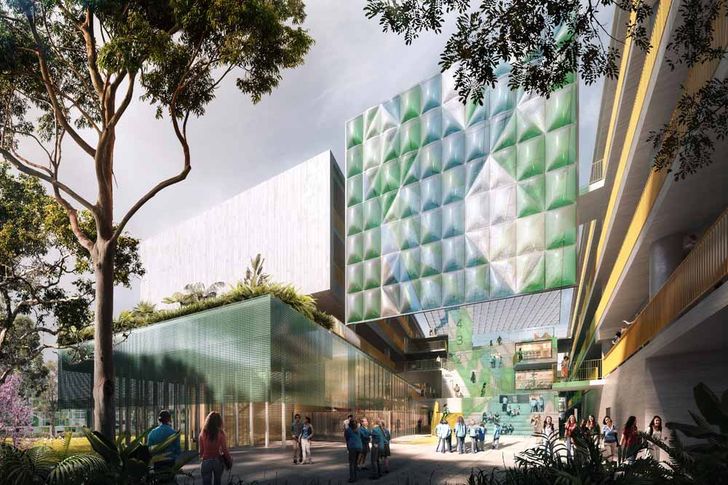 Classrooms will be divided across two five-storey buildings, with the primary school taking up the three lower levels of the northern building facing Rhodes Street and the high school occupying the remaining two levels, plus all five levels within the southern building.
The northern building accommodates general learning spaces for the high school, while the southern building features specialized hubs and the gymnasium.
A tiered landscape-covered building will connect the two schools, housing the Primary School Library and High School Library. "Consisting of mezzanine levels, voids and direct access to the central landscape this space forms the heart of the building, the educational glue where students from various years come together interact and collaborate," Woods Bagot states.
This central building forms a hill of sorts, with the landscape extending upwards and reaching every level of the adjacent buildings, so that "where possible every available surface can be used as space for learning and play."
Internally, a "tartan" grid structure allows for flexible learning spaces, with the grid expanding and contracting as the program changes throughout the building.
The school project is expected to be completed by 2022.
TAFE NSW Meadowbank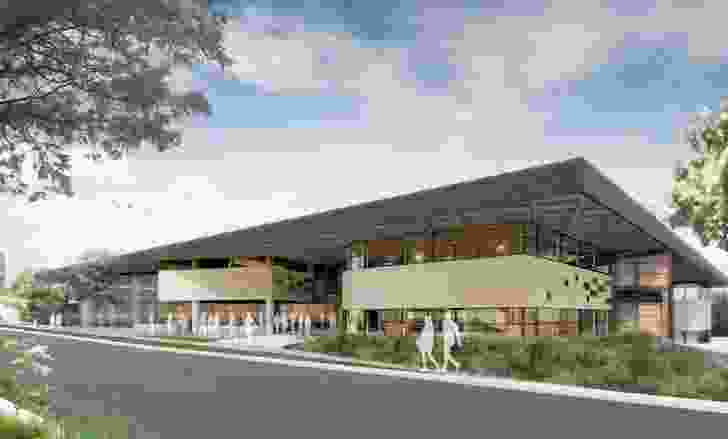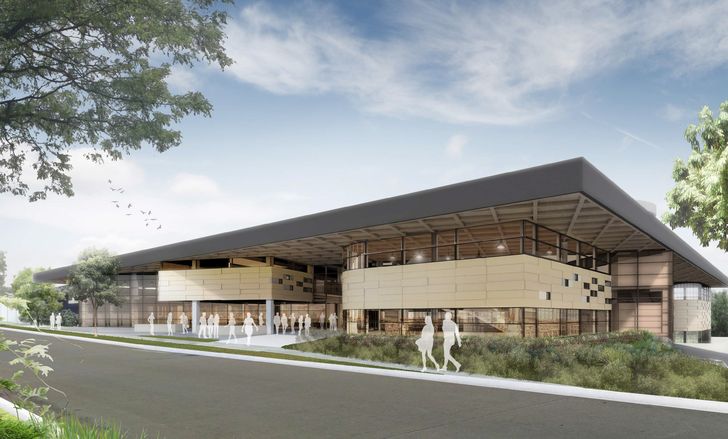 Next to the school precinct is the Meadowbank TAFE campus, which will also undergo a major revitalization to designs by Gray Puksand, currently under consideration.
The major part of the project is a new Multi-Trades and Digital Technology Hub that will house a combined Construction and Building Trades facility with an Information and Communications Technology/Cyber Security facility.
Gray Puksand describes its design for the hub as a "true building in the round," in which each of the four facades actively respond to their context.
"The design presents unashamedly as a public building adding to the streetscape in an harmonious juxtaposition to the residential neighbours," the design report states.
Related topics