More than two-thirds of Australians believe that their money is better spent on experiences than products. As the experience economy rapidly grows, where does design fit in and how can designers create successful experience-based environments for consumers and brands? These questions and more were explored at the recent Artichoke Night School in Melbourne as speakers Luke Wallis, Amanda Henderson and Rodney Eggleston shared their views and client experiences.
The first presenter of the night, Luke Wallis, content director at marketing and communications agency Deepend, explored the evolution of an experience and how it is defined.
According to Wallis, an experience can be broken down into four key stages – exploration, anticipation, consumption and effect. The exploration stage begins with that "spark" moment, when a consumer encounters something new, researches information about it then makes a decision to commit to the product or service. The second stage, anticipation, is the excitement and joy you exper- ience from that purchase, combined with the unwrapping or discovery of the purchase. This feeling transitions to "consumption," a moment of self reflection and evaluation when consumers determine whether their expectations have been met. It's during this stage when a memory, whether short or lasting, is created of the experience – we can all relate to having fond memories of a particular holiday ten years ago, but not being able to remember what you ate for dinner last night. The final stage, effect, is the storing of the experience in an emotional way – from photos, stories and memories.
Today, more and more companies want to create money-can't-buy moments for their clients. These brand experiences elevate these companies to a particular status and bring them to life, as demonstrated by Deepend's digital brand and event campaigns for ANZ and MONA. At these brand events, the consumer is immersed within the brand and given access to exclusive money-can't-buy experiences. These experiences increase brand sentiment and reputation among consumers. As designers we need to ask ourselves how we can affect someone to have an emotional connection with the experiences we design. According to Wallis, rare and unique exper-iences are more impactful.
Amanda Henderson of design studio Gloss Creative provided an insight into designing experiences for fashion and luxury brands. "Experience is not about a logo. It's rather a feeling of what the experience looks like," she said. For Omega's re-launch of a watch once famously worn by astronaut Buzz Aldrin, Gloss Creative designed a temporary "moon-like" space and dining experience at Fox Studios Australia in Sydney to inspire and thrill VIP guests. Similarly, at a Kookai fashion show, sceno- graphy defined the viewer experience. Henderson choreographed a stage of twenty- four models and sun beds to mimic the beaches of St Tropez, in lieu of the traditional catwalk. For Henderson, the Kookai show was about elevating the status of the brand rather than complicating it.
For March Studio founder Rodney Eggleston, each project is dependent on the site's location and the brand's DNA, with a meticulous design approach guiding every- thing from the custom-designed furniture to the light fittings. For George Calombaris's restaurant group Made Establishment, March Studio was tasked with overhauling its three restaurant brands so that diners were given a unique experience at each. Similarly, each of the seventeen Aesop stores by March Studio focus on their own inherent location and use of locally sourced materials, creating a distinct and memorable shopping experience. For a new retail store in Paris for an accessories brand, March Studio created a spatial experience for the customer. The store is modelled on the idea of a kaleido-scope, and the space features a programm-able, energetic colour and light display.
As the experience economy grows, designers must realize that brands are putting more emphasis on experiences rather than just products and services. In a time when social media is king, designers must not only seek connections between the experiences they design and the emotions of consumers, but also keep in mind that the sharing ability of an experience is paramount. As Henderson said, "If it's not on Instagram, it didn't happen."
The Artichoke Night School series is presented by Artichoke magazine in partnership with Space Furniture. Night School session 21 was held at the Space showroom in Melbourne.
Source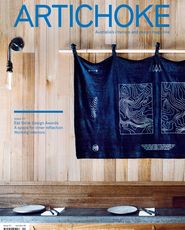 Discussion
Published online: 16 Jan 2017
Words: Narelle Cuthbert
Images: Kit Haselden
Issue
Artichoke, December 2016
Related topics