Like many architects of his generation, Ken Woolley has always been a traveller. And like some of his peers, he's also a gifted illustrator. He learnt the art of drawing – in pen, crayon and gouache – while studying architecture at the University of Sydney (1950–1955). He also learnt how to build up tone on the page with washes of Chinese ink, and to use the page expressively, not just to communicate design intent.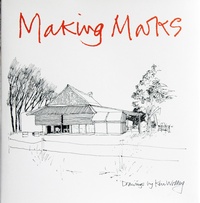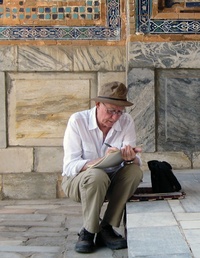 He first published some of his travel and notebook drawings in 2002 with the New England Regional Gallery (and later, the Australian Institute of Architects). Now, in May 2013, he has released a further collection – Making Marks, with Watermark Press. It's a postcard from Woolley to himself, perhaps the stock-taking of a life-long passion. In this quiet little book, Woolley spans decades and cultural capitals East to West, from Luang Prabang in Laos and Angkor Wat – the seat of the ancient Khmer empire – to Paris, Rome, Barcelona and New York. The book includes sketches from recent trips and some earlier unpublished drawings – of cities and villages, buildings and streets, interspersed with detailed landscapes and feathery vignettes.
The images are prefaced with a brief introduction to each of the six sections – starting with Australia – and accompanied by only the barest of reference notes, leaving much (delightfully) to the imagination.
"Travel is all about curiosity, for learning and puzzlement," says Woolley in the intro to Australia, where this journey begins. "We, the Europeans, came in the back door, but the Aboriginals came in the front a very long time ago, at that very point. They are and were, literally, not only the neighbours of South East Asia, but from the same antecedents. That link is most apparent in the rock art called Bradshaws, or Gwion, which everyone should study."
Woolley uses words as economically as he does the drawn line. His keenly observed, delicately rendered impressions invite us to look again at places we remember fondly, or dream of one day going to. It makes the work a memoir, in the warmest sense of the word.
Making Marks: Drawings by Ken Woolley
Watermark Press, 2013
Published 2013 by Watermark Press
Hard-cover
$35.00rrp/$31.50 Inst. members