Manuel Aires Mateus's Melbourne visit was a reunion for me. I was taught by him in 2001, and it remains one of my most memorable studio experiences. So when I saw his name on the speaker list I was keen to catch up with him and offered my services as a tour guide (conveniently leaving out the fact that I have a terrible sense of direction). I got the go-ahead from the organizers, who told me he was arriving early on Wednesday morning and would need some rest after the long flight from Portugal … so I rang at 8 am. Mateus is a three-hour-a-night sleeper – and that's on a good night. I know this because our studio group had to keep up with a schedule that involved dropping into the studio at 2 am ready for a critique.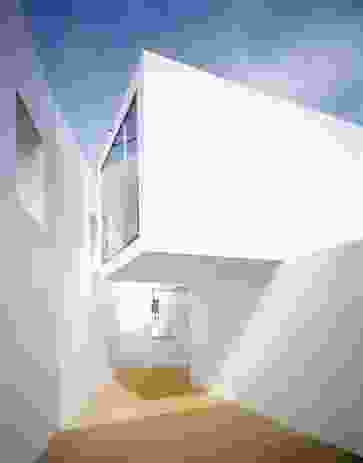 The first thing Mateus asked our design studio was to recollect our first memory. Peter Zumthor has written about this in his publication titled Experiencing Architecture, where memories are recalled "without thinking about it."1 We all struggled with this, confusing our first memory with our architectural education. Eventually we gave examples like hiding under the sheets as a child or going down the slip-and-slide in the backyard. I asked him while we were having a coffee at Pellegrini's (the first of six for the day) why he asked this, and he told me that architecture is about experience and these memories illustrate an architecture we should be seeking to reproduce – not by copying the design, but by learning about what made the experience. The scene happening within this busy cafe, Mateus explained, is a good example of this – the "precision" of the baristas and waiters is linked seamlessly to the space. This seamlessness is about the way the space has been used over time. For Mateus, architecture is about considering the individual's connection to a place, and continuing the history of it.
A house he designed in Alenquer, Portugal, is a good example of this. Mateus has created a new spatial relationship with the ruins of an older house. Boundary walls are all that remain and he patches, renders and cuts new openings as needed. The volumes of the new house are then inserted between these ruin walls, creating external circulation and courtyard space. These walls are not treated as historical artefacts but are absorbed into the experience, where the new approaches the old, then pulls away, allowing light to move through the new space. I asked him why he didn't just leave the walls in their existing condition, and he explained that it wouldn't have been about the space, but about the walls. By absorbing these walls into the design there is now a space between that is a totally new experience. His interpretation of existing conditions is not to respect them over the new structure but to absorb them into the experience.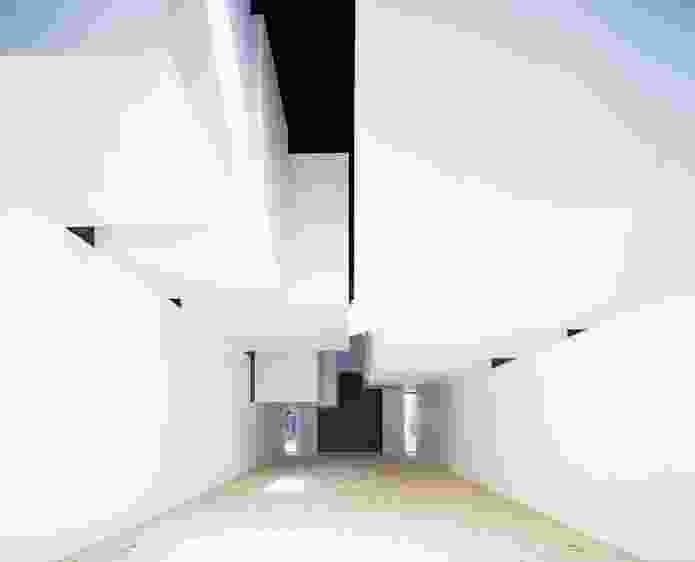 Similarly, a warehouse conversion in Brejos De Azeitão, Setúbal, Portugal, has been done by hovering bedroom and bathroom volumes above a large open-plan ground floor. These volumes create the ground-floor living spaces as well as engaging with the existing shell, giving a sense of the scale of the warehouse. The timber roof structure and stone walls are immediately readable as you enter the space. When I visited this house it was still under construction but, upon entering, the old space was clearly present in the new and the volumes mediated the light into the living space. All Mateus's projects use monolithic white, as is the case with the architecture of Siza and Souto de Moura. Mateus explains that this is because of the control you have of the light – it is the assumed colour and any other material would be difficult to justify. This strict adherence to white is contextual: Lisbon and its surrounds have a consistent use of material which is predominately pale rendered and stone.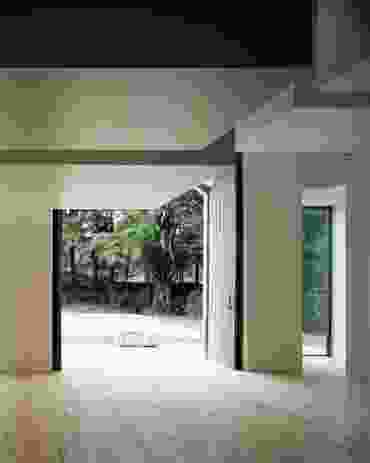 Portugal is ancient, and visible Roman ruins form part of the landscape in the same way as the cork trees do. It is interesting to note that Mateus's father trained as an architect but is now a cork farmer. As a student, I remember driving around for hours so we could see examples of these ruins dating as far back as 25BC. This is perhaps why his work is so responsive to existing buildings regardless of their historical merit – they are something to react to, a constraint within the landscape in the same way that the sun or views are.
I show Mateus a bit more of the landscape outside Melbourne, driving him to Trentham near Daylesford with emeritus professor Jim Sinatra. We drive into this lush landscape and take a look at Sinatra's amazing vegetable garden, with its Tasmanian pepper plant and a sugar plant I can't remember the name of (both are delicious). On the drive back we are lucky enough to see a family of kangaroos hopping about.

---
Read more articles about the 2011 national architecture conference here.
Source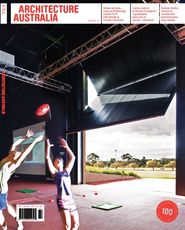 Issue
Architecture Australia, July 2011
Related topics