Marcel Breuer's only Australian building finds new owner
The former Torin factory building, designed by the late Marcel Breuer, has been sold for a reported $3 million, $700,000 short of its previously advertised price tag.
The 3,800-square-metre factory building in Penrith, western Sydney, was designed for Torin, a manufacturer of air-moving equipment for heating, ventilation and air-conditioning. It was listed for sale in June 2016.
The unassuming building is the Hungarian-born, American modernist architect's only Australian project.
Completed in 1976, the factory was designed in collaboration with Harry Seidler, who acted as the on-site supervisor, and Bruce Rickard as landscape architect. Seidler was Breuer's chief assistant from 1946 to 1948. The two also collaborated on the Australian Embassy in Paris (1977) with Italian architect Pier Luigi Nervi. 
The factory is one of nine Breuer designed for the Torin Corporation, which are located mostly in North America, with one in Belgium and one in England. A tenth building was completed by Breuer's practice after his retirement.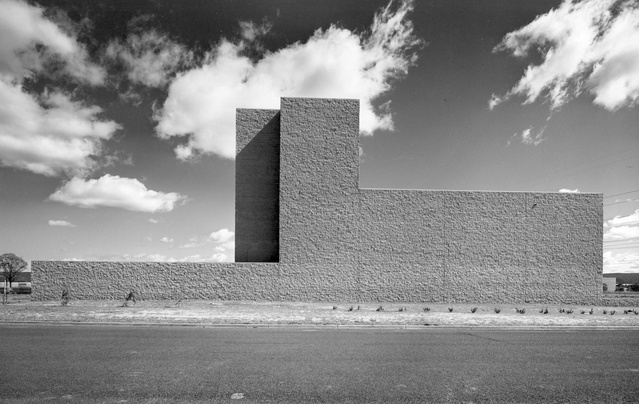 The building it is listed in the Australian Institute of Architects' register of significant buildings in NSW and was added to the New South Wales State Heritage Register in 2009.
According to its statement of significance, "The Torin building in Coombes Drive Penrith differs from the early Torin Corporation buildings which were more classically gridded modernist work. The Australian example is a strong expression of the powerful sculptural mode of Breuer's later career.
"The Torin building in Penrith is a good example of the way in which Breuer's design raised his buildings to a new modernist aesthetic level which ensured there was economy in plan form, bold architectonic expression and the repetition of industrial elements as either extruded sections or pre-cast elements."
"The main [south] elevation is bold in its architectural composition consisting of almost windowless cuboid forms of rough-textured concrete block and precast concrete.
"The sloping form of the northern walls of the service cores were a departure from the horizontal/vertical lines of the building, giving dynamic lines to the composition of the building forms."
The Torin factory was home to Gebel Industries, a manufacturer of pump stations. 
In August 2017, the director of the Museum of Contemporary Art Liz Ann Macgregor, floated an idea to transform the factory building into an "arts and architecture hub."
"A private individual who is very passionate about Penrith has offered to help substantially, to buy the building, if we can secure the rest of the money to do the project," Macgregor told Penrith Press.
Commercial Realestate reports the building was sold to private investor and real estate agent Luke Jackson said the new owner plans to use the site for "traditional industrial use."