Marimekko House (WA) by Ariane Prevost Architect
Jury comment
This family home speaks of the way great outdoor spaces can enrich domestic life. A diverse suite of outdoor experiences shapes the journey and defines occupation. This adroit overlapping of building and landscape begins with the sweep of an oversized front stair and culminates in a backyard that draws the adjacent parkland inside. In a nod to Western Australia's desirable climate, the outdoor spaces are placed at the top of the spatial hierarchy.
The somewhat ubiquitous idea of a seamless indoor-outdoor life is convincingly realized through generous openings and carefully curated views. On the main level a herringbone-patterned brick floor creates a spacious platform for informal living. Upstairs a roof garden provides more usable outdoor space, but also collects rainwater and acts as a living thermal blanket. This verdant space is edged with a simple pool fence that acts as a trellis, and screens of stacked timber and concrete provide privacy. The palette is simultaneously playful and prosaic and includes salvaged, recycled and repurposed materials. This is a house that celebrates all that is great about life in Australia's garden suburbs.
Award for Outdoor supported by Wood Solutions.
Credits
Architect

Ariane Prevost Architect
Mosman, Perth, WA, Australia
Project Team

Ariane Prevost
Consultants

Builder Trojan Construction
Engineer Fozdar

Site details

Location Perth, WA, Australia
Category Residential
Type New house, Residential

Project Details

Status Built

Source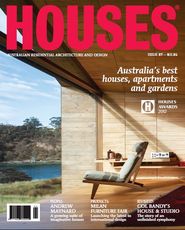 Issue
Houses, August 2012
Related topics