Architect's statement
This project involves the subdivision of an inner-Sydney block into two Torrens-titled properties, and the construction of two semi-detached houses as contemporary infill development. Both houses have different plans to suit the site's orientation. This was also to suit the clients' brief that one house be for them to live in, while the other would be to rent or sell, to subsidize construction costs. It's a good model for urban consolidation on a small scale because it's sensitive to both the street's existing housing pattern, and neighbourhood amenity.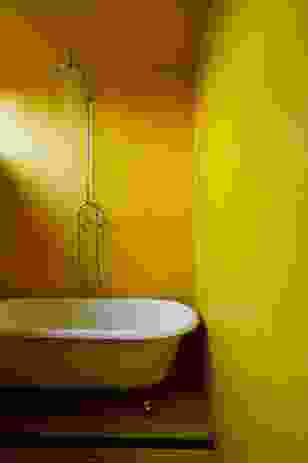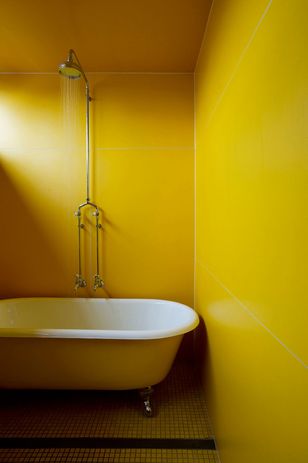 Located on the western side of the subdivision, Marrickville House Two was built for the client to occupy. It presents a single-storey structure to the street, with an upper level and an entry verandah tucked under the roof, which is partly hipped and partly gabled to mirror the neighbouring properties.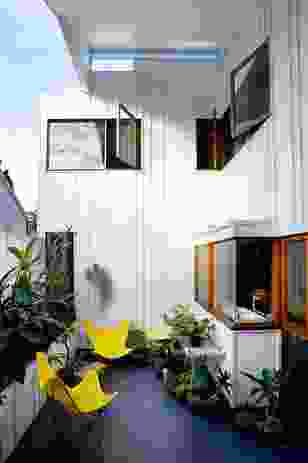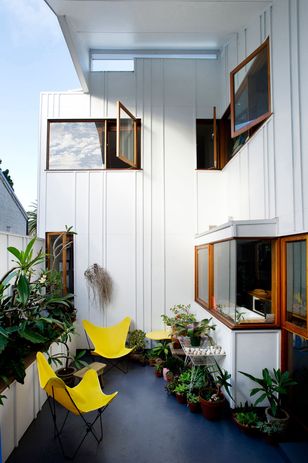 Living areas are on the ground floor, with a study, bathroom, bedroom, and a covered outdoor space adjacent to the kitchen. This can also be used for parking or, its current use, a courtyard. Upstairs are a further two bedrooms and bathroom, arranged around a mezzanine. Together with skylights, the mezzanine brings light and ventilation to the centre of what's essentially a compact building.
The plan is split into two north-south axes, with living spaces arranged in sequence from front to rear. The main party wall is built from bricks salvaged from the site, which we've partially painted to add an element of pattern to the interior. Offering further texture, the living-room floors are recycled timber, the kitchen is linoleum, and the upper level is carpeted with coir.
Floor and ceiling levels are modulated to create interlocking spaces yielding to the light, maximizing the feeling of space and providing a backdrop to a fairly eccentric collection of furniture and art. The interior journey from front to rear culminates in a gallery-like living room that opens to an elevated deck and rear garden.
Externally, the building envelope includes void spaces like the entry verandah and a covered courtyard and rear deck. These are expressed independently through material or colour variations. All construction materials (although lightweight) comply with strict acoustic requirements, as the property is under the airport flight path.
Credits
Architect

David Boyle Architect
Pretty Beach, Sydney, NSW, Australia
Site Details

Location Woodland Street, Marrickville, Sydney, NSW, Australia
Site type Suburban
Building area 187 m2

Project Details

Status Built
Completion date 2011
Category Residential
Type New houses

Related topics