Fibreglass sheeting
Flat and profiled fibreglass sheeting is used by Bligh Graham Architects for both screening and cladding. The practice likes its luminous quality and handmade aesthetic, which is similar to Japanese paper. The sheeting dramatically changes character with lighting. In the New Farm Studio, seen here, the light-green fibreglass sheeting selected for the garage door provides natural lighting to the interior and animates the elevation. ampelite.com.au
Ponds
Integrating ponds into a home can create a depth of experience, particularly when in a contained courtyard space in a subtropical climate. A pond in the Bulimba House entry courtyard helps create a transition from the street into the shade of the new lower level of this old Queenslander home.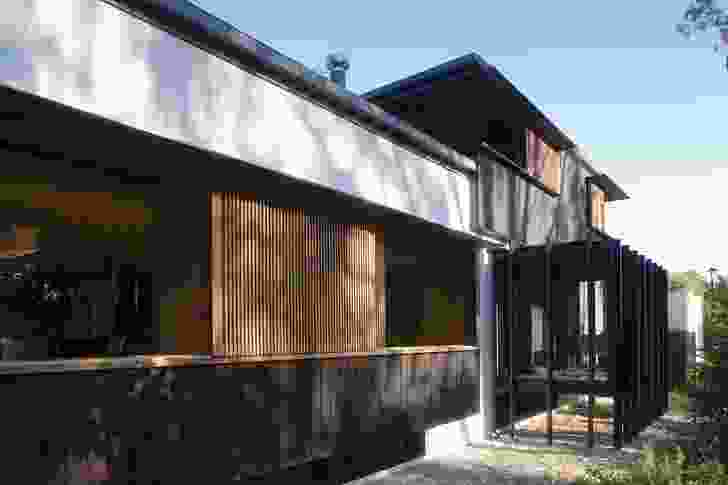 Oiled timber

The warmth, texture and flexibility of timber are qualities appreciated by Bligh Graham Architects. Concerns about maintenance and durability are addressed by placing the timber strategically and treating it with a protective product that is easy to apply. In the case of the Samford House, seen here, oiled, remilled and reclaimed ironbark beams were used as cladding boards. cutek.com.au
Sliding timber batten screens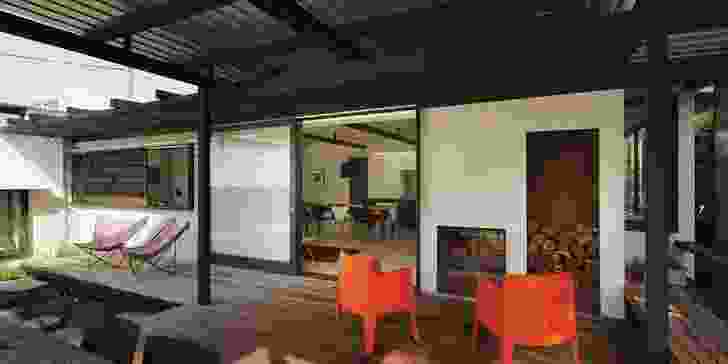 Sliding timber batten screens reflect Bligh Graham Architects' pursuit of architecture that is both poetic and pragmatic. The screens have the ability to dramatically subdue the intense Queensland light as well as let the house breathe while remaining secure. A sliding timber screen is seen here in the Samford House.
Fireplaces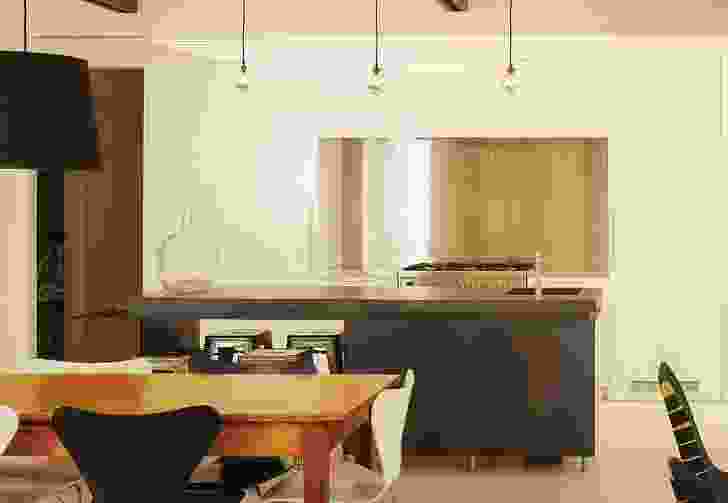 Bligh Graham Architects often integrates a central fireplace or wood heater into a stone chimney. The principle rooms are gathered around this solid, strong element. A double-sided fireplace is often selected to provide heat to an outdoor room on winter nights and also to create a connection between inside and outside, as seen here in the Chelmer House.
Steel plate
Steel plate is used by Bligh Graham Architects in the fabrication of elements such as cabinet components, shutters, light fittings and awnings. In the Chelmer House, seen here, steel plate is used to line the island bench cabinet in the kitchen. onesteel.com
Read a profile of Bligh Graham Architects from Houses 97.
Source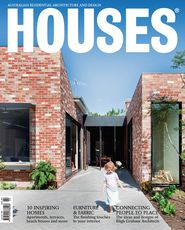 Related topics