Material palette: James Russell Architect
A connection to the outdoors through the use of durable materials is integral to James Russell's residential projects. Here, he shares a few of his favourites.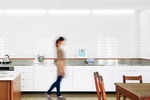 Johnson white gloss tiles
These simple and inexpensive 200 mm x 100 mm white gloss tiles are used for the walls of bathrooms and kitchens in many projects by James Russell Architect, such as the Boston Street House, pictured. Grey grout is used with the white tiles to hide any discolouring. johnsontiles.com.au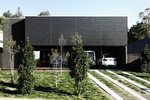 Zoysia tenuifolia grass
The outdoors is embraced in the residential projects by James Russell Architect. As seen here in the Bisley Place House, the practice's preferred choice of grass is Zoysia tenuifolia, a hard-wearing grass that doesn't require mowing. Growing Grounds Nursery: +61 2 6628 1347
LED strip lighting
LED strip lighting is designed into joinery, pelmets and above wardrobes for general room lighting. LED lights have a long life, are inexpensive and can be easily hidden. prime-electronics.com.au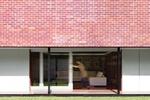 PGH Black & Tan bricks
While it is clear where new work has occurred at the Boston Street House, the use of PGH Black & Tan bricks is sympathetic with the existing building. The raw, earthy colours of the bricks add an inviting, warm and nostalgic feel to the design. pghbricks.com.au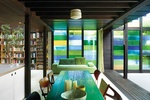 Coloured and textured glass
James Russell Architect uses an arrangement of coloured glazing with a timber spacing wall detail to allow light and airflow into the interior spaces while protecting the interior from the weather. This also adds coloured light and texture into the spaces, as seen in the bedroom of the Raven Street House. hartleywilliams.com.au
Weatherproof fabric
Weatherproof fabric is often used for curtains around the perimeter of a home, as seen at the Bisley Place House. Using fabric also adds warmth to a project. warwick.com.au
Read the profile of James Russell Architect from Houses magazine.