Material Palette: Tribe Studio
The residential work of Tribe Studio is 'a kind of clean, blunt modernism.' Here we look at some of the firm's favourite finishes, textures and products.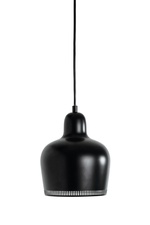 Artek A330S pendant lamp
Designed in 1937 by Alvar Aalto, this Artek pendant is a classic design piece. Tribe Studio avoids using downlights, and instead opts for beautiful pendants that provide flattering light.
artek.fi
anibou.com.au
Recycled bricks
Tribe Studio is an environmentally conscious design practice. If demolition is required, bricks from the site are recycled. Tribe Studio enjoys making new forms from old materials, as seen at House Maher. 
Plywood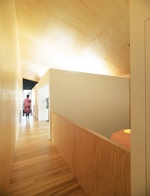 Tribe Studio uses timber for its warmth and sustainability properties, and the fact that it is structural as well as aesthetically pleasing, as seen at House Shmukler.
Dupont Corian benchtops
Tribe Studio labels Corian surfaces as "the miracle benchtop," as seen in House Chapple. This is a solid, seamless, non-porous homogenous surfacing material made from natural minerals and acrylic resin. This material can be used in a large variety of applications.
casf.com.au
Dulux 'Vivid White' paint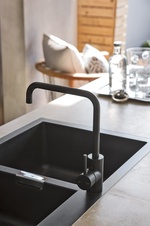 The provision and control of natural light is paramount in the work of Tribe Studio. The use of pure white painted walls and ceilings, seen at House Maher, makes light appear beautiful. "Even the slightest change – a cloud moving, or shadows of leaves – is heightened," says Hannah. dulux.com.au
Astra Walker Icon black tapware
Tribe Studio describes black tapware as appearing "like line drawings in space." The matt black finish to the Astra Walker Icon range is electroplated to ensure durability and consistency. It also avoids fingerprints.
astrawalker.com.au
Read the Tribe Studio profile from Houses 98.