Material Palette: Wolveridge Architects
The use of recycled and rustic materials in juxtaposition with luxurious and glossy textures is a signature approach taken by Wolveridge Architects.
Spotted gum cladding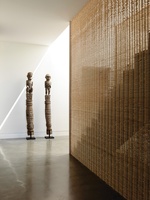 Spotted gum is suitable to use as a cladding in extreme conditions, such as the coastal setting of the Torquay House, pictured here. This material can either be preserved, or left to age and turn silver.
woodformarchitectural.com.au
Recycled bricks
Wolveridge Architects often incorporates second-hand bricks when working on projects where a heritage connection is appropriate, as seen here in the bathroom of the Northcote Residence.
Concrete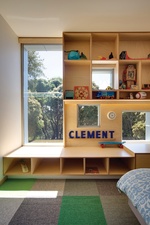 Wolveridge Architects uses concrete for its thermal qualities and extreme durability. Concrete's neutral appearance allows it to be used in a broad range of applications, including flooring, as seen here at the Torquay House.
Ghiaccio tiles from Classic Ceramics
Tiles are cost effective and can be used to create durable surfaces suitable for a range of applications. Wolveridge Architects often uses a mixture of gloss and matt tiles to add texture to walls.
classicceramics.com.au 
Hot-rolled mild steel sheet
Wolveridge Architects uses steel or aluminium to evoke an industrial aesthetic. The materials also contribute to the robustness of a project and emphasizes the practice's customized approach to detailing, as seen here in the bathroom of the Northcote Residence.
directsteel.com.au
Plywood
Quality, Australian-made plywood is a cost-effective and durable material for interior linings or joinery, as seen here in a bedroom of the Blairgowrie Beach House. Wolveridge Architects finds this material easy to work with and likes the fact that it can be effectively pre-finished.
plyco.com.au
Read the Wolveridge profile from Houses 99.