Most of us spend 90 percent of our lives indoors, with more time spent at work than at home. This means the quality of our workplace environment is of high importance, and the best way to ensure the health of our workplace designs is through the selection of building and finishing materials. An environment containing harmful finishes and materials could take years off our lives.
While the industry is becoming familiar with environmentally sustainable building design, it has still not fully embraced the benefits of healthy commercial workplace environments and the selection of materials which heal rather than harm.
Many countries in Europe are more advanced than Australia in their environmentally sustainable design initiatives, and although the Australian design community has learnt a great deal from many of these, Australia faces different challenges as it has a vastly different climate to Europe. The design industry on the USA's east coast is also furthering its knowledge and research on sustainable workplace design and material selection, and has similar climatic challenges to Australia's east coast – Sydney in particular.
A series of commercial interiors that I visited and used as case studies for an International Specialised Skills Institute (ISS Institute) international fellowship1 demonstrated a shift in thinking about how a building is fitted out. The trend now is to use the building structure as the finish. This is in contrast to the conventional method of lining the building structure with finishes like plasterboard, timber or ceiling tiles.
The mantra is "less is more." The consequence of this trend is that fewer materials are being used in fitouts, and therefore the building structure is required to be completed to a much higher level of finish. This results in commercial workplace's finish becoming raw and using fewer refined and potentially toxic finishing linings.
Potentially toxic materials are still regularly used throughout our commercial workplace environments. This is often due to the cost and lead time restraints of a commercial fitout, the lack of choice in material selection, and a lack of industry knowledge and understanding.
The design industry recognizes the detrimental effects of urea formaldehyde; it is a carcinogen and trigger for asthma, eye and nose irritation, as well as respiratory complications. The industry, however, does not readily recognize the three other forms of formaldehyde used in commercial fitouts, which include melamine formaldehyde (resin). Melamine formaldehyde is found in laminates, glues, fabrics and composite wood products. Since melamine and laminate are the materials most commonly used in commercial furniture and joinery design, they are not an ideal material selection due to their composition and non-recyclability.
Sustainable alternatives are limited and generally attract a higher cost and/or lead time. One such example is the Forest Stewardship Council-certified timber veneers. Of the case studies visited in the USA a number showcased viable material alternatives to many of our mainstream, potentially toxic materials and finishes. Unfortunately, not all are available in Australia. Alternative material selection for a laminate or melamine surface included: linoleum with a self-edge; PaperStone, a solid core product derived from recycled paper with no edging required; EcoTop, a solid core product derived from recycled paper and bamboo, no edging required; and solid-coloured E0 MDF, no edging required.
All the case studies visited received Leadership in Energy and Environmental Design Platinum certification, which is the equivalent of the Green Building Council of Australia's Six Star Green Star certification, and all demonstrated a shift in thinking about types of materials and finishes used. A number of chemicals also identified as those to avoid in workplace design included:
chlorinated plastics, found in a range of materials from furniture to wall finishes
formaldehyde, found in furniture, carpet, insulation and ceiling surfaces
halogenated flame retardants, found in fabrics
lead and mercury, found in fluorescent light fixtures, light switches and thermostats, and
bisphenol A (BPA), found in high-performance coatings and adhesives.
Successful alternative material selections used in the USA included:
ceiling surfaces derived from Aspen wood fibres in an inorganic hydraulic cement binder that is biodegradable
exposed raised access floors with a wax finish
internal insulations derived from natural materials, including soy bean, cotton or recycled denim.
The journey to sustainability is not a singular pathway and no one discipline can make the necessary changes to the building industry. All disciplines need to be involved to promote positive workplace environments, from designers and clients to facility managers and all building tradespeople.
Projects visited during ISS Institute Fellowship
• The Energy Foundation, San Francisco by TannerHecht Architecture
• Autodesk, San Francisco by HOK
• ClimateWorks Foundation, San Francisco by Leddy Maytum Stacy Architects
• San Francisco Federal Building, San Francisco by Morphosis Architects
• 901 Cherry Offices, San Bruno by William McDonough + Partners
• Heifer International, Little Rock by Polk Stanley Wilcox Architects
A copy of the full report, Sustainable Workplace Design, is available on the ISS Institute website issinstitute.org.au.
Source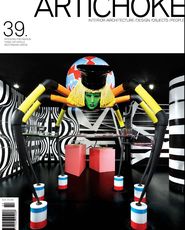 Ideas
Published online: 1 Jun 2012
Words: Alisa Moss

Issue
Artichoke, June 2012
Related topics