REVIEW Tom Heneghan
PHOTOGRAPHY John Gollings
Surprisingly transparent, FJMT's new library for Blacktown seeks to draw in the community while also expressing the building's civic function.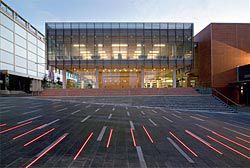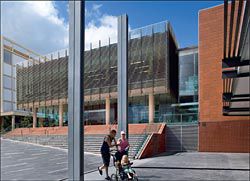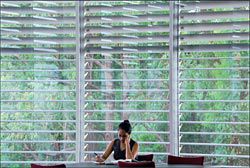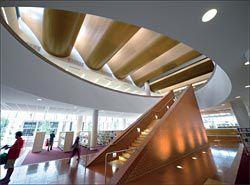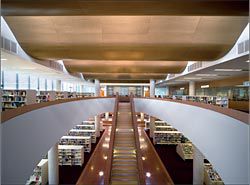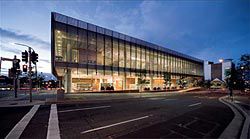 The design of the Max Webber Library addresses the nature of public buildings in contemporary society and the meaning of this particular type of public building in generally under-resourced outer suburbs such as Blacktown in Sydney. Architects FJMT argue that, as a building type, the library is "the most meaningful twenty-first-century public building". This may be so – although the shopping mall and art gallery, the usual rivals as the "twentieth/twenty-first-century cathedral", might contest this proposition – but what might this meaning be? Certainly, the meaning of the contemporary library is very different from that of its historic predecessors. At Henri Labrouste's Bibliotheque S. Genevieve in Paris (1851), for example, the entrance was through a thick wall inscribed with the names of the great authors (with very little room left for post-1850 writers to be added to its pantheon) – a Beaux-Arts billboard announcing the knowledge and culture that reposed within. It told us exactly where we stood: outside its portals, regarding it with awe! As with almost all libraries, it was an entirely introverted building, focusing on itself and its distinguished contents.
When asked about the heroic, monumental void at the centre of his otherwise relatively modest Philips Exeter Library, Louis Kahn explained, "Nobody has ever paid the price of a book; they pay only for the printing!" In other words, it was the intangible knowledge, rather than the physical medium by which it was disseminated, that was priceless.
The grandiose emptiness of Kahn's void and the geometries by which he formed its internal elevations were gestures of tribute and veneration.
As is the hissed, slapstick shushing that traditionally enforces silence within a library – not only to permit quiet reading, but also to proclaim the reverence in which its contents should be contemplated.
The Blacktown library is entirely of another ideology and typology. If it aims to venerate anything, it is the concept of community access to knowledge. This is effectively a building without walls – more akin to a pavilion, or to the market halls at the centres of medieval villages, which were open on all sides to invite in the life of the community. On the three sides that address surrounding streets, the floor levels of the library are approximately continuous with the sloping pavements. Deeply projecting motorized sunshade louvres allow the ground floor to be enclosed by clear, un-tinted glazing – very effectively giving the sense that this is not a separate "public facility", but an active part of the life of the public street. In an economically disadvantaged, multi-ethnic community that might not entirely be familiar or at ease with the ways of a library, this library's transparency at ground level makes its function, and its modes of use, easily legible, from all sides, prior to entry.
Such welcoming transparency is extraordinary in such a building type, if only because of concerns about daylight on archived paper, and because the required run of shelves usually results in racks across all walls, including the perimeters. Here, however, archived materials are housed in the upper, fully sunshaded room, with most of the borrow-able books beside the "pavilion" in a blank-walled side wing which abuts the adjacent car park. This allows the reading room to be fully glazed, bright, open, casual, unobtrusively supervised, and centred on a sculpturally prismatic grand stairway. The stairway serves as something of a visual lure, which directs attention through an elliptical void to the upper level, and the Aalto-esque rooflights that spill controlled daylight throughout both floor levels. Unlike the sacred emptiness of Kahn's symbolic void, FJMT's library is centred on the movements of the visiting public.
The immense simplicity of this proposition is characteristic of the diagrams that underlay each of FJMT's works. In the practice's competition entries their design strategy often seems so obvious that one wonders why the other competitors were blind to it.
It appears effortless – a sign of the intense effort that leads to that point. The work demonstrates an extraordinary ability to uncover the real and often contradictory issues and potentials of a project by a very careful analysis of purpose and place, and to resolve these in a building of ease and elegance which represents only itself and its users.
At Blacktown, however, there was little by way of physical context to which to respond. The horizontal sunshade louvres on the upper floor can be seen to echo their vertical equivalents on the adjacent council offices, across Alpha Street to the east, and the separation of the building into an elevated, floating screened part and a lower visual void breaks down the scale of the library volume and balances it with the single-storey historic schoolhouse to its north. But the "elephant" with which the library is obliged to share a bed is the massive adjacent Westpoint Shopping Centre, where flat retail floor-trays span across two blocks of Blacktown with no concession to the undulating terrain. The descending plaza (not by FJMT), which has consequently been required to lead down from Alpha Street to the shopping centre entrance, effectively raises the library onto a plinth, with a stair running across the full width of its facade.
This separates the library from the plaza and gives it some of the sense of aloofness that FJMT had taken so many pains to avoid. It is particularly disruptive because the design of this building is an essay in appropriate symbolism, carefully balancing the need to express a sense of civitas – as a representation of the community – with the need to be understood by the community as simply an ordinary part of their ordinary life, and to entice inside those for whom a library would not ordinarily be a place of resort.
This is not a formerly refined Georgian suburb such as Peckham in London, where Will Alsop's similarly sized public library is designed as spectacle, to draw in the curious and the baffled.
Blacktown is a suburb relatively free of former or contemporary examples of quality architecture, and there is no sense of faded civic decorum with which to contrast. FJMT has therefore been obliged to create the language of an appropriate civic architecture virtually from scratch. And it is a benevolent and accessible notion of civic architecture. This is carefully judged narrative space-making which suggests regard for community and communal knowledge. The popularity of the building is evident. On Sunday mornings, queues form ten minutes before opening time. Although – inevitably in these days – many head for the library's large broadband-connected computer room to check their email, many come to browse and to generally relax in what is effectively a generously scaled, thoughtfully detailed, warm-toned, brightly day-lit and relaxed public living room. It is a generous civic building of no pretensions. There is circumstance, but no pomp. This is a description of most FJMT buildings. With the exception of the curiously eccentric Teaching and Administration Building at Edith Cowan University, FJMT's buildings usually manage to be simultaneously monumental and self-effacing because of their ambiguous scaling – sometimes larger in gesture than is consistent with the smaller scale of their physical form. One might think, for example, of their recent extensions at The Mint in Sydney. The success of the Blacktown library – which required responses to many very different sensibilities and agendas – lies in the richness of this ambiguity. It is both heroic and intimate, civic space and community space – respectful of both the books and their readers. TOM HENEGHAN IS PROFESSOR OF ARCHITECTURE AT THE UNIVERSITY OF SYDNEY.
MAX WEBBER LIBRARY, BLACKTOWNArchitect Francis-Jones Morehen Thorp— project director Richard Thorp; design director Richard Francis-Jones; project team leader Lance White; project team Aya Maceda Kalaw, Janine Deshon, John Morris, Andrew Chung, Boris Manzewski, Matthew Mar, Olivia Shih, Nikolce Dunoski, Peter Wise. Project manager Blacktown City Council.
Structural and civil consultant Taylor Thomson Whitting.
Mechanical and electrical consultant Steensen Varming.
Hydraulic consultant Warren Smith & Partners. Lighting and services consultant Steensen Varming (Australia). Interior design Francis-Jones Morehen Thorp.
Landscape architect Pittendrigh Shinkfield Bruce. Acoustic consultant Arup Acoustics. Quantity surveyor Rider Hunt.
BCA consultant McKenzie Group Consulting. Fire engineering Warrington Fire Research. Client Blacktown City Council.