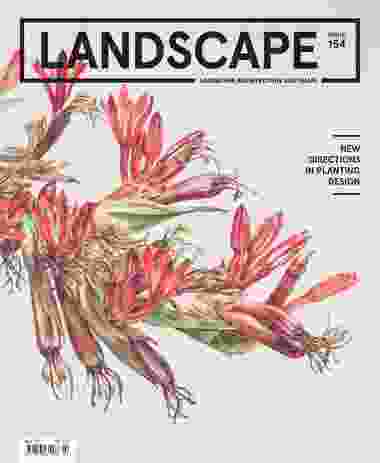 New directions in planting design
It's said that a stone placed in the crown of a Doryanthes will prompt it to flower. It can be four to six months until the crimson flower erupts from the tall stalk that has risen from the crown of the plant, and then the flower dies off. The large flower stalks, which can reach up to five metres tall, remain on the plant until they decay or are removed.
The illustration of the Doryanthes palmeri (giant spear lily) flower on the front cover of this issue of Landscape Architecture Australia, by botanical artist Mali Moir, beautifully captures ideas of time and change that are so central to designing with plants. The drawing is not a freeze-frame of some perfect full-bloom moment, but rather shows a beauty in both the life and death of the flower and asks us to accept one with the other.
Such appreciation of the full life cycle of plants has emerged as a clear theme in many of the contributions to this issue. David Whitworth (p. 28) and Sarah Hicks (p. 65) explore the need for a shift in attitude toward the aesthetic value of our indigenous plants, particularly grasses such as Themeda (kangaroo grass) that seed and die off in the summertime, and discuss their use in urban contexts; Claire Martin looks at a research project (p. 36) that is trialling techniques to deliver native plantings that are diverse and filled with texture, yet are low maintenance in urban conditions; Alistair Kirkpatrick questions the value of removing weed species in hostile urban conditions where little else grows (p. 26); and Howard Tanner explores the technical story behind the success of Barangaroo Reserve's indigenous plantings (p. 32). We also review two exemplary projects – one public, one private – and chat to a number of practitioners who are passionate about planting design.
At a time when there is significant consensus toward achieving greener cities, it's critical that the benefits of good planting design are made clear and championed. We hope this issue sparks some renewed interest in and engagement with the fascinating complexities and opportunities of the botanical world.
– Ricky Ray Ricardo, editor
Planting for the Unexpected. Why greater diversity in urban plantings is important.
Plant Selection. More than trees, shrubs and groundcovers: are the descriptors we use to categorize plants adequate?
Fine-tuning the Planting Design Cycle. The benefits of engaging landscape architects for green infrastructure projects.
The Emperor's New Clothes. Questioning the war on weeds in urban streetscapes.
Do Not Mow. The native meadow at Prince Alfred Park offers more than decoration.
Making the Grand Vision Work. Looking at the technical story behind Sydney's Barangaroo Reserve.
Rambunctious Research. Investigating ways to create attractive yet low-maintenance native plantings.
A New Bush Garden. A review of a garden by Bush Projects at an Austin Maynard Architects-designed house.
Provoking Imagination. Exploring Melbourne's Shrineof Remembrance courtyards.
Planting the Main Event. New Zealand-based designer Andy Hamilton chats about international practice and the influence of site.
Rethinking the Suburban Landscape. Talking collaboration and planting design with architect Paul Owen and landscape architect Dan Young.
Reimagining the Local. Conversations with Jane Irwin, Adrian Marshall and Paul Thompson about pursuing an indigenous landscape agenda.
The Cultivated Wild. The book The Cultivated Wild: Gardens and Landscapes by Raymond Jungles is reviewed.
Planting Dreams. The exhibition Planting Dreams: Shaping Australian Gardens is reviewed.
Endnote. Botanical artist Mali Moir reflects on the process of drawing plant specimens.
Subscriptions and back issues: Print and Digital
Follow Landscape Architecture Australia on Twitter, Facebook and Instagram.

email me at landscape@archmedia.com.au
Source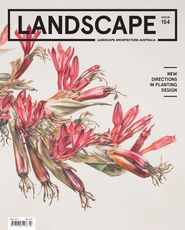 Issue
Landscape Architecture Australia, May 2017
Related topics