From urban to rural, local to global, this issue of Landscape Architecture Australia spans the breadth of the country and beyond to unearth ideas and projects that take on twenty-first century conditions. As incoming editor, I maintain a strong belief in Landscape Architecture Australia as a springboard for new and progressive ideas as well as a forum for engaging with issues of critical collective importance. I hope the articles in my first issue demonstrate the ever-expanding knowledge and deep sense of stewardship nurtured by those who work in the landscape profession.
The sharing of knowledge across contexts is vital to learning and this issue uncovers the perspectives of several international practitioners. Liam Mouritz speaks to Spanish landscape architect Teresa Gali-Izard about how context influences our understanding of landscape mechanics. Gali-Izard's firm, Arquitectura Agronomia, has completed a number of urban-scale projects across Spain that focus on the integration of living systems through an understanding of landscape dynamics and management (page 46). In addition, American academic Kelly Shannon shares her thoughts with Janina Gosseye on the agency of landscape in tackling pressing contemporary issues (page 70).
In the context of rising populations, new technologies and an increasing need for more green space, we include a review of the Ian Potter Children's Wild Play Garden by Aspect in Sydney's Centennial Parklands. David Welsh writes about this garden's condensed experiences of nature that set the stage for all kinds of unstructured play (page 34). Ricky Ricardo also visits Monash University's new Jock Marshall Reserve Nature Walk by Urban Initiatives, which bridges physical and mental worlds to draw an area of ecological value into fresh focus (page 40).
In this issue, we also visit two more recent design projects that engage with notions of collective experience and cultural identity – Perth's newly opened Optus Stadium by Hassell, Cox Architecture and HKS (page 16), and the Home of the Arts Outdoor Stage by ARM, Topotek 1 and Cusp in Surfers Paradise (page 26). While different in their respective approaches, both celebrate their unique contexts and enrich their urban locales through increased tourism and the deepening of cultural identity. The design of Optus Stadium's parklands gives prominence to Indigenous narratives, laying the foundations for a richer, more complex understanding of place.
From recent designs to landscapes many thousands of years in the making, this issue's 'Fieldtrip' ventures out to the sublime Arnhem Land site of Nawarla Gabarnmang. This ancient rock-shelter prompts a rethinking not only of Western understandings of the history of the built environment and Indigenous design, but also the temporal dimensions of how we invent and reinvent our surrounds (page 52).
While Australian landscape architects are less often involved in developing land management strategies for agricultural properties, agricultural scientist and farmer Charles Massy's book, Call of the Reed Warbler, presents ideas that can inform a broader understanding of the land. Massy's book calls for an approach to agriculture that reframes production and regeneration as the one integrated practice. Jock Gilbert reviews his book on page 68. And in Melbourne, the arts provides a lens through which to grapple with past and present tensions. Cassandra Chilton reflects on two Colony exhibitions at the NGV that together explore the fraught and entangled history of the European presence in Australia (page 78).
The role of the residential garden and the atmospheric qualities of tropical foliage are also considered in a profile on Brisbane-based designer Steven Clegg, whose practice revives the garden as retreat (page 61).
This issue abounds with interviews, profiles, essays and reviews that reflect the complexity and diversity of our evolving relationship with the land. At a time when debates around what makes a meaningful public space are in full swing, we hope this issue reflects our intention to remain a platform for critical discourse, expanding and provoking reflection on how our practices shape our surrounds, and divining new and deeper connections to place.
– Emily Wong, Editor
In this issue:
Finding a sense of place. Perth's new Optus Stadium and surrounding parklands celebrate Aboriginal connections to the land. Review by Tinka Sack.
Home of the Arts. The design for the Gold Coast's new HOTA amphitheatre blends landscape and architecture. Review by Alexandra Brown.
Wild senses. Nature, free playand stories abound at the Ian Potter Children's Wild Play Garden in Sydney's Centennial Parklands. Review by David Welsh.
Bridging the divide. The Jock Marshall Reserve Nature Walk at Monash's Clayton campus draws a biodiverse greenspace into the heart of the campus. Review by Ricky Ricardo.
Teresa Gali-Izard: The language of landscape. The principal of Barcelona-based studio Arquitectura Agronomia chats about her approach to designing with living systems. Interview by Liam Mouritz.
Nawarla Gabarnmang. An ancient rock shelter in Arnhem Land challenges prevailing ideas about design and Aboriginal landscapes. Essay by Bruno David, Jean-Jacques Delannoy, Margaret Katherine, Ray Whear and Jean-Michel Geneste. Photos by John Gollings.
Vintage valour. Brisbane-based landscape designer Steven Clegg crafts verdant gardens with a palette of old-fashioned plants. Profile by Margie Fraser.
Kelly Shannon: Fluid states. The co-founder of OSA talks about the agency of landscape. Interview by Janina Gosseye.
Colony: Frontier Wars and Colony: Australia 1770–1861. A review of two exhibitions that explore Australia's complex colonial history and its accompanying art. Article by Cassandra Chilton.
Call of the Reed Warbler. A review of Charles Massy's recent book. Article by Jock Gilbert.
Subscribe to Landscape Architecture Australia from only $53 per year for print (four issues) and $12.95 digitally.
Follow Landscape Architecture Australia on Twitter, Facebook and Instagram.
Email me at landscape@archmedia.com.au
Source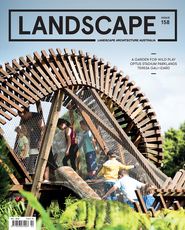 Archive
Published online: 2 Aug 2018
Words: Emily Wong

Issue
Landscape Architecture Australia, May 2018
Related topics