This year, 2020, has been a challenging one. The world we know is changing rapidly and this new landscape is bringing new and unforeseen challenges to our industry (and our world). Bushfires, a global pandemic and climate change are making their effects felt on not simply what we work on, but increasingly how we work and even the extent to which we can work. The lightning transition, over the past month, from designing in offices to designing from home, from meeting for coffee to meeting on Zoom, has tested our abilities and capacities, as designers – but also as people – to communicate, collaborate and organize, as the frameworks that once structured our daily routines have been transformed. It has also shed new light on the significance of the design of the built environment – our parks, streets, plazas, gardens, courtyards and squares – and the need for open space in our cities.
Put together in the immediate wake of the devastating December/January bushfires, yet before the escalation of COVID-19, this issue features people, projects, programs and initiatives that are tackling, in diverse ways, the task of connecting people and place. These initiatives, it seems, are even more relevant now, as we grapple with a transformed work and life. Jock Gilbert and Daniel Roe explore how the Lurujarri Dreaming Trail near Broome can deepen our understandings of Country (page 35); Alistair Kirkpatrick offers some perspectives on how we might use planting design to work with and remediate degraded urban soils (page 41); and Amalie Wright reflects on her ongoing work as a landscape architect with the Revitalising Informal Settlements and their Environments (RISE) initiative, a research and development program that is bringing vital water infrastructure to parts of South-East Asia and the Pacific (page 44). We also speak with Thai landscape architect Kotchakorn Voraakhom about how design interventions must engage with people (page 58), and Lucy Salt profiles Mary Jeavons of Jeavons Landscape Architects who has devoted her 30-year practice to advocating for better play (page 52). The issue also presents reviews of two projects – in Sydney and Melbourne – that catalyse conversations around how the profession can progress the design of the public realm (page 18 and page 26).
Landscape architecture as a discipline, a profession and a community is resilient and adaptive. While these are indeed unsettling and unpredictable times, they also present us with opportunities to experiment with new ways of connecting and collaborating, and evolve innovative ways of working with technology, that can unfold fresh understandings of design's agency. There is now a greater need than ever to support the public and one another. We hope this publication will continue to offer a vibrant and animated platform for conversation, discussion and debate around future ways of working.

– Emily Wong, editor
In this issue:
Minister's Award for Urban Design. Presenting the winners of the 2020 Minister's Award for Urban Design in Queensland.
An elevated exchange. The Melbourne Sky Park opens up conversations around public-private space. Review by Kate Gamble.
A civic cultivation. Darling Square is a dynamic example of landscape architecture's role in urban design. Review by Simon Kilbane.
Lurujarri Dreaming Trail. An ancient Aboriginal trail near Broome fosters connections to Country. Words by Jock Gilbert with Daniel Roe.
Designing with urban soil. How can landscape architects work with planting design to address urban soil issues? Article by Alistair Kirkpatrick.
Rising to the challenge. On community engagement and designing water-sensitive informal settlements in Indonesia and Fiji. Article by Amalie Wright.
Aquatic agenda. A project in Sydney Harbour is bringing biodiversity back to the seawalls. Article by Melanie Bishop.
Dedicated to play. Mary Jeavons has spent her 30 year career designing for play. Profile by Lucy Salt.
Nurturing knowledge. Thai landscape architect Kotchakorn Voraakhom talks about partipatory landscapes and designing in an age of globalization. Article by Emily Wong.
Hiking Aconcagua. Journeying through the changing landscapes of the Principal Cordillera. Photos and words by Nathan Merlano.
Design with Nature Now. A recent publication by the Lincoln Institute of Land Policy considers Ian McHarg's legacy. Review by Claire Martin.
Kerb 27. Kerb 27 takes a critical stance on designers' roles in the production of space. Review by Andrew Toland.
Lo-TEK. Julia Watson's book celebrates traditional ecological knowledge and land management systems. Review by Emma Sheppard-Simms.
Wildness and Wellbeing. Zoe Myers' book explores how spatial interventions can improve mental health. Review by Jela Ivankovic-Waters.
Portrait. An interview with Skye Reid, landscape architect at RPS.
Source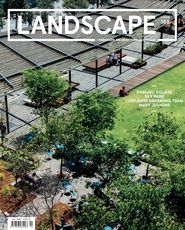 Archive
Published online: 5 May 2020
Words: Emily Wong

Issue
Landscape Architecture Australia, May 2020