What can architecture offer to education, beyond simply providing functional spaces that address different pedagogical requirements? The great body of educational architecture produced by McBride Charles Ryan (MCR) in Victoria over the past twelve years has pushed the limits on what architecture can dish up within the education sector. Regardless of budget, each one of MCR's educational buildings is bursting with ambition and has its own distinct character. These buildings question the nature of educational architecture: how might architecture spark conversation, prompt questions about the nature of knowledge itself, create a unique identity for a school and provide an inspiring, reputation-building public front that connects with the community and broader context? Unashamedly figurative, delightfully coloured and reminiscent of a children's library, MCR's educational buildings unveil a series of narratives that aspire to ignite the imagination. These narratives broadly cluster into three types: big-picture ideas about knowledge (the macro narrative of knowledge), the use of specific elements associated with education (the micro narrative of knowledge) and civic narratives.
The practice's impressive catalogue of educational buildings fits into a greater body of quality school buildings that have been constructed nationally over the past decade or so. While the federal government's Building the Education Revolution program has played a part in lifting the standard of school buildings, there has also been recognition of the cultural and capital value of quality education buildings. Just to name a few, school buildings such as M3architecture's Cherrell Hirst Creative Learning Centre for Brisbane Girls Grammar School (2007), John Wardle Architects' Melbourne Grammar School Nigel Peck Centre for Learning and Leadership (2008), Gregory Burgess Architects' De Young Centre for Performing Arts at Carey Baptist Grammar School (2010), Baracco and Wright's Fitzroy Community School Creative Spaces (2011) and Tonkin Zulaikha Greer Architects' St Luke's Grammar School (2011) represent this shift, but MCR has been the most prolific in delivering outstanding education buildings.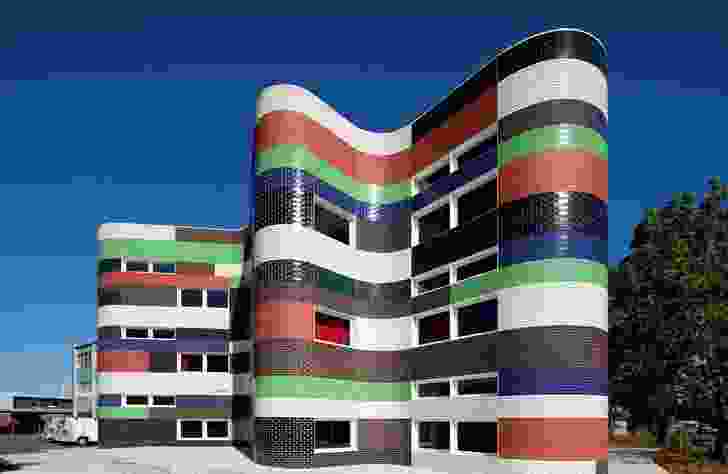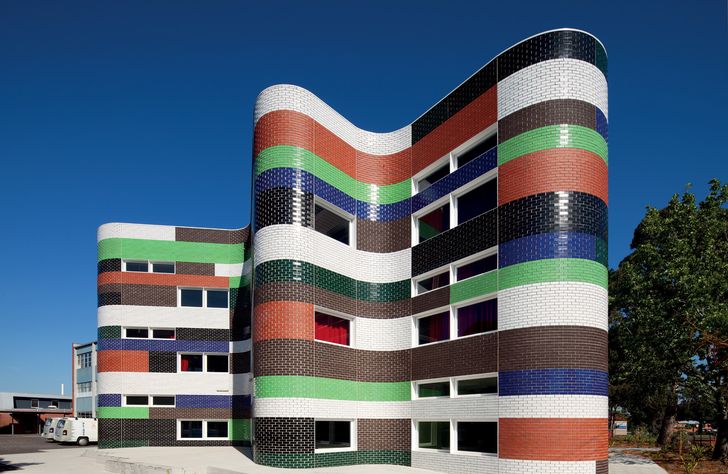 It was MCR's award-winning design for a multipurpose hall at Templestowe Park Primary School (2004) that marked the beginning of the practice's suite of education buildings. Since then, MCR has completed numerous school buildings for both the public and private sectors. These not only reflect differing teaching modes but also house a variety of educational programs. MCR's designs for Fitzroy High School (2009) and Ivanhoe Grammar School (2015) showcase flexible learning spaces, while its various designs for Penleigh and Essendon Grammar School (PEGS) illustrate a more traditional chalk-and-teach mode. These works include PEGS Junior Boys building (2011), PEGS Senior School (2012), PEGS Middle Boys School (2013) and PEGS Middle Girls School (2015). Similarly, the spaces are functionally zoned in MCR's design for the Dallas Brooks Community Primary School (2013), but organized according to age-defined learning space. The practice has also delved into the university sector with its design for the Brownless Biomedical Library (2010) at the University of Melbourne, along with its outstanding competition entry for the new Architecture, Building and Planning (ABP) building, also at the University of Melbourne.
While MCR has clearly mastered the ability to meet a broad range of pedagogical demands, it is the formal ambition of the practice's educational buildings that remains consistent throughout its work. Highly expressionistic forms brought to life with muted palettes offset by strikingly vibrant colours have become synonymous with MCR's educational architecture. Each building has its own charisma and draws on different tropes to convey different narratives. One way in which MCR tackles how architecture might give form to the nature of knowledge is through the use of metaphor – the macro narrative of knowledge. PEGS Senior is formed from an "infinity symbol," a metaphor for knowledge's infinite nature. This loops together a village of learning centres around two courtyards, with the school's library located centrally in the "heart" of the school – the heart of knowledge. Ivanhoe Grammar School juxtaposes classical notions of the certainty of knowledge with contemporary ideas. Its muted radial form (the "well-rounded education") is broken by an eruption of colourful and chaotic forms that speak to the complexity of modern education. PEGS Middle Girls School takes a comparable approach, its form derived from the Mandelbrot set to emphasize, as described on MCR's website, the "endless possibility of intellectual exploration and the human imagination." The metaphors of knowledge are further extended within MCR's design for PEGS Middle Boys School, which draws on the idea of the Roman Forum to create a space that inspires debate and the exchange of ideas. Meanwhile, the practice's competition entry for the University of Melbourne's ABP building alludes to the complex journey of knowledge through its intricate series of voids formed by Boolean subtractions.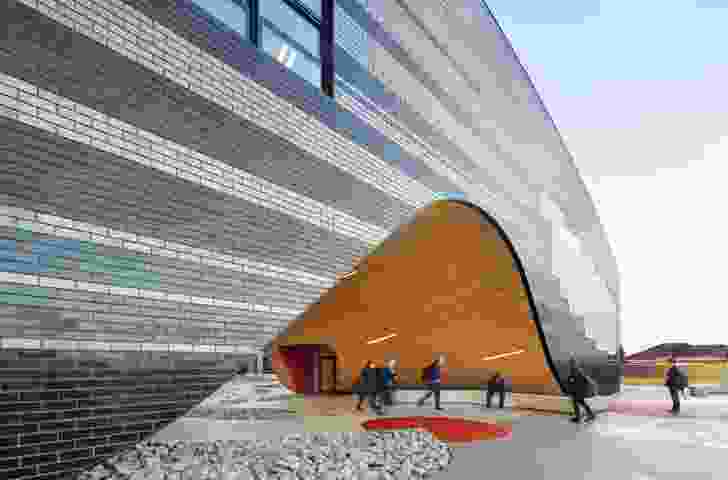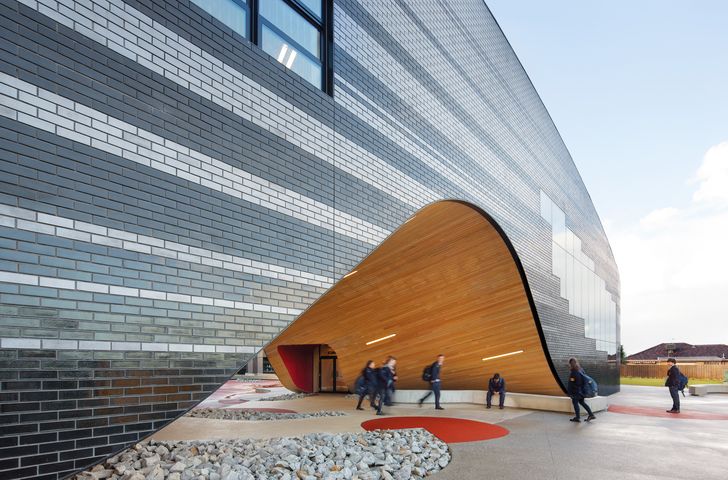 The micro narrative takes shape through the use of educationally themed tropes. Learning about parabolic geometries within a mathematics class informs the parabolic facade at Templestowe Park Primary School, its stripes reminiscent of the ubiquitous "Olympic Stripe" exercise books. In a related vein, Fitzroy High School celebrates convex and concave forms in a sinuous envelope that wraps around its flexible learning spaces, accentuated by the brightly striated brick facade.
MCR also creates civic narratives as a way to provide connections with the greater community and context. The street facade of PEGS Junior in Essendon, for example, is a literal tracing of the silhouette of a Federation house, a type common within the area. This has been blown up and extruded to create a complex form that visually connects with the surrounding suburban context. In form, materiality and colour, the school's other three facades offer their own distinct narratives that are also informed by their immediate surroundings. In the same way, the Dallas Brooks Community Primary School creates a civic narrative through its "city skyline" silhouette facade, which alludes to the city of learning within. It also connects with its community through colour and pattern inspired by the traditional dress of local ethnic groups.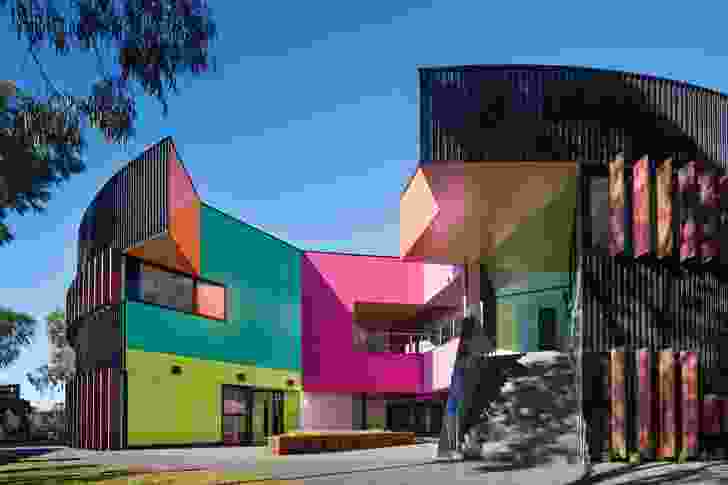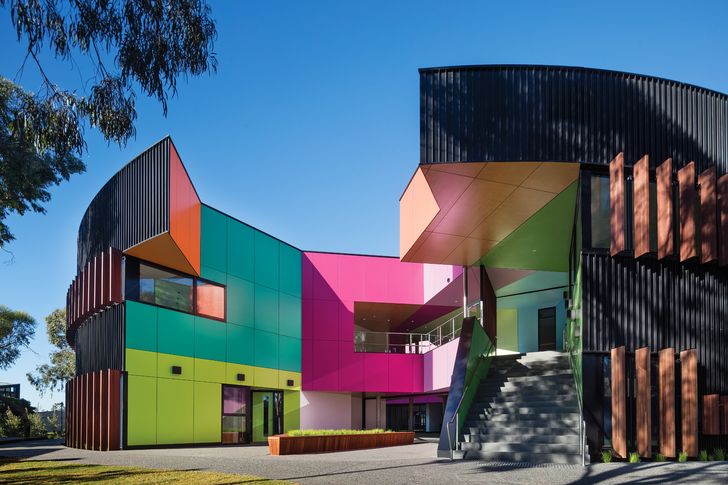 While MCR's love for the figurative taps into a tendency prevalent within Melbourne architecture, the use of narrative to generate form is highly effective in the context of educational buildings. Each one of MCR's school buildings has been provided with its own identity, in contrast to the cookie-cutter schools of the past. This is a powerful way of enabling people to bond with a building, identifying it not by its program but by its character. When I visited PEGS Junior, the principal explained that students had nicknamed the building "Hogwarts," as it reminded them of Harry Potter's Hogwarts School of Witchcraft and Wizardry. How wonderful that architecture can create these kinds of associations within a learning environment. Distinctive architecture is especially important at a time when education has increasingly become a marketable commodity. Schools (and universities) are recognizing that the cultural value of architecture can also be profitable.
Most importantly, MCR's love for gesture, expressive forms and colour results in buildings of delight. Like a Federation house they are formed by complex geometries that create the kinds of nooks and crannies that invite young people to explore and imagine. Whether it is walking beneath the belly-like, timber-clad archway of the PEGS Senior "Infinity" building, sitting within the red-curtained classrooms inside the sinuous walls of Fitzroy High School, or enjoying the wonderful sectional qualities of PEGS Junior, MCR's educational buildings delight, inspire and provoke conversation. No doubt the practice's contribution to Australia's educational architecture will form a long-lasting legacy.
Source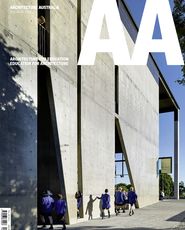 Issue
Architecture Australia, July 2016