Articles on houses commonly analyze the building fabric, structure and form, but what is home about and what are the spatial qualities that actually enrich and brighten life experiences?
The McConnell Residence, designed and built by Jack McConnell of Hassell McConnell and Partners in 1967, is a compact modern home sited on Kingston Terrace on the edge of Adelaide's north parklands. McConnell received the RAIA SA Chapter Award of Merit for it in 1969. He lived there with his partner until his death in 2005. McConnell disliked the term modernist but believed in a modern architecture based on commonsense. The architectural fabric of the house and the current occupation by a couple who have embraced its many eccentricities and tough beauty tells the story of the house. The present owners live here with a generous spirit that continues to enrich the atmosphere of the place.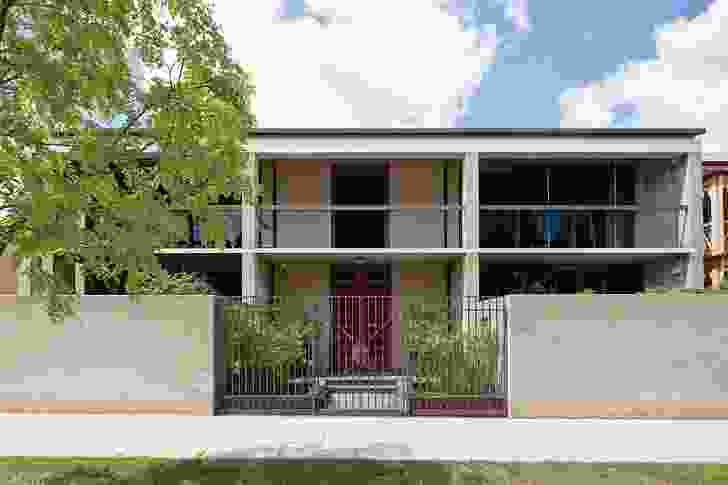 The double-storey house is laid out around a courtyard which separates public from private, front and back. The public spaces of dining, kitchen, studio and common room are tucked behind the enclosed front porch, with two double bedrooms, dressing area and bathroom secreted upstairs. A guest bedroom, ensuite and adjacent sitting room are nestled beyond the courtyard. Resonant of the liberated sixties culture, the relationship between the bedrooms and robes is communal and adeptly resolved.
From the colonnaded courtyard (a recurrent feature of McConnell's work), columns continue to march into the interior, making subtle boundary definitions that visually and spatially link these areas. The studio expands into a double-height volume and it was here that McConnell enjoyed his time looking onto the parkland trees, where his ashes were later scattered. Today the studio is used as a living room and library and is softened by contemporary furnishings that complement the interior architecture.
The courtyard is a trilogy of tranquil spaces: a formal rectangular pool; a tiled, semi-canopied court enveloped by a suspended, finely tempered, steel-framed arched trellis; and a portion of garden. It is private, controlled and secure.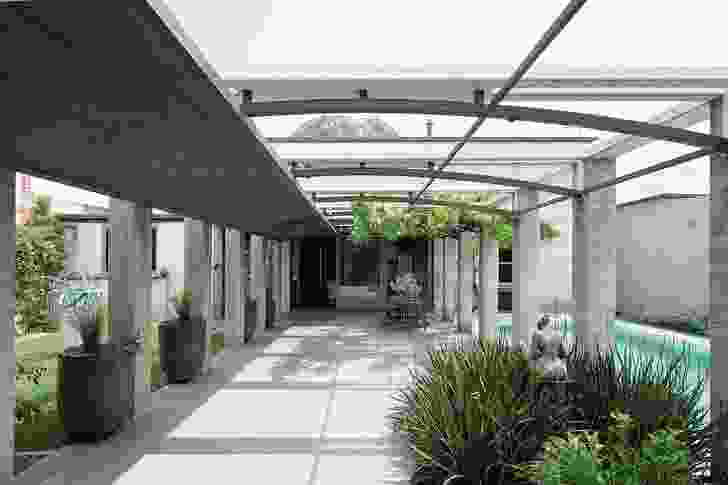 One of the most appealing features of this home is its variation of natural, artificial and borrowed light. Dappled light filters into the vestibule from the glass panes in the front door, and an elongated lighting pelmet throws light in two directions in the studio. Best of all, the living spaces have two sources of natural light from ample full-height windows, less a luxury than fundamental to the success of a room and home. Glare is reduced and a more even distribution of light lets us see things more clearly: children's expressions, a dropped needle and thread, words on a page.
All the rooms have elegant proportions, determined precisely by each room's functional requirements. Most accommodate dual activities. They are designed with the sure hand of a classically trained architect. There is none of the gratuitous allowance for oversized facilities, unnecessary furniture and spatial extravagances common to McMansions. This economy makes for livable spaces and happy, efficient housekeeping. A variety of sitting spaces in kitchen, studio, common room, sitting room, dining and courtyard accommodate various degrees of privacy and orientation, so this home responds effectively to the subtleties of daily and seasonal changes.
Still in its original state this home was designed with a robust backdrop of raw concrete brick, which works like a hard nutshell protecting the delicate details and furnishings within, such as the feminine tapered balusters poised on stiletto pins. But the real virtue of the exposed masonry is that it can accommodate the knocks and bumps of vigorous family life with little evidence of bruising. It readily accepts built-in fixtures and requires much less maintenance than plasterboard.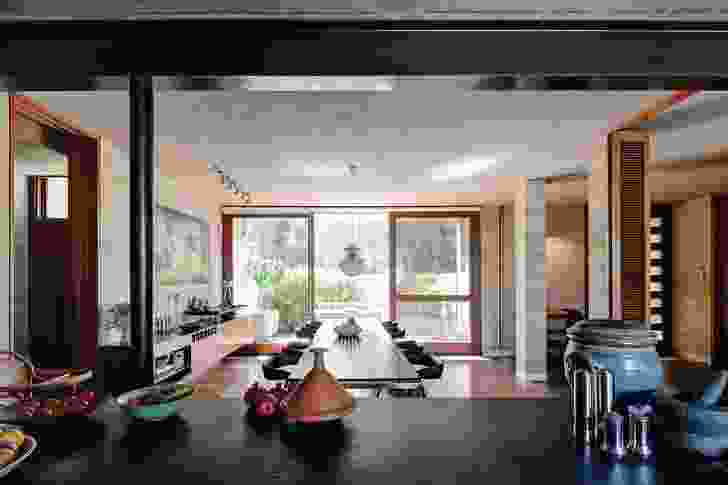 The original palette of grey concrete, teak built-in joinery, custom-dyed royal purple carpet and coordinating upholstery adopted its hues from the emblematic John Coburn tapestry which once hung against the soaring studio wall and was visible from a number of vantage points. Today, the interior is the canvas for art, objects and furnishings carefully assembled by the owners over many years. Despite the prevalence of hard surfaces, the materials are mostly patterned, textured and non-reflective, making the rooms warm and comfortable and contemporaneous with the controlled seventies modernism.
This efficient and handsome home finds a delectable balance between raw and well done. It is neither architectural porn nor a showroom for furniture, but a place for comfort, conversations and intimacy with light and fresh air. There are gathering places for people and the precious things in our lives. William Goyen wrote that home is the place you put roots, love others, yearn for and forever leave and return to. As with any architect's own home, McConnell was understandably emotionally and physically connected to it and, in a way, hasn't left it. Today it is graciously occupied by a family who have added another layer of history to the story of the house.
This review is part of the Houses magazine Revisited series.
Source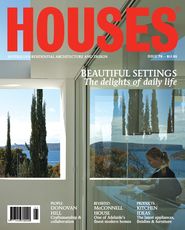 Issue
Houses, February 2011
Related topics