When the McDonald brothers opened their new drive-in in San Bernardino in 1948, it was a revolution in food service that ushered in a new era of fast- food automation. The McDonalds rationalized the commercial kitchen, streamlined processes and invented implements and equipment, replacing traditional food preparation techniques with assembly line procedures. And all of it was visible through the counter-to-ceiling glass window that wrapped the octagonal building. Dubbed the "fishbowl," the kitchen captivated customers and the food preparation system became an attraction in itself.
The kitchen is also the star attraction at the new McDonald's in Terminal 1 of Sydney International Airport. It is a spectacle of colour and movement elevated above the kitchen and enclosed in yellow glass. "Airports are places where you can and should do unusual and cutting-edge things," says Mark Landini, creative director of Landini Associates. "We exposed the machinations of making the product and expressed what McDonald's is: innovative leaders in the industry." Add to that the electronic ordering system and conveyer belt for food delivery, which have automated McDonald's fast-food service even further.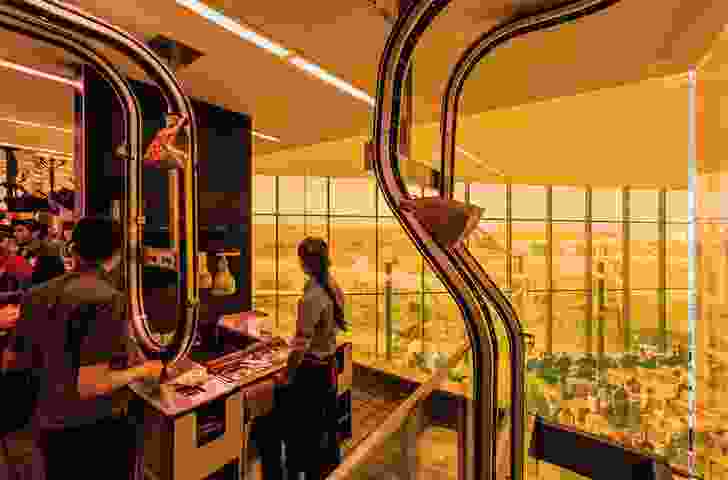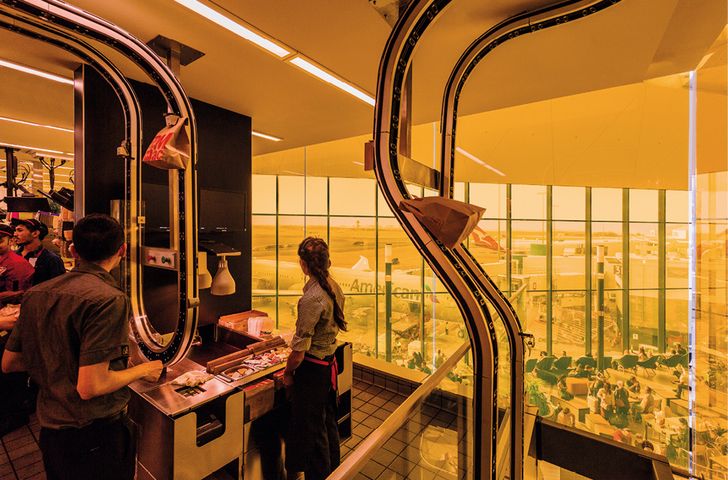 The concept emerged from Landini Associates' design for a flagship McDonald's in Hong Kong, and is also a practical and creative response to the space. In Hong Kong, Landini Associates exposed the kitchen and introduced kiosk ordering technology. In Terminal 1, Landini Associates used the volume of the building due to restricted floor space.
McDonald's In The Sky is located through security, amidst other food and beverage outlets. It is next to a large panoramic window offering views of aeroplanes taking off and landing, with chairs and tables for customers and departing passengers in between. The kitchen floats above the service counter in a yellow glass box, whose panels, with the brand's golden arches, also serve as signage. Like a glowing beacon, it resolves visibility issues in a space that is busy, loud and visually noisy.
On the ground, the service counter wraps around two sides of the internal volume clad in a charcoal terrazzo-look tile and has simple, intuitive signage: Order and Collect. Customers place their order at the front counter or via kiosks with easy-to-use screen interfaces. McDonald's products are ordered from one counter, McCafé items from another, and food and drinks are collected at the rounded corner in between.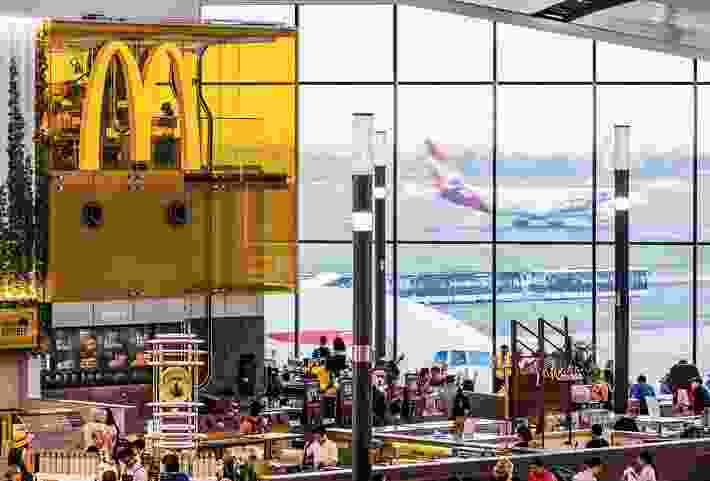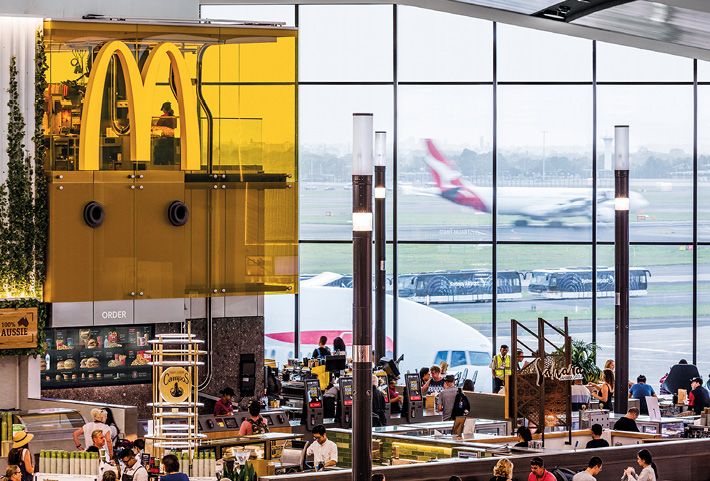 The commercial kitchen is visible through the glass walls of the kitchen, allowing customers to see the food production and delivery. Employees become part of the spectacle of the kitchen, and a conveyer belt looping around and down transports the bagged food to the collection counter. "The experience we all seek these days is being served quickly. We have delivered ease of purchase and added some theatre," says Landini. Indeed, these moving parts provide an element of entertainment that enhances the customer experience in an environment where people are typically watching and waiting.
The design is not only intended to enhance the customer experience, but also the staff experience. "We're really proud of our restaurants and are always looking to give our customers the best possible dining experience. We also want our crew to have a great working experience and the design is definitely one contributing factor to this," says Josh Bannister, McDonald's senior development director. And as McDonald's states on its job advertisements, "The kitchen is where all the action happens."
The yellow-coloured film on the glass serves as a beacon from across the terminal. The floor has terrazzo textured square tiles with black grout – a familiar sight in McDonald's kitchens across the world.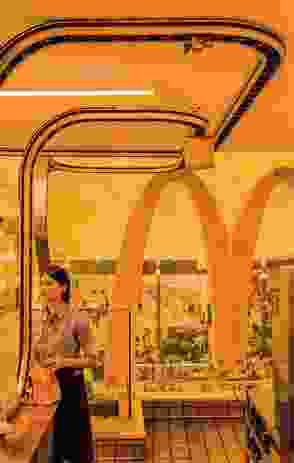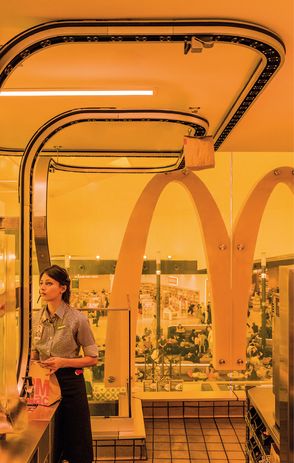 McDonald's In The Sky has become the most Instagrammed place at Sydney Airport, providing the company and franchise with free advertising and drawing widespread attention, much like the bright neon sign that announced fifteen-cent hamburgers at the original San Bernardino drive-in.
McDonald's was founded on inventiveness, but it is grounded in familiarity. While progressive design and innovative technology continue to propel the brand forward, customers' memories of McDonald's are often lifelong and anchored in the past. This too encapsulates McDonald's In The Sky, which offers an ingenious, memorable and entertaining experience while reinforcing and delivering the company's original key values: quality, service and value. And all with a side of spectacle.
Products and materials
Walls and ceilings

Walls painted in Dulux 'Vivid White.' Norr tile in Svart RR03 to rear counter from Classic Ceramics. Neutral tile in black satin finish to rear services wall from Johnson Tiles. Dibond bulkhead cladding by lessor.
Windows and doors

Laminated yellow glazing from Vanceva with frit pattern by Inhabit Group. Stainless steel-framed door to back of house with laminate in 'Battalion' by Laminex.
Flooring

Sicodur tile in 'Graphite' from Metz Tiles.
Lighting

Inch 5.4 wall lights by Wever & Ducré from Est. Lighting
Furniture

Custom- made Order & Collect Counter unit made from American white oak timber veneer from Briggs Veneers and 'Deep Titanium' Corian solid surface from CASF. Custom-clad self order kiosk in 'Deep Titanium' Corian solid surface by Coates. Custom-made booth seating and zinc table by Kian.
Other

Illuminated signage by Coates.
Credits
Architect

Landini Associates
Surry Hills, Sydney, NSW, Australia
Consultants

Builder Clifford Constructions
Engineer Richmond and Ross
Lighting JHA Consulting Engineers with Jadecross and Maximum Lighting

Site Details
Project Details

Status Built
Design, documentation 12 months
Construction 8 months
Category Hospitality, Interiors
Type Cafes

Source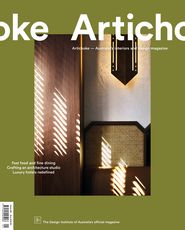 Issue
Artichoke, March 2019
Related topics