A draft 20-year plan, prepared by planning, design and place-making practice Roberts Day for the NSW Government, would see several thousand more people living in the eastern half of the Rhodes Peninsula in western Sydney, housed in medium-density buildings with walking access to transit options.
According to the Department of Planning and the Environment, 733 people currently live in 274 private dwellings in the Rhodes East area, which the department defines as a wedge at the northeastern tip of the Rhodes Peninsula between the Parramatta River foreshore, Blaxland Road and Concord Road. The number of dwellings would increase 13 times to approximately 3,600 under the masterplan, which will house 8,255 people.
Up to 200 of these dwellings would be affordable housing for "essential workers," such as teachers or police officers.
The planners say they are keen to see the neighbourhood develop around a diversity of lot sizes and building typologies. They draw a comparison between Rhodes East, which comprises mainly detached houses and former industrial land, and the inner suburb of Potts Point, which has a similar density and mix of lot sizes.
"Sydney's inner city neighbourhoods […] are widely recognized for their walkability, sustainability and liveability," the draft plan reads.
"However, in more recent times, this diversity has unfortunately been replaced with a more homogeneous approach that has resulted in places that are not human scaled and, as a consequence, are less walkable and with a lower quality public domain."
Rhodes West, by comparison, has already been heavily redeveloped and has a remarkably different character to Rhodes East. Composed mainly of large buildings up to 40-storeys high, several of the complexes feature floorplates that occupy an area equivalent to several blocks in Rhodes East.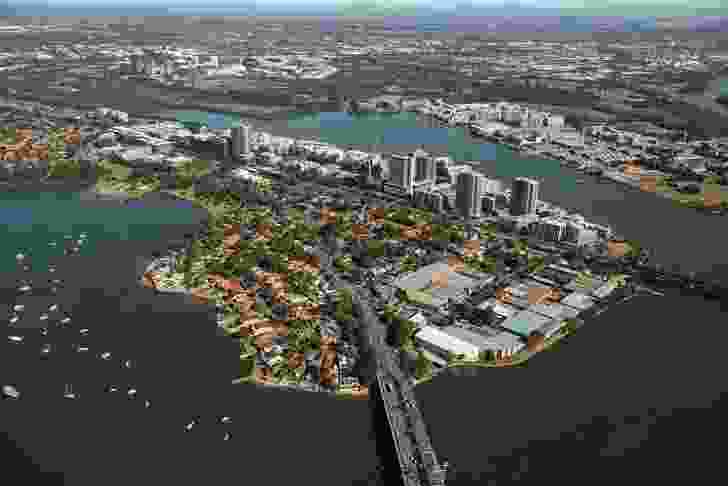 "By reducing lot density, fine-grain buildings [in Rhodes West] have been replaced by fewer larger buildings with less relationship to the street and pedestrian environment," the planners said.
"The large floor plates are often driven by basement car parking requirements reflecting parking rates that encourage private vehicle ownership and driving rather than walking, car share or public transit use."
"Diversity in development and form will be the key driver in realizing a point of difference at Rhodes East."
Height limits will vary across the precinct, from six to nine storeys along the Concord Road Corridor to up to 38 storeys along the Rhodes East Gateway, as well as two- to three-story terrace-style dwellings across the precinct.
The planners also argue that a major challenge will be in ensuring that access to the transit network becomes more accessible as the local population grows.
"A key focus has been to create an urban structure that maximizes opportunities for walking, cycling and public transport patronage," the draft plan says.
The designers identify both the T1 railway line that bisects Rhodes, running parallel to Blaxland Road and traversable in only two places, and the six-lane Concord Road, as major barriers to creating a "livable, mixed-use walkable community."
A new "land bridge" over Concord Road would create a major pedestrian thoroughfare, while a new pedestrian rail bridge linking Rhodes East and Rhodes West would "increase connectivity within the peninsula, whilst providing safe pedestrian access over major transport routes."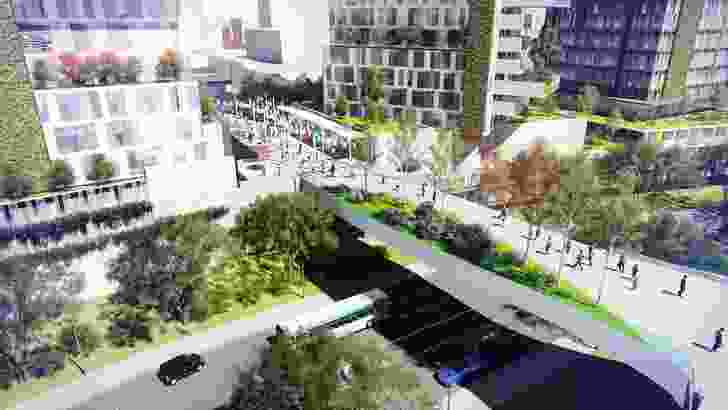 A new ferry wharf connected to the Sydney ferry network is also present in the plan, with the NSW government committing itself to delivering the wharf within 3-5 years. The planners also argue that maximum parking provisions should be imposed, with no car parks permitted in new developments within 400 metres of Rhodes station.
NSW planning minister Anthony Roberts said, "The government's priority is to address housing supply, but we also want to create lively communities that have good access to transport connections, activities, shops and cafes, as well as jobs and schools."
Rhodes East is not the only area on the Parramatta River subject to mass redevelopment. Nearby Wentworth Point is currently the subject of a design competition for the addition of a 1,000-home, high-density residential complex, and was connected to Rhodes and its train station by a pedestrian and bus-only bridge in 2016.
Also involved in the creation of the plan were the City of Canada Bay, Hill PDA, Jacobs, Elton Consulting and Turf Design.
The draft masterplan is on exhibition until 10 November 2017. The Department of Planning and Environment is accepting public submissions on the plan. For more information, go here.
Related topics