Councillors have voted to endorse a plan that will see Melbourne's Elizabeth Street closed to cars over a number of years.
The Elizabeth Street Strategic Opportunities Plan proposes to prioritize pedestrian, bicycle and public transport traffic by removing all or most vehicle lanes. The Future Melbourne Committee voted in favour of its adoption at a meeting on 21 May.
The plan specifically calls for the two blocks that contain tram stops – between La Trobe and Little Lonsdale streets and between Little Bourke and Bourke streets – to be completely closed to non-tram traffic.
Meanwhile, the remaining stretches of Elizabeth Street would remain open to private vehicles. Footpaths, however, would be extended to meet the tram tracks on the eastern side of the road, limiting traffic to the northbound lane.
The plan notes that increased patronage of the tram system and the increasingly dense foot traffic within the central city have created overcrowding and safety issues. In one comparison, it notes that while foot traffic on the block between La Trobe and Little Lonsdale streets has more than doubled over the period between 2015 and 2018, vehicle traffic dropped over the same period.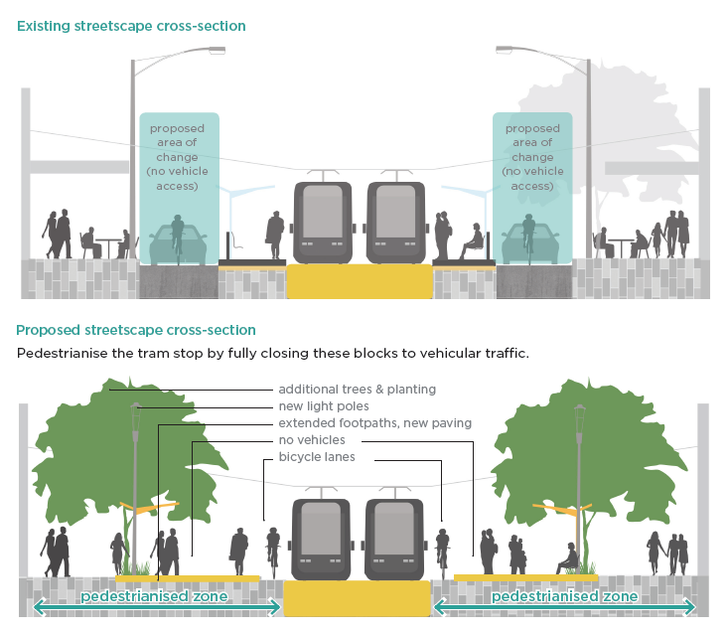 It comes after the council published the Melbourne Transport Strategy 2030, which envisions the eventual pedestrianization of much of the Melbourne CBD. The strategy argues that the CBD streetscape needs to become more friendly to pedestrian and public transport traffic, in large part because of an anticipated boom in the city's daytime population.
In a media statement, acting Lord Mayor Arron Wood said, "We want people to feel more welcome so that when they cross the road from Flinders Street Station they can easily walk down wider bluestone paved footpaths, pop into one of the many retail outlets, take a seat on new street furniture and enjoy alfresco dining."
Early pushback to the plan has come from the Victorian government, with state transport minister Jacinta Allan telling The Age that she was concerned about the effect the closures would have on congestion while much of the city is affected by the construction of stations for the Melbourne Metro Tunnel.
"We need to ensure any changes being considered by the City of Melbourne take that construction into consideration," she said.
Greens councillor Rohan Leppert took to Twitter to respond, saying "we can't leave 80 percent of our road space for the least efficient transport mode while pedestrians don't fit on the footpaths. Safety is paramount."
Related topics