The Birdcage marquees at the annual Melbourne Cup Carnival are a design typology that is hard to define. On a functional level they are a branch of hospitality design. Marquees can be as genteel as a country club and as pumped-up as a nightclub – and sometimes the one marquee can be both, depending on the time of day you visit. These carefully orchestrated interiors for the theatre of social exchange are temporary, which also makes them a type of installation design. Like visual merchandizing or event styling, maximum effect and impact is privileged over longevity.
At the Loft marquee by emerging architectural design office Joyce + Made, a finely crafted interior sat behind a robust architectural grid. Layers of white-painted reinforcing mesh were used to create a three-dimensional frame structure that deepened the street edge and heightened the theatre of social exchange. Fragrant honeysuckle grew up through the steel cage and inside the marquee silver birch trees with crocheted root balls were suspended from above, floating in the space. Daylight was diffused through a ceiling of lime-washed timber beams that created a linear effect, which was further heightened by mirrored walls, columns and blocks of joinery. In a nod to the serious equestrian pursuits out on the track the custom-made plywood furniture was dressed and strapped with leather.
The client for the Loft, Corina Baldwin, has a knack for spotting emerging design talent. Her past collaborators on spring racing carnival marquees include Hecker, Phelan and Guthrie, March Studio and Herbert and Mason. This year her event management company, bttb, worked with Tarryn Joyce and Demie Manolas, the seemingly eponymous duo behind Joyce + Made. The Loft marquee and The Smith bar and restaurant in Windsor are among the practice's first built works.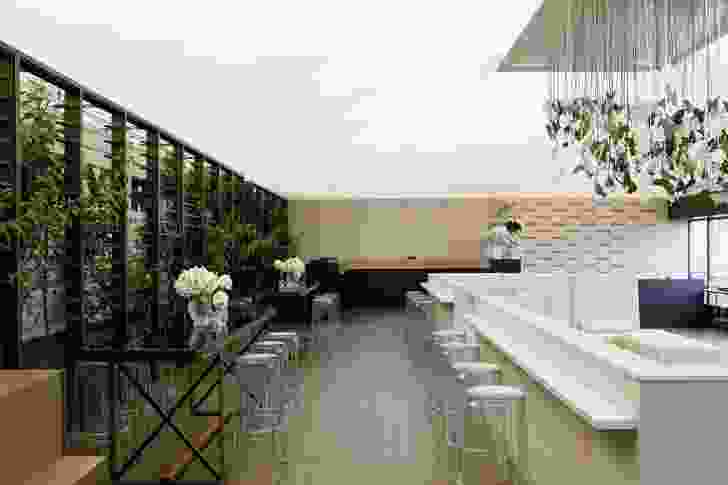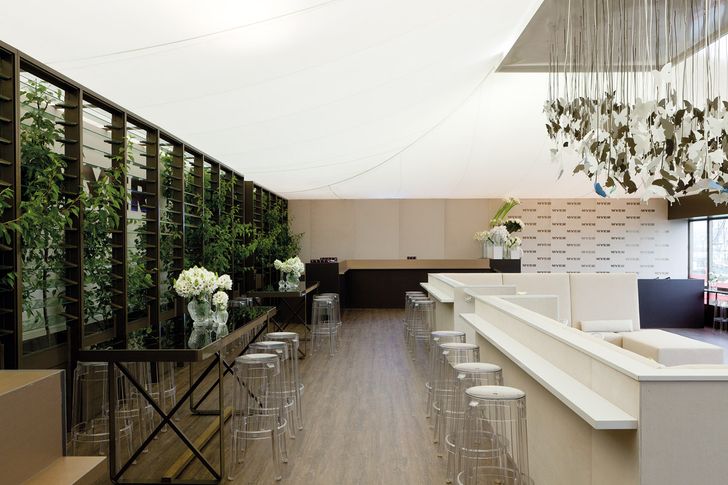 Marquee maven Amanda Henderson from Gloss Creative once again worked on a number of the carnival marquees – one possibly the most expansive and another perhaps the most petite of the 2011 marquees. The latter was for Fruche yoghurt. Here she adorned a simple timber pavilion with a ruched floral canopy. Fashioned from half a kilometre of fly wire, hundreds of flowers cascaded down from the ceiling, across the walls and out onto the balcony. The front-row Myer marquee was a lepidopterist's dream. Conceived in conjunction with Emma Hofstede from Myer, this two-level party space kept the social butterflies in and the (notoriously fickle) Melbourne weather out. Operable Breezway glass louvres were used to create walls that protected Myer's fashionable guests when it rained while still allowing the spring breeze to waft through. A kaleidoscope of laser-cut alloy butterflies adorned the facade and inside floated above, defining the marquee volume.
For both emerging and established designers a Melbourne Cup Carnival marquee is an enviable opportunity for design experimentation – however you define the project. But, seriously, who needs a definition when you have a glass of champagne in your hand?
The 2011 Melbourne Cup Carnival took place at Flemington Racecourse, 29 October and 1, 3 + 5 November 2011.
vrc.net.au
Credits
Design practice

Joyce + Made
Melbourne, Vic, Australia
Consultants

Event management bttb

Site Details

Location 500 Epsom Road, Flemington, Melbourne, Vic, Australia
Site type Urban

Project Details

Status Built
Completion date 2011
Category Hospitality, Interiors

Client

Client name Corina Baldwin

Credits
Design practice

Gloss Creative
Melbourne, Vic, Australia
Consultants

Design Emma Hofstede, Myer
Florals Jeff Leatham and Flowers Vasette

Site Details

Location 500 Epsom Road, Flemington, Melbourne, Vic, Australia
Site type Urban

Project Details

Status Built
Completion date 2011
Category Hospitality, Interiors

Client

Client name Myer

Credits
Design practice

Gloss Creative
Melbourne, Vic, Australia
Site Details

Location 500 Epsom Road, Flemington, Melbourne, Vic, Australia
Site type Urban

Project Details

Status Built
Completion date 2011
Category Hospitality, Interiors

Source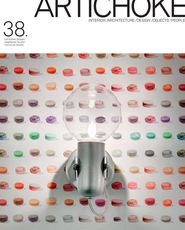 Issue
Artichoke, March 2012
Related topics