In September 2012 Federation Square will become host to a "village" of ten rooftop beehives as part of an ongoing program committed to celebrating Victorian produce. As one of the largest installments of its kind, beekeepers Vanessa Kwiatowski and Mat Lumalasi of Melbourne City Rooftop Honey will tend to the hives as they produce honey for the Square's numerous restaurants, cafes and bars. In an effort to help raise the profile of urban apiaries and the plight of honeybees both locally and around the world, it is hoped that visitors will develop enthusiasm for the practice of rooftop beekeeping as a sustainable opportunity for urban centres, inspiring similar projects.
Far from a whimsical exposition or model for a do-it-yourself breakfast spread for industrious urbanites, the practice of urban beekeeping is actually centuries old. While the botanical hobbyist often waxes lyrical about the pollinating prowess of our airborne allies, bees are usually seen as nothing more than an (occasionally) painful picnic pest. Bees, however, are in fact crucial to food production through pollination. A conservative estimate holds that bees pollinate 65 per cent of our total agricultural crop. To this statistic Mat eagerly adds that one out of every three mouthfuls we eat is totally dependent on bees and the threat of the Varroa mite, which has devastated bee populations across North America, is very real indeed.
Usually distant from the concern of the design community, there are forty such urban villages already in action around Melbourne. The presence of the hives is intended to highlight our absolute reliance on bees and should provoke discussion on how we might use planning as a tool to better accommodate urban beekeeping. Far from simply chucking several pastel coloured boxes on a empty roofspace, the location of each inner-city hive is tested by Mat and Vanessa using remote weather surveillance stations. Wind-tunnel effects produced by tall buildings can adversly affect the success of a hive, as can overheating (and in some cases cooling). Once in place, bees will travel up to five kilometers to source nectar, though it has been shown that bees in urban colonies will often travel much shorter distances, extending their lives and increasing yield.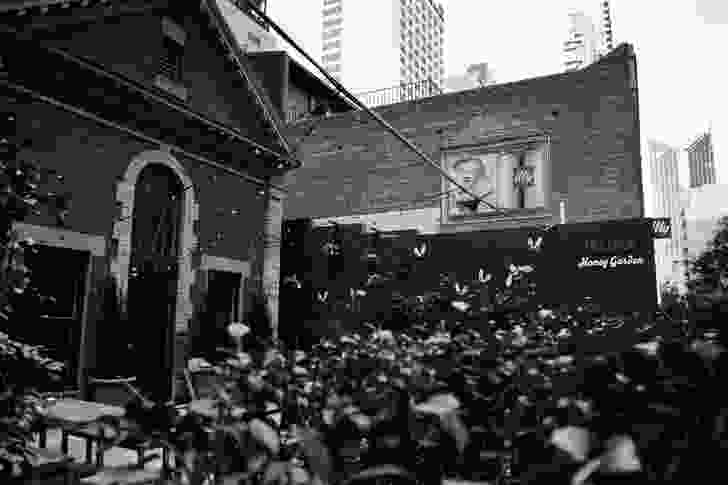 Not surprisingly, the idea of urban beekeeping sometimes turns heads. Mat and Vanessa say that people are often surprised about the extent of urban beekeeping, but are ready to allay any suspicions. "It's a very safe practice," assures Mat, "Honeybees as a general rule are not interested in humans and their flight paths rarely cross human traffic." Additionally, the urban context offers unique conditions for the production of honey. Vanessa notes that "Melbourne honey is a unique polyfloral. Like wines, each kind of honey has its own qualities and attributes and it varies from one season to the next."
As a project in urban agriculture the keeping of rooftop hives might begin to suggest possibilities for the future development and planning of our urban environments. Given their importance to food security and the diversity of the planet's food culture, Mat and Vanessa plan to eventually put a hive in every Melbourne suburb bringing presence to an under-represented issue. The project may well provide the impetus for designers to consider our buzzing cousins and how fostering interest in urban apiaries will yield potential solutions to help combat the decline and impending collapse of bee populations across Australia – as well as keeping the nation's toast well-coated, of course.
Follow Mat and Venssa's project on Twitter: @Fed_Square and @rooftopbees, or Facebook.
Related topics