The largest and most ambitious exhibition ever undertaken by the National Gallery of Victoria (NGV) is about to throw the spotlight onto the contemporary Melbourne creatives who have shaped this unique cultural and urban landscape. Opening on 22 November 2013 and running through to March 2014, Melbourne Now is a mammoth and multi-faceted exhibition with over 600 events and exhibits by twenty-five curators and 200 artists, architects and designers of fashion, jewellery and industrial objects. Here are just a few key anchorage points to start. Stay tuned for more coverage.
Design In Everyday Life 2013, curated by artist / designer Simone LeAmon with the help of exhibition designer Edmund Carter, showcases more than seventy design projects by forty designers, studios and makers of furniture and industrial object designs, on a giant peg-board assemblage. Ewan McEoin's light installation Zoom is created from an ever-changing feed of socio-geographic data and Rory Hyde's giant Bin Dome, created with Tobias Pond and Jon Anderson is filled with bromiliads that will hopefully multiply over the life of the installation.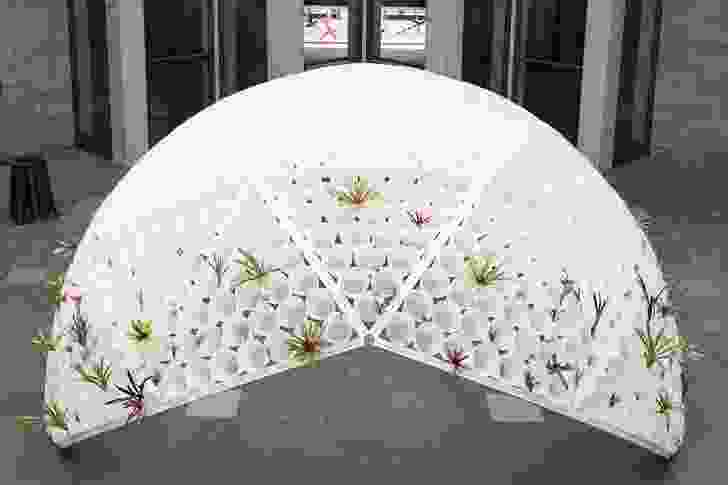 Fleur Watson curates an immersive, image-dense environment with work by twenty Melbourne architects; McBride Charles Ryan's Community Hall at the entrance of NGV International, Melbourne's homegrown game of Trugo brought largely to life by Phooey Architects with Flatland OK designer Tim Fleming. Fifty years of ideograms by RMIT professor Leon van Schaik will be on show, as will the work of bespoke independent fashion houses, shoemakers and jewellers.
Pop-up studios include the architects of ARM (at Hamer Hall) and MaterialByProduct (at the NGV). At the MaterialByProduct studio, designer Susan Dimasi will draw inspiration from eighteenth-century brocaded silk fragments from the NGV Collection to create new works on a purpose-built loom. In addition there will be installations, displays and showcases covering fashion, jewellery, sound, light, visual and industrial design.
22 November 2013 – 23 March 2014
10 am – 5 pm
Free
National Gallery of Victoria
Information and program
Related topics