Melbourne planning changes certain to benefit public, Institute says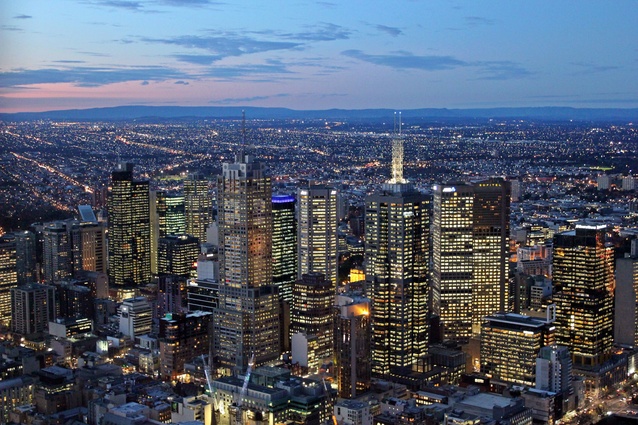 The Australian Institute of Architects has lauded recent changes to Melbourne's planning laws, calling them "extremely generous" controls that are both sensible and in the public interest.
The Victorian state government introduced interim planning laws for the city's CBD that restrict plot ratios to 24:1, impose new height limits, require more space between buildings and assign the City of Melbourne a greater role in planning processes.
"There's no doubt that they were necessary. The developments that we've been seeing approved and built are pretty unrestrained – up to plot ratios of 40 – which is just unheard of in other cities," said the Institute's Victorian chapter president Peter Malatt.
"This control will bring more certainty about what will or will not be approved and it is certainly to the public benefit in terms of getting more open space, reducing the overshadowing and wind effects and preventing a canyon effect through the city."
Malatt said it was likely that some architecture and design professionals would experience short term setbacks from the changes.
"There will be some short term pain because unfortunately people who have been part way through a design project are really caught now with a very significant change to the development control, and they're going to have to redesign and either negotiate a new fee for that redesign or if they're not very far into the project, just start again," he said.
The laws drew harsh criticism from the Urban Development Institute of Australia, who said they could undermine the city's property market. But Malatt disputes this notion, pointing to the fact that Melbourne's interim plot ratio controls are double Sydney's, which only allow a plot ratio of 11 to 1, and more than double New York and Hong Kong's plot ratios of 10 to 1.
"I really don't think it can be said that the government is preventing development because they're extremely generous controls in many ways." he said.
"They're just trying reign in the very high density that we're seeing in some projects."
Proposed changes will be available for consulation early in 2016, and updates to the Melbourne Planning Scheme to replace the interim laws are expected in the second half of 2016.