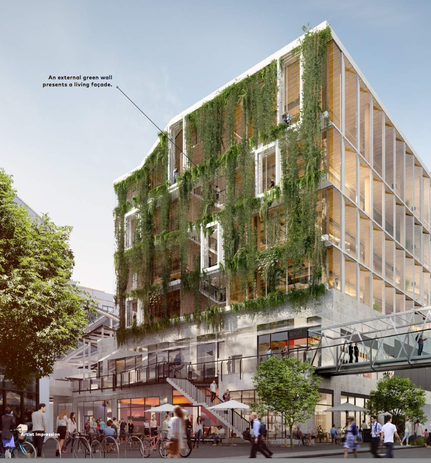 A six-storey cross-laminated timber (CLT) office building will become Melbourne's first timber commercial building after it received planning approval to be built in Docklands.
Designed by NH Architecture, the 8,000-square-metre office building will be built with 80 percent CLT and will sit atop an existing concrete building. A glass and solid material facade combined with an external living green wall will maximize daylight penetration and reduce solar heat gain.
The building will be designed with the occupants' health and wellbeing in mind, according to the developer. The interiors will feature open floor plans, high ceilings and exposed timber. Occupants will also have access to 24-hour end-of trip facilities.
"This is a unique building which has 5.5-star NABERS and Green Star ratings due to the use of CLT, which has the structural strength of traditional concrete and steel but dramatically reduces the building's environmental impact," said Anthony Park of CBRE, the agency tasked with marketing the building.
The approval of the building, dubbed Woodwork, follows a number of timber buildings that have completed in the Docklands, including Australia's first timber high-rise apartment building, Lendlease Design's Forte Apartments, completed in 2012, and The Library at the Dock by Clare Design and Hayball, which opened in 2014.
Woodwork will be located on Waterfront Way, adjacent to the Melbourne Star Ferris wheel, and will form part of developer Ashe Morgan's $250 million revitalization of area that was previously known as Harbourtown – now rebranded as The District Docklands. AsheMorgan is planning to build 150,000 square metres of office space as part of the overall development of the precinct.