Melbourne's Jam Factory set for a $416 million upgrade
Melbourne's Jam Factory shopping and entertainment complex is primed for a major facelift, with a development application submitted to the local council that would see the centre become a 15-storey mixed-use precinct with a network of laneways.
The plans for the ambitious project, developed by Bates Smart and Leonard Design Architects and submitted to Stonnington council by the owner Newmark Capital, would see much of the existing fabric of the historic building retained, with additional structures built atop the building.
The proposed 15-storey precinct would accommodate 50,000 square metres of retail, cinemas and dining space; an active network of pedestrian laneways connected by a central plaza; an elevated garden terrace; car and bicycle parking; and 50,000 square metres of commercial office space.
Originally built in 1858 for use as the Victorian Brewery, the building was in near-constant use as a factory for a variety of preserving companies – including for the famous jam company Henry Jones IXL – until the 1970s when it was transformed by Peter McIntyre Architects and converted into a shopping centre. It was purchased by Melbourne-based investment manager Newmark Capital in 2015; the latest chapter in a long history of ownership changes and usage overhauls.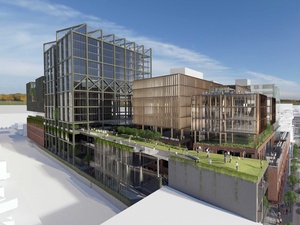 The previous owner of the complex, Challenger Financial Services, proposed an ultimately doomed $700 million overhaul of the site in 2008, in an effort to reverse a downturn in retail tenancy rates. The proposal would have seen the demolition of parts of the existing building, which caused community backlash. In 2013, the company commissioned a more modest upgrade – an $80 million intervention by NH Architecture.
A managing director of Newmark Capital, ex-Hawthorn footballer Chris Langford, said the new proposal would restore the status of the Jam Factory, while keeping community at its core.
"Our vision is to revitalize the Jam Factory, while respecting and celebrating its rich character and history," he said in a statement. "This site will be a district that encompasses the needs of the whole community. It will be a permeable district in the heart of Melbourne's most desirable location.
"One of the ways we are opening up the site is by reinstating the laneways that originally ran through the Jam Factory, similar to that when the site was occupied by the Red Cross Preserving Company. They've all been enclosed and built over, but we want to reopen them to the surrounding streets," he said.
Co-managing director Simon T. Morris said that the Jam Factory would also reignite the  local economy. "As a catalyst project, the new Jam Factory will provide the amenity the community is seeking and a significant boost to Melbourne's economy by attracting new business as well as local, interstate and overseas visitors, workers and shoppers," he said.
The project is mooted for completion by 2020, should the council approve the proposal.