Victoria's Minister for Planning Richard Wynne has rejected a Melbourne CBD mixed-use tower proposal designed by SHoP Architects and Woods Bagot, due to the building overshadowing the nearby Yarra River and Southbank precinct.
The proposed $1 billion development will occupy a city block bounded by Collins, Williams and Market Streets and Flinders Lane.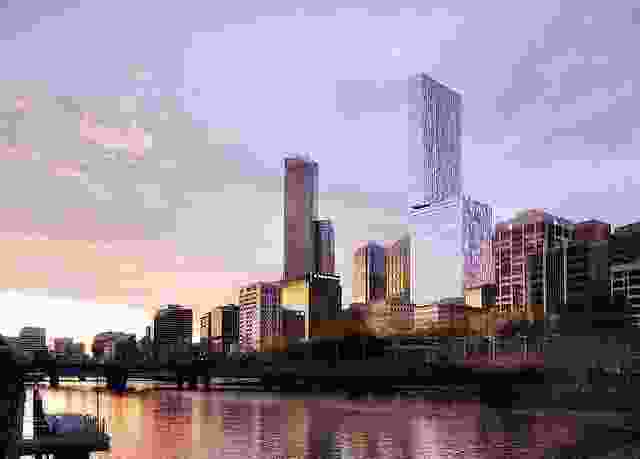 Woods Bagot and SHoP Architects won an international design competition for the project in May 2014. The original tower proposal, a 100-storey building rising to 295 metres, was rejected in October 2014 by then-planning minister Matthew Guy.
In September 2014, The Age reported that the City of Melbourne struck a deal with the developer Cbus Property to support the proposed tower, which also would have overshadowed Southbank, in exchange for a 1,900-square metre publicly accessible park on the site.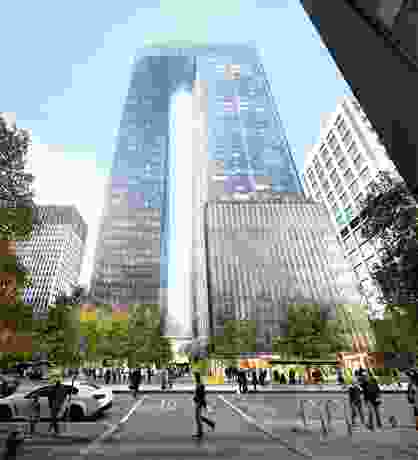 A revised proposal for the site, which included two shorter towers linked by a bridge at the top of the buildings, was unveiled in November 2015. Local media have dubbed the project the "pantscraper," presumably due to its resemblance to OMA's CCTV tower in Beijing, which is often referred to in China as "the Big Pants."
The revised proposal includes 68,000 square metres of offices, 269 hotel rooms, 315 apartments, 2,000 square metres of retail space, and a ground plane with a tree grove, a promenade and an amphitheatre.
The revised proposal again had the support of the City of Melbourne, however, the decision was the responsibility of the minister. The council's planning committee report found, "The application documentation shadow analysis shows that the extent (length) of shadow is significantly reduced when compared with the previous amendment."
"A significant amount of publicly accessible space is to be provided within the site which has good access to sunlight, will achieve comfortable wind conditions, incorporate (where applicable) landscaping with deep soil planting and provide true public street connections."

In spite of being almost half the height of the original proposal, the revised tower design did not alleviate the minister's concerns of overshadowing.
"It's a very big development," Wynne told ABC Radio host John Faine on 29 March. "It's a building that was proposed at 165 metres, which in fact overshadows the south bank of the Yarra River, in breach of the Melbourne City Council's own planning controls."
Lord Mayor of Melbourne Robert Doyle described the project as a "very elegant solution to what is a very strategic block," reported The Age. He also said the project has been turned into a "political pawn."
But the planning minister dismissed this claim. "It's about the amenity and protecting the river and [the Lord Mayor] has failed," Wynne said. "If [he] is not prepared to stand by his own planning controls, I will."
The minister's rejection of the project has angered the developer, according to The Age, which is, again, reworking its proposal to minimize the overshadowing of the river.
Related topics