It should have been every young Australian architect's dream: a letter from Europe written in very curly script that, once deciphered, spelled out a remarkable opportunity to design a beach house on the far south coast of New South Wales. But I had other things on my mind. I was in my late twenties and disillusioned with life in a traditional architecture practice. I wasn't sure I had the confidence to "go it alone." I also wasn't convinced that my parenting skills were what they should be, so after much discussion with my wife I was handed the "keys" to my new career as fulltime carer for Max, our eighteen-month-old son. I will never again question just how difficult it is being a stay-at-home parent. After six months I raised the white flag and decided it was time to respond to those mysterious international clients.
Writing letters can be so liberating. There's something so formal and final about sealing an envelope and licking a stamp. I agreed to take on the job, with the conditions that we would move to Merimbula for the duration of the project and that my family (licensed builders) would manage it. The "mysterious international exotics" responded quickly and profoundly: "Yeah, that's exactly what we want."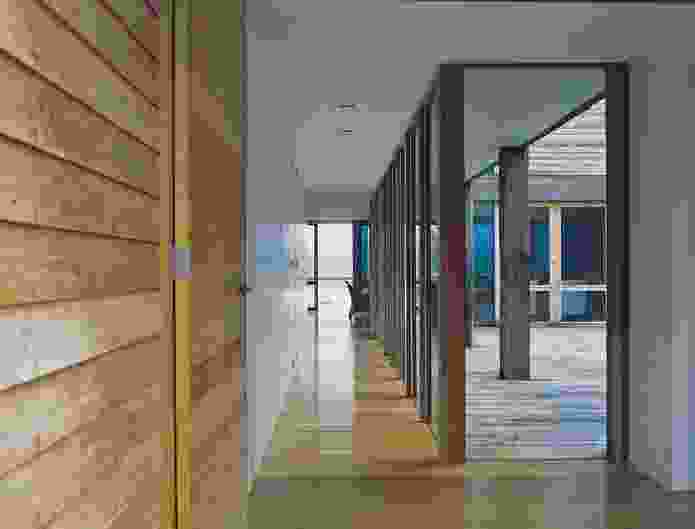 So began a two-year journey that ultimately helped me build a business in residential architecture. Much of this I obviously owe to those great clients. They showed incredible faith and trust in me and my family. Happiness is a client who lives on another continent! I'm still very close to them, twenty years on, and I visit (I still have the key!) every time I return to Merimbula.
Essentially every project I've completed since was spawned by this first house in Merimbula, completed in 1997. And with it came extended relationships with clients, various tradespeople, builders and other architects, and perhaps even my place in the architecture community. While over the past eighteen years there's been a lot of love for the house, many locals still regard it as the ugliest they've ever seen. It's led to conversations with people all over the world.
The house was unique. We'd pain-stakingly sourced beautiful reclaimed timber with which to build it, something that wasn't common practice at the time. Fortuitously we decided to express the structural frame. The inspiration for this largely came from my elder brother Andrew, who led the team of carpenters. He felt the timber was too beautiful to conceal. I agreed and then set about designing the "very" Australian beach house my clients desired. The project was sited on an exposed headland. I set about designing a house that referenced wharf structures – well, there is a subtle reference, anyway. Ultimately that's the very thing that set the house apart from others. When you're in Merimbula House you just don't feel like you're in a conventional house at all. My clients were also adamant that the dwelling had to be a safe haven for them and their international guests, usually "trapped" in apartments throughout Europe. A private oasis, if you like.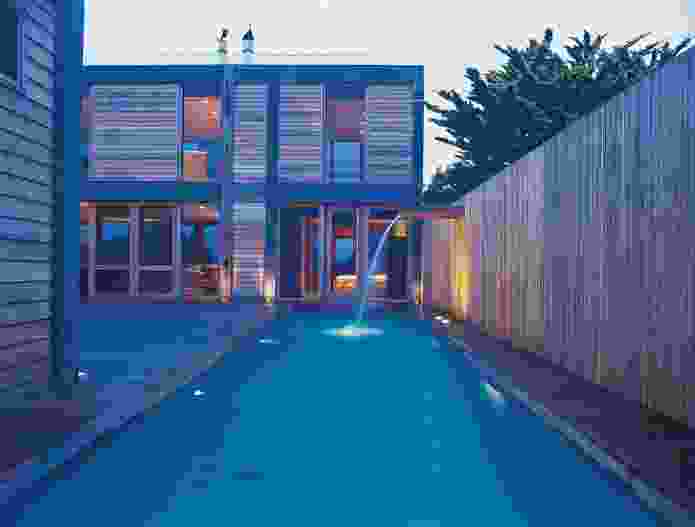 We were so naive about taking on a project like this. Reclaimed timber can be tough to work with – there are only certain lengths available, it can still have bolt holes in it or chunks missing. But I think our decision to use reclaimed timber is a big factor in why this project was so successful for everyone concerned. We built a great team led by my brother Andrew; my father held the financial reins; I sent updates to our clients every Friday night by fax. The clients replied in writing so curly, it was often difficult to understand exactly what they were trying to say. They visited the project only once during construction. The day they finally arrived to move into the house (which they use as a holiday home) will go down as one of the more stressful in my life. I was at the wedding of a young carpenter who cut his teeth (and various body parts) on this project. Holed up in the local fishing club, I was off my food and didn't feel like dancing. I had left the key in the door for my clients but couldn't stand the anticipation any longer. What if they hated the house? I left the wedding and with my head thumping, I knocked on the door. "Please put me out of my misery," I said. They looked at me, paused, and then said, "When we saw the house we really didn't know what to think, and then we opened the door and we just thought, 'paradise.'" Much later, back at the wedding, I shed a tear. If a career can be defined in a moment, that was mine.
(Twenty years on, that little boy who accompanied me to cafes in St Kilda now works with me. Max has grown up, in and around my projects, and is now a part of Clinton Murray Architects.)
Credits
Architect

Clinton Murray Architects
Melbourne, Vic, Australia
Project Team

Clinton Murray, Andrew Murray, Maxwell Murray
Consultants

Builder Andrew Marshman & Associates
Built-in furniture design Clinton Murray and Paul Morris
Joinery and doors Pambula Joinery
Lighting Geoffrey Mance

Site details

Location Merimbula, NSW, Australia
Category Residential buildings
Type Houses

Project Details

Status Built
Completion date 1997
Design, documentation 6 months
Construction 18 months

Source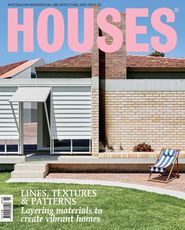 Project
Published online: 4 Jan 2017
Words: Clinton Murray
Images: Janusz Molinski
Related topics