On arrival from the narrow gravel road leading to the Merli House in Merricks North, the home is seen first as a large bagged-brick wall crested by a hexagonal turret with a strangely simple gable roof. The surface of this wall has weathered in a satisfying sort of way, and is nested within vegetation of different types. It gives the impression of a building, or more accurately a complex of walls and roofs, that has been there for a long time. Like the groupings of structures and trees found on a farm or homestead, this ensemble is not easy to grasp as a whole at first, but nevertheless feels immediately comfortable and "settled in."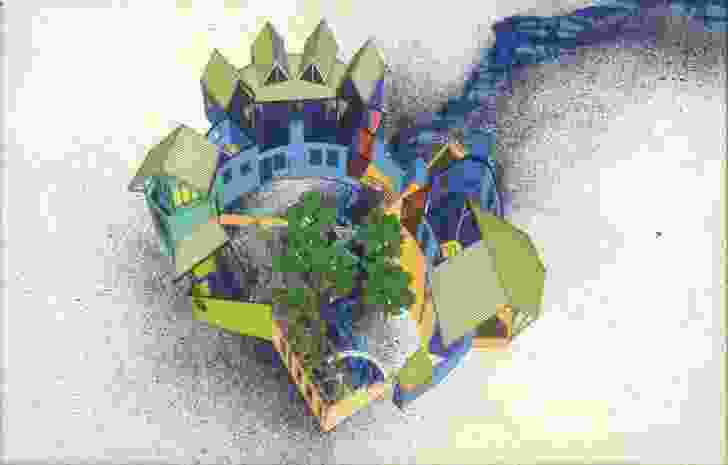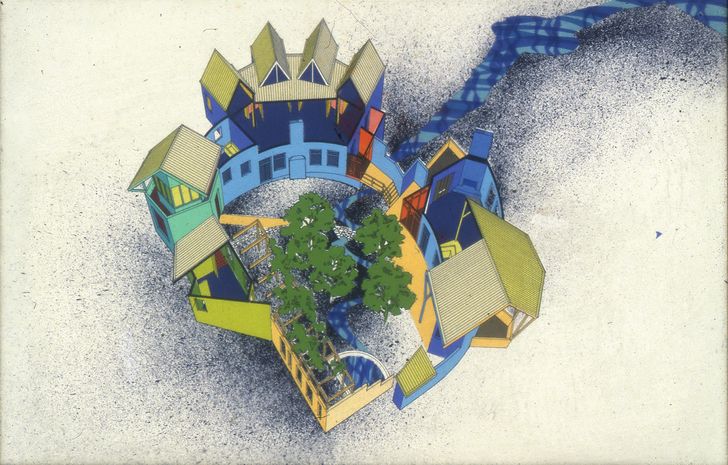 This was a bit of a surprise to me, being an architect who knew the scheme but had not previously visited the site on Victoria's Mornington Peninsula, or seen images of it. The drawings and rhetoric surrounding this design have the type of exuberant, playful aggression that we understand more broadly within the oeuvre of Edmond and Corrigan and its ongoing cultural narrative. Arriving here, however, suggests a chance to take this work and its setting at face value, and another type of appreciation is possible.
The house was built by owners Ennio and Carol Merli – Ennio is a builder who worked with the office of Edmond and Corrigan on numerous residential projects during the 1980s and '90s. Perhaps because of this existing relationship and trust between architect and builder many of the details are straightforward and pragmatic, which adds to the sense of ease and first-impression familiarity, but also reveals unusual shifts by the designers, such as introducing deliberate tensions and putting the composition off balance. Roof planes follow simple falls but don't quite match the shape or orientation of the rooms they are covering, resulting in varying eaves and chopped-off corners and introducing dynamism to the central courtyard. This space is an inwardly focused exotic world, beautifully planted and grown over time, but it is neither fully closed nor simple. A cross-sectional fall follows the topography and allows views over the space. Gaps and discontinuities make the walled space both strong and leaky, with an ambiguous and layered sense of enclosure (much like the odd spaces encountered in a square in a hill town, or old farm courtyards). All of this carefully juggled complexity, however, is constructed simply and without apparent effort. Bagged-brick walls, curved and faceted, rise naturally and are topped by exposed rough-sawn Oregon timber beams and rafters, capped with straight fascia boards and eaves gutters. The language and materiality evoke some of the rustic qualities of Robin Boyd's later work (such as Jimmy Watson's in Carlton, 1962) albeit with some new Italianate overtones and formal collisions.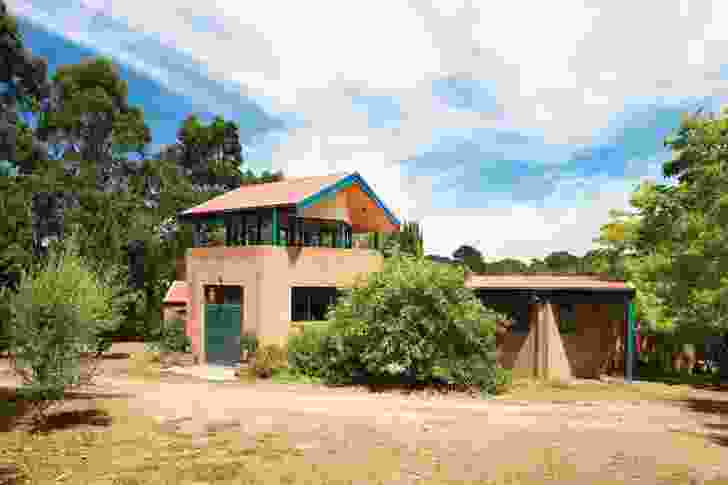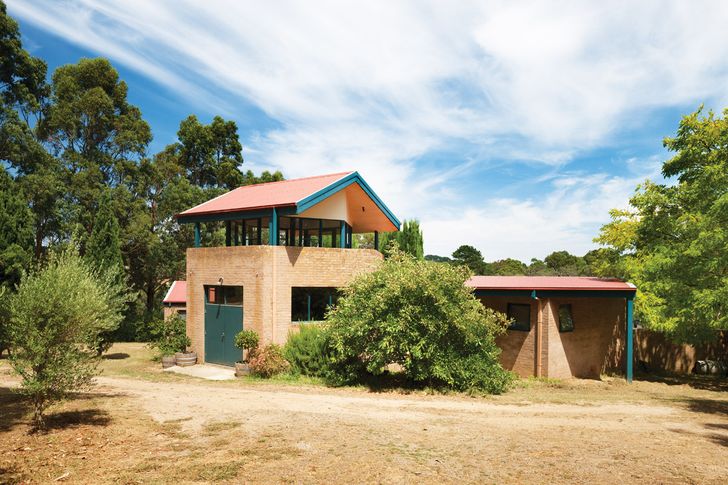 The plan arranges a loose collection of three small "apartments" strung around the central courtyard like dissimilar stands around a country football oval. The outer wall of each extends to form the brick wall enclosing the central garden. Each building is both independent and connected, with the hexagonal entry hall "retreat" and a small deck looking out to the external landscape occupying the interstitial spaces between these zones. The ensemble clusters together like a village, and gives structure to a type of family life that is both gregarious and independent. Here is a proposition for living together that is fundamentally social and convivial, but not claustrophobic. Each group of rooms has its own external door, a small deck and a degree of privacy. Each individual within the group can come and go as they please, without interrupting others or feeling like they are under surveillance, but there is also an easy sense of bumping into each other along the way. A farmhouse-scale kitchen area provides a welcome table for coming together and sharing meals. This spatial arrangement offers many readings and an inherent flexibility. The possibilities for social groupings exceed concepts of a "nuclear" family and suggest more complex arrangements such as multi-generational living, two families living together, or a type of share house for three semi-independent households. The much-published Athan House, designed by the same architects a few years later (although completed earlier), extended this thinking on the house as a collection of semi-independent rooms, with more beds than seats at the dinner table – not assuming that we always are or need to be living in perfect sync with each other.
This type of gentle sharing – providing privacy and independence but also the chance for unstructured social interaction – is exactly the sort of thing contemporary housing requires, for example, if it is to seriously provide for non-static family structures and an active and engaged ageing population. We can imagine a version of this ensemble as a cluster of buildings accommodating two or three households, built together with pooled finances around a shared landscape. A common suite of materials and approach to building gives a relaxed ambiguity (and hence flexibility) to the delineation of individual territory. This house provides some valuable lessons on how different living rhythms can co-habitate: living together according to one's own rhythm, the rhythm of family, of the landscape and its seasons.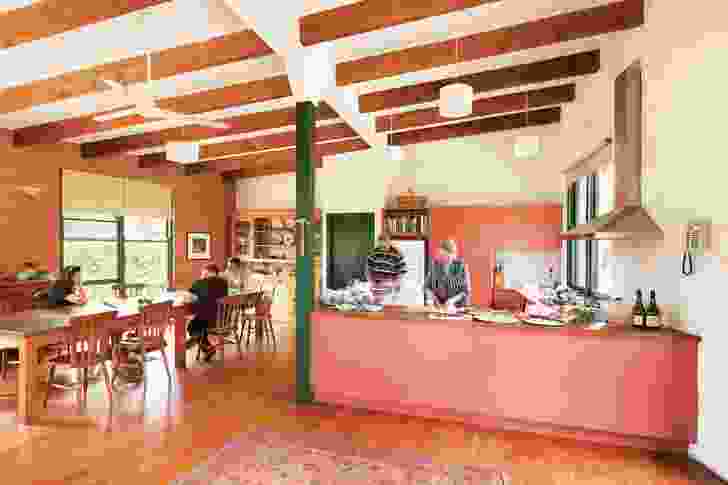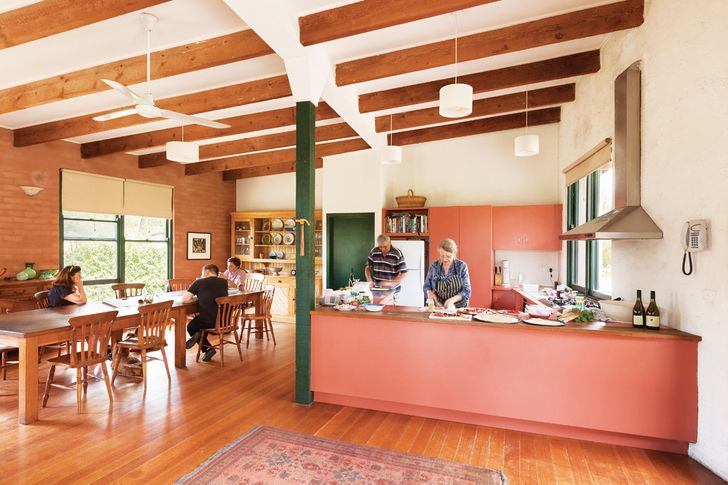 The house has aged well, in all senses. The period of family life involving fully dependent children is a relatively brief interlude, and although the house was constructed for that purpose it still works well for a grown-up family, without modification. The main bedroom and living area is compact and accessible, and doesn't feel too big for just two people living in it. The owners now run a small vineyard in the adjacent paddock, and their grown-up son lives in the house, in a separate wing, while he looks after the vines and the winemaking business. Open days and wine-tasting events are easily accommodated in the courtyard and tower. It is possible to imagine these spaces transported and re-scaled to an urban setting, being used by many groupings of occupants for shared activities.
The colourful perspective drawings of the unbuilt project still linger in the back of my mind, and their energy lives on – underpins – the spirit of the dwelling even if the palette has become more muted. The design's strong conceptual origins reflect upon and question dominant cultural understandings of family, and its experimental formal and physical combinations are intimately related to everyday life and interpersonal relations – not just employed for their own sake. Landscape is included as integral to the architecture, both interior (courtyard) and exterior. The building's materiality and construction methods are both plausible (normal) and provocative in the way they have been deployed – but perhaps, most importantly, solid and long-wearing. The interior spaces are textured and engaging, beautiful even. This is a flexible family house that grows old happily and matures with its occupants. We can already look forward to how the next generations and others might interpret and adapt its story.
Credits
Architect

Edmond and Corrigan
Melbourne, Vic, Australia
Site Details

Location Mornington Peninsula, Vic, Australia

Project Details

Status Built
Category Residential
Type New houses

Source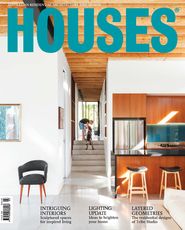 Related topics