MGS Architects has designed VincentCare's newest housing project, The VincentCare Homeless Resource Centre and Housing Project in Melbourne.
The site is located between Flemington Road and Chapman Street in North Melbourne. VincentCare, an organization providing support to vulnerable Victorians, including those experiencing homelessness, is currently operating Ozanam House at the site, a space that provides residential services to people in need.
VincentCare asked MGS to examine the site and redevelop the area to provide a homeless drop-in program, health services, case management and consulting and accommodation.
The accommodation element of the project will comprise a 12-storey building with 160 apartments, including an estimated 60 short-term stays, 40 medium-term stays and 30 long-term stays.
The services that will be provided by the facility include a meals program, showers and laundry facilities, housing information, IT access, material aid and co-located health services, including dentistry, physiotherapy, podiatry and a GP service.
The public entry to the facility, which is also the entry for short-stay accommodation, is accessed via the Flemington Road side of the site. Through the public entry are the clinic, an activity area and various multipurpose rooms, said MGS director Eli Giannini.
"The activities centre is left quite open, it's like a shop front – people can see in and people can see out. It's not behind closed doors. And behind that there's a sort of a courtyard, it's all permeable," Giannini said.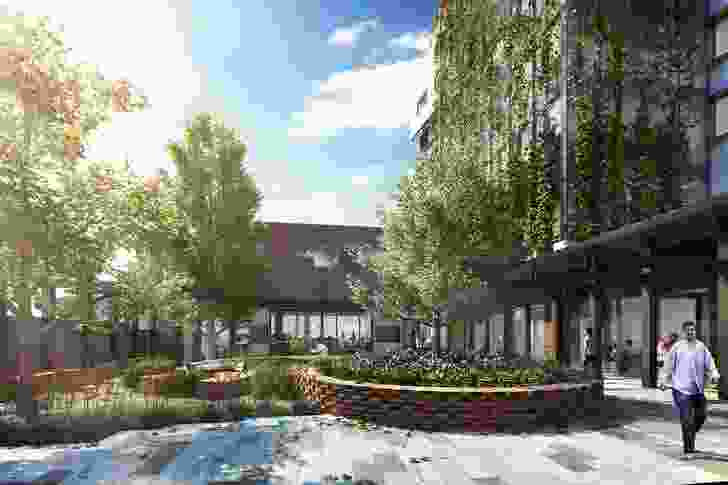 Along the Flemington Road frontage to the north of the site is a cafe that can be accessed by both the general public and by people who work at or visit the premises.
"It's a bit of a social enterprise idea and we're not 100 percent sure how it will operate but that's the initial thought, that it would be something that has a community aspect to it," Giannini said.
The residential entry to the 12-storey building housing medium-stay and long-stay apartments is located on the south side.
"The residential entry is quite clearly separate from any of the other entries along that frontage and basically it leads you to a discrete residential lobby, which then takes residents directly upstairs to their lobbies and to their apartments," said Giannini.
The ground floor of the medium-stay and long-stay accommodation has a library and a gym, and some communal facilities that can be used by the permanent residents. On each floor there are also communal lounges for communal activities and to receive visitors.
To fund the project, VincentCare will sell the land that faces Chapman Street with a planning permit to allow the construction of townhouses.
The Council to Homeless Persons (CHP) – the Victorian body representing organizations and individuals committed to ending homelessness – released a statement on 24 August 2016 estimating that failing to permanently house homeless people in Victoria is costing taxpayers more than $19 million every year due to the extra demand being placed on emergency, health and justice systems.
The calculation is based on a Sacred Heart Mission report, which estimated that for every rough sleeper who is housed and gets support to get off the street, the government saves $17,591 per year.
The CHP is advocating for a housing-first model to be applied to end homelessness. This would involve clients being provided with a home, which they pay rent on at a rate of 25 percent of their income.
The VincentCare project follows other social housing projects completed by MGS Architects, including Kyme Place Rooming House in Port Melbourne and McIntyre Drive Social Housing in Altona.
Related topics