"Embracing the familiar is a starting point to a dialogue," explains Michael Anastassiades about his design process, at his studio in a former mechanics workshop in Camden, North London. "Until last year I hosted the studio on the ground floor of my home," he adds, "though as we expanded, this became impossible." Born in Cyprus, Michael studied civil engineering before moving on to a master's degree in industrial design at the Royal College of Art in London. He then opened his studio in 1994.
Michael describes his early work as "experimental," but says the pieces hold the same qualities found in his more recent collaborations with major European manufac-turers and his self-titled brand, launched in 2007. These are qualities of timelessness – familiar yet challenging and technical to the nth degree.
Continuing his exploration of timelessness, Michael's work links our engagement with materials to the familiar: "Buying a vintage piece of furniture, you look for the patina. In that, you find a passage of time." Deliberately, Michael prefers not to coat the metals used in his work – he wants them to age with their owners, to continue the story. It may seem a simple connection, but simplicity takes a level of sensibility when the designer is faced with myriad new materials and technology. "You can't be seduced by new technology or materials," Michael says in reference to his recent Arrangements system. "The challenge is to be able to take the right distance from [technology] and understand how it can contribute to a product and the quality of life."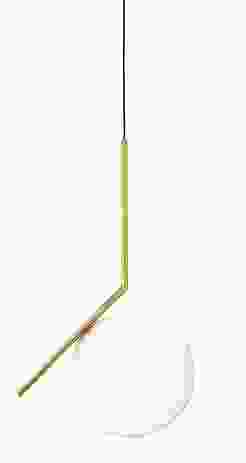 Arrangements and the String Light are more than just elegant luminaires. They take on an additional function in the form of room dividers, columns and screens – effortlessly balanced though highly technical. "The design of the String Light is all based on the thinness of the wire, if it was one millimetre thicker the end result would be completely different." Similarly the IC collection, inspired by a memory of a circus juggler rolling a ball over his body, and the Tip of the Tongue table lamp create that tension. "It is the anxiety, the uncomfortable feeling you get when you look at something that [you are aiming] for."
These delicate gestures, played out through purity of form that trigger a reaction, a memory and a feeling of the past, when combined, make the work of Michael Anastassiades timeless – and perhaps that is his secret ingredient.
At the January 2020 Maison&Objet show, all sixteen of Michael's mobile chandeliers will be showcased together. They will be propelled by motors and shown in a dark space, representing a planetary scene.
Source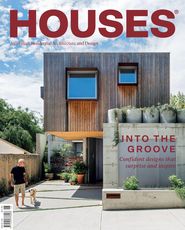 Issue
Houses, December 2018
Related topics