The Big Idea in architecture is an interesting thing. Big buildings usually have big ideas behind them; small buildings are often a collection of small ideas. For example, an office tower probably needs a big idea about how it touches the ground, what happens in the middle and what sort of funny top it might get. A house, on the other hand, may have a collection of small ideas that range from where the sun is when you wake up or where you put the china platters to what finish you might apply to the timber floor in the children's bedroom. The process of building big buildings is corporatized, systemized, outsourced and about big business, whereas building an architect-designed house is still a cottage industry with a bunch of blokes, who have names, engaged in traditional trades that join pieces of wood together with nails.
It is difficult for the architect to exist in both realms. Rarely do big-building architects do good small buildings and it's a struggle for a small-building architect to step up to do a big building. I am certainly not saying big is better; on the contrary, small can be delightful and personal. However, I am convinced they are different. Now, small architects often go on to become big architects. American Steven Holl, for example, has evolved from producing perceptive houses based on careful observation of the city in the eighties to now producing huge art galleries and cultural buildings. I would argue that he has shifted his idea set deliberately from small to big in order to cope with the transition. The nature of observation is still there but the scale of the idea in the outcome is remarkably different.
Closer to home, Denton Corker Marshall have never been small-idea architects. They didn't spend ten years in the front bedroom crafting backyard renovations, it was bang, straight into big stuff, squares, towers, bits of city. But when presented with a small project, say Barrie Marshall's holiday house on Phillip Island (Architecture Australia July/August 1997, vol 86 no 4), DCM shifts to maintain a big idea at a small scale. The clarity of the execution, the mode of construction (sheet steel and concrete), the deliberate elimination of detail, suggests a set of ideas that would be more at home in a fifty-storey office building than in a modest dwelling in a sand dune. More recently, DCM director Adrian FitzGerald's own house in Carlton received awards and accolades for stacking three coloured rectangular volumes in a striking manner and exploring how they might be inhabited. Again, big ideas dropped into a domestic realm.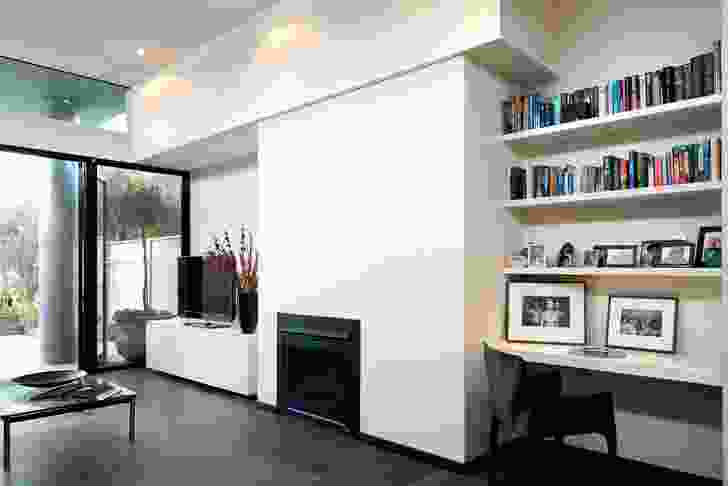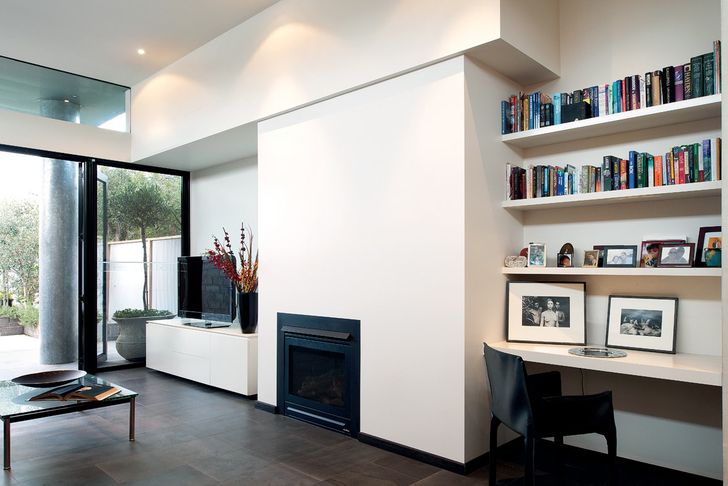 It gets really interesting when a young architect leaves the comfort of the big office and becomes small overnight. Jean-Paul Rollo worked for big-idea architects Lyons for three and a half years, producing major TAFE buildings and health facilities, but couldn't resist the urge to get out and do his own thing. Like many architects who have gone through this passage, he suddenly found himself out of the world of building national health infrastructure and into the realm of local government planning officers and skirting details. Indeed, his founding project was an extension to a single-storey terrace house in a leafy bayside suburb, for a relative of course.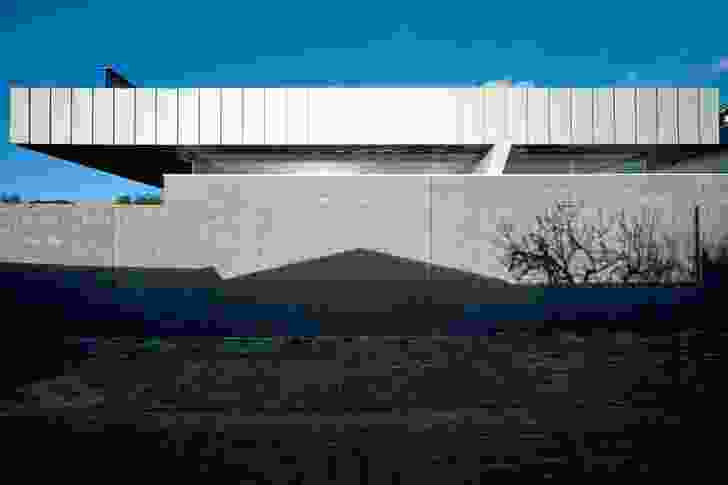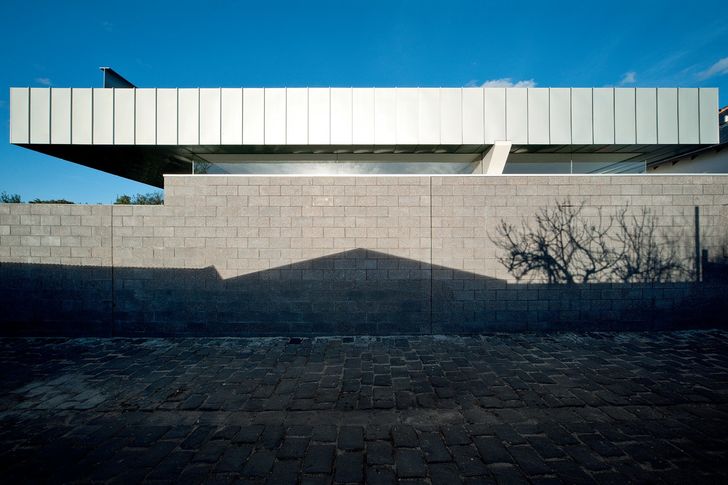 "It felt like my very first presence in architecture," says Jean-Paul. "The project had a degree of complexity that I just hadn't appreciated till that point. I drew on the discipline of practice I learnt from my experience at Lyons but had to find a new form of architectural expression." The project as a diagram is to type: renovate the old rooms under the existing roof, define a point of transition between old and new, then add kitchen, dining and living opening onto a new backyard. But in this case the result is compellingly different. "I wanted to treat the extension as a detached pavilion, a separate building with its own identity," says Jean-Paul, "and the adjacent laneway presented this opportunity where the new building could be read as a whole."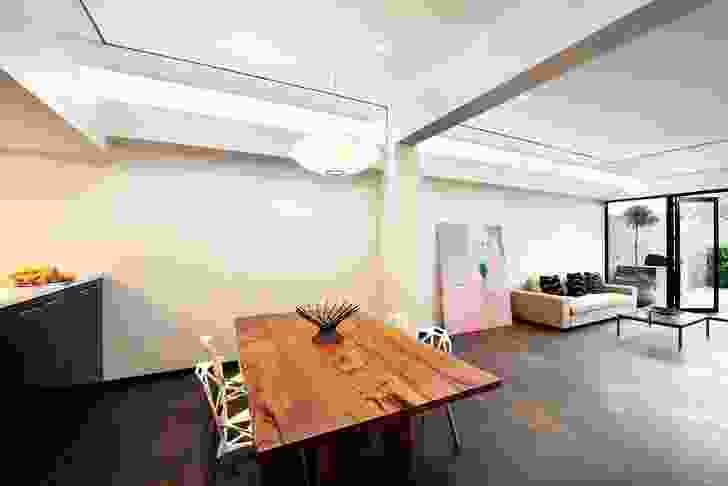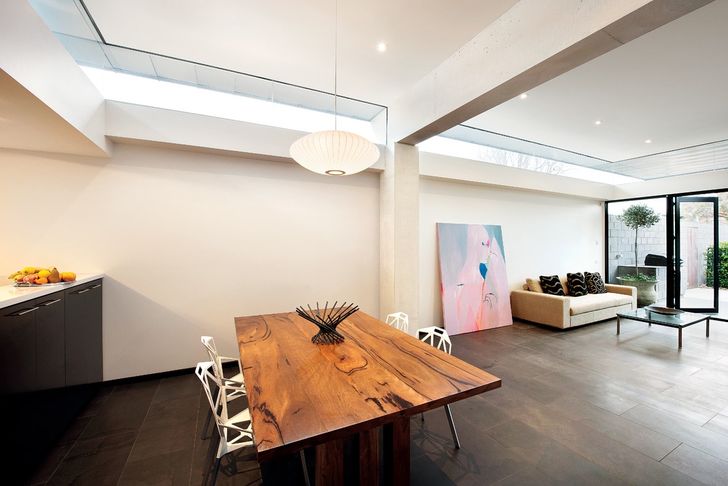 Within this agenda, Jean-Paul seized the roof of the new works as the key form of expression. It floats as a fat, zinc-clad plate over the volume below, detached in section by a ribbon clerestory window. This roof, I would argue, is the first of three big ideas held within this small piece of architecture. The second is the blockwork wall that defines the pavilion to the lane and holds the ribbon of glass. As an element, the charcoal textured block plane continues along the length of the site, dipping to allow light into the backyard, then returning to grab space at the back of the site for the garage. The blocks are responsive to the red bricks of the existing dwelling but lift the construction into the commercial realm – bigger, cleaner, stronger in their materiality.
The third and most intriguing idea is the structural elements that hold the zinc plate above the block plane: a grossly over-scaled column and an off-form concrete flat arch. The scale of the column is marvellous. Its physical presence in the building suggests the serious nature of the architecture and makes a strong formal contribution to the composition of the lightness of the hovering plate. The flat arch plays a different role as it also operates to spatially define the interior and hold the dining room in the open-plan volume. Its exposed off-form concrete provides a reassuring permanence of material.
Here we have a young architect with a clear alternative to the cottage addition. The architecture present in this little building suggests that big ideas and simple, bold moves with limited materiality do not reduce the complexity of domestic architecture. This excellent example demonstrates that the reduction and refinement of architectural elements in fact allows the complex business of living to thrive.
Products and materials
Roofing

Rheinzink cladding, pre-weathered.
External walls

Adbri masonry, honed river gravel 'Ebony'.
Internal walls

George Fethers & Co. Japanese elm veneer panelling; Gyprock plasterboard, painted.
Windows and Doors

Capral 400 Series aluminium, black powdercoated; frameless clerestory windows.
Flooring

Apex Stone bluestone pavers, honed finish; Tasmanian oak floorboards; Activa studded rubber tiles, 'Cherry'; WK Marble and Granite travertine tiles, honed finish; Supertuft carpet, 'Mocha'.
Lighting

Modernica Nelson Bubble lamp; Forma Lighting Miniluce and Dado Twin.
Kitchen

Joinery finished in Dulux 'Domino' satin 2-pac; Smeg appliances; CaesarStone benchtops, 'Snow'.
Bathroom

Catalano basin; Mizu tapware.
Heating/cooling

Hydronic slab heating and panels.
External elements.

Hydronic slab heating and panels.
Other

Western Australian Marri timber dining table by Christian Cole Furniture.
Source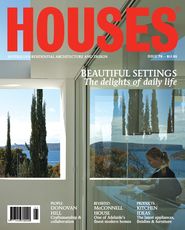 Issue
Houses, February 2011
Related topics