Mattiazzi was founded in 1978 by brothers Nevio and Fabiano Mattiazzi in Udine, Italy. Encouraging and developing the skills of local artisans is part of the culture of the company – a true celebration of the handmade. Originally producing furniture for other companies, the brand is now firmly established with its own range of furniture.
Two of Mattiazzi's most recent products have been designed by Studio Nitzan Cohen in Munich and Sam Hecht of Industrial Facility in London. With the He Said She Said range, Nitzan Cohen achieved a strong, simple design that belies the difficulties of achieving comfort and strength. Simple is good but definitely not easy. Meanwhile, when Hecht teamed up with Mattiazzi, he had never designed a chair before. However, he rose to the challenge to create the Branca, a sophisticated chair with a pared-back form.
For both designers, working with the Mattiazzi company was a collaborative affair that relied on the expertise of the Mattiazzi brothers and the input of Berlin-based graphic designer Florian Lambl. This is an unusual collaboration – designer, maker and graphic designer – but one that is obviously a winner.
Each range is available in a variety of colours, some bold, others subdued, echoing the hues of a forest. The strength of the colours is intense but sheer enough for the grain of the timber to shine through. The aesthetic of the products has all the hallmarks of Scandinavian style but with an Italian sensibility. These are considered ranges by two impressive designers, but much of the credit must go to the Mattiazzi brothers for fostering and promoting the handmade.
Brand
Mattiazzi
Supplied by Herman Miller
+ 61 2 8211 0480
hermanmiller.com.au
Source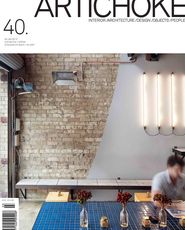 Issue
Artichoke, September 2012
Related topics