The world's biggest furniture fair is also fertile ground for designers to demonstrate lateral thinking through collaborations with manufacturers. ArchitectureAU rounds up some of the most noteworthy installations of 2017, which range from the futuristic to the "funtastico."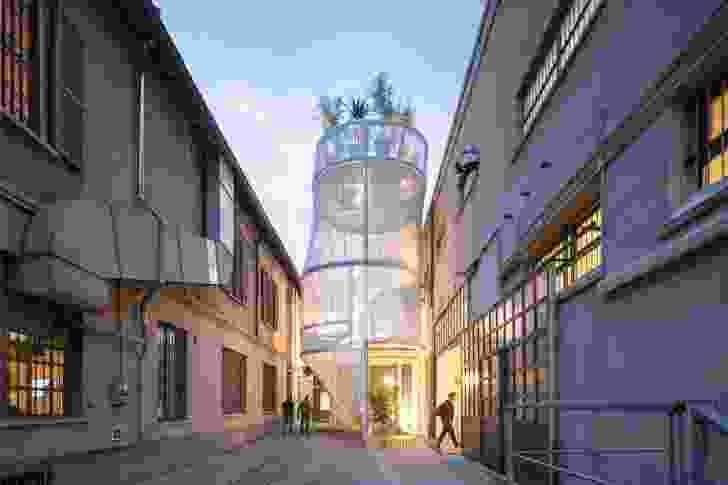 Breathe – Mini Living by So-il
At first glance it looks like a giant slinky wrapped in a stocking, but this installation by New York-based architecture practice So-il for car manufacturer Mini is a "housing typology for the future living environment." Occupying a 50-square metre urban block, the structure is a compound of a modular metal frame sheathed in a flexible outer skin of purifying fabric that permits light penetration. According to the studio, it creates "a loose stack of porous realms. A variety of atmospheres and spatial experiences are generated through the manipulation of light, air and water." The installation consists of six potential rooms and a roof garden and it can accommodate up to three people within a five-metre-wide and 10-metre-tall envelope. It is also demountable and the fabric can be replaced to suit different climatic and environmental conditions. Breathe by So-il is the third installation of the Mini Living initiative. It follows Mini Living's installation at Milan Furniture Fair 2016, Do Disturb, a 30-square metre apartment installation designed in collaboration with Japanese architecture practice On Design and the Forests installation by Asif Khan London Design Festival.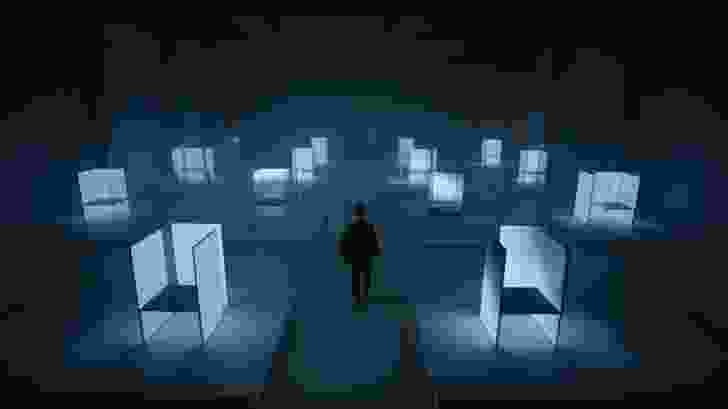 S.F_Senses of the Future by Tokujin Yoshioka and LG
Japanese designer Tokujin Yoshioka has collaborated with South Korean electronics company LG to create an experiential installation that "seeks to illustrate humanity's relationship to the natural world and to illuminate LG's human-centric design philosophy." The installation comprise two parts: the first is an arrangement of 17 science-fiction-inspired chairs made with LG's OLED (organic light-emitting diodes) displays. "The chairs are both static and dynamic because of the brilliant flashes emitted from the double-sided panels and portray a meditation on the blindingly fast speed of modern day life," said LG. The installation won the Milano Design Award 2017 "for [its] ability to synthesize the conceptual, technological, narrative and emotional aspects in one single project." Yoshioka also presented three other designs during Milan Intertional Furniture Fair: Glass Fountain table for Issey Miyake flagship store, Matrix chair for Kartell and Blossom Stool for Louis Vuitton.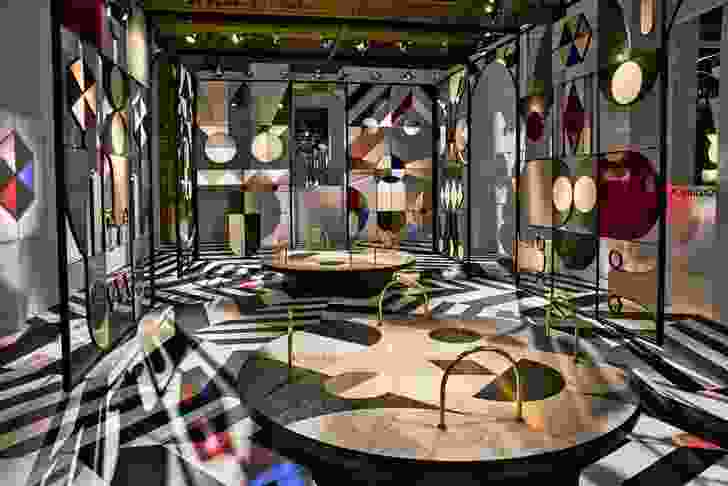 Stone Age Folk by Jaime Hayon
Spanish designer Jaime Hayon created a "fantasy world" for quartz manufacturer Caesarstone that references Joseph Paxton's Crystal Palace, built for the 1851 Great Exhibition in Hyde Park London. Described as an "architectural pavilion," Hayon's installation inside the historic Palazzo Serbelloni uses more than 40 Caesarstone colours combined with metal and stained glass. The design draws inspiration from a kaleidoscope of sources, from the natural environment to the animal kingdom to various folklores of difference cultures. The installation also includes a series of dining tables, coffee tables and cabinets that appear as bird-like characters with animated faces. "I hope, with this very graphic and folkloric installation, to put a smile on people's faces and compel them to think that they are in Milan for the furniture fair, but they have just seen a 'funtastico' world," Hayon said.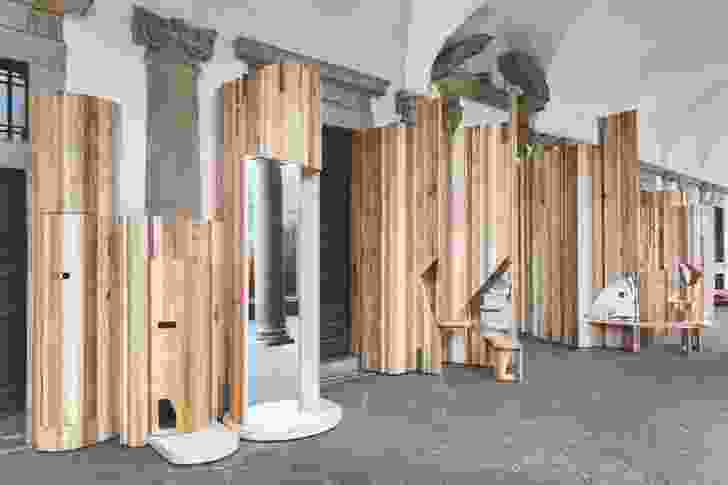 Too Good to Waste by Benedetta Tagliabue of EMBT
In the Renaissance-era, Filarete-designed Cortile d'Onore, a courtyard in the University of Milan, designer Benedetta Tagliabue created an interactive timber wall installation that was initiated by the American Hardwood Export Council and made by Benchmark. The installation "seeks to question the validity of the current relationship between wood consumption and fashion." While the popular perception is that timber hardwoods are a depleting resource, American hardwood forests have more than doubled in the last 50 years. The installation invites audiences to "reflect on responsible use of timber and to discover species and grades daily found in homes and furniture throughout Europe." Made from underused timber species such as American red oak, cherry, maple and tulipwood, the four-piece installation has interactive components that allow participants to push, pull and swivel the parts to create new configurations. "We wanted to re-create this concept in a playful and modern way by creating a wall full of surprises, where the people who inhabit the wall will be real," said Tagliabue.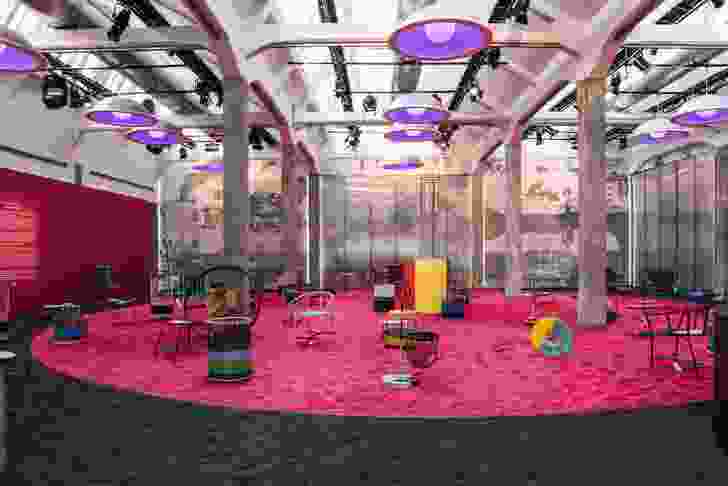 Marni Playland
Italian fashion house Marni turned its colonnaded showroom into a giant sherbet-coloured sandpit filled with toys, furniture and other objects. The installation "invites the public to forget predefined rules and structures and interact with the surrounding space and the intriguing elements it contains." It features toys to play with, storage containers for basketball and colourful cones to stack rings over. The play elements are combined with a limited edition series of home furnishings including seats, stools, rocking chairs with cupholders in the armrests and chairs with a roof over them. The pieces are hand crafted from metal and painted timber, covered in woven PVC cord made by a group of Colombian women using traditional techniques.
Related topics