I was living in Amsterdam and studying at the Berlage Institute when my mate Nick Milis called to let me know he'd bought an old weatherboard tear-down cottage in Alexandria, Sydney. Nick wanted advice on which architects he should speak to so I gave him a few household names. When we spoke again to discuss the various merits of each architect, the question came up: "Well, would you want to do it?" I had intended to take a break from my postgraduate degree to gain international experience in the field, but the opportunity to build my first solo project back home was a big win.
What followed was a series of conversations and late-night email exchanges that lasted another eighteen months. The Berlage Institute ran an intensely theoretical program – in fact you could call it an anti-design school because of its focus on urban strategy, architecture and the city – and at the same time as studying I had to communicate design instructions to a mate who had quit his job to build his first house. By necessity this had to be a very direct and efficient process. I had to switch from "Berlagese" by day to site speak by night.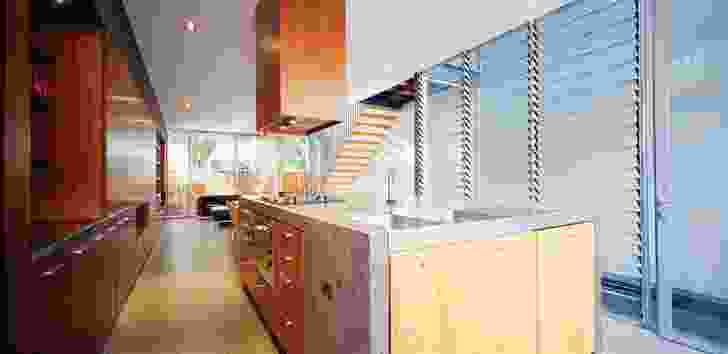 The moment it became real was when I discovered that the steel profiles of windows we'd designed for the project were rolled in Switzerland and then shipped down the Rhine before passing through Amsterdam on a barge – practically beneath my window – and then making it to Australia where they eventually found their way into the project. The windows beat me back to Sydney and the house was built completely in my absence, with the exception of one visit at Christmas time, when I found Nick sitting in the dirt with a hammer beating a column into place. No shape of a building yet, and back to school I went.
Around the end of 2001, at the same time that the house was being finished, I was commissioned to produce a design for Smart Project Space – a contemporary art institution in Amsterdam. It was at the height of an economic and cultural boom that in Holland has been called the "second golden age." Literally overnight I had a studio and an international team of brilliant people, and the practice was born. It was wonderful to have complete autonomy and power of decision for the first time. Then came September 11 and almost immediately the good times ended and many projects were cancelled, including the Smart Project Space. I reluctantly made the decision to return home and it wasn't until three years later that the practice was relaunched back in Australia.
My design for Nick's house was an early exploration of separating the programs into distinctly public and private volumes. The concept was simple – bedrooms and intimate parts of the house were contained within a single timber volume, suspended by beams in the roof. This hovered over the living spaces, allowing the ground plane to be left clear for the more public parts of a house. The only fixed element on the ground was the large concrete kitchen bench, anchoring the hearth in the middle of the action.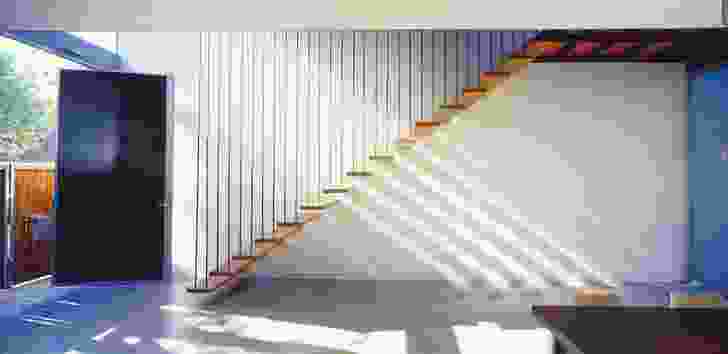 It's interesting how ideas about the fundamentals of architecture stay with us. I have been preoccupied with courtyards over the past while and it's probably the main element that I would now look at in a different light. I now see a courtyard as being more like a room with no ceiling, and would give more consideration to how it is materially and spatially composed on all its boundaries and surfaces. I don't think it's ever a simple case of what you would do differently – architecture is such a long and complex process and so many things define the success of a project beyond the pages of a magazine or an award. However, I do think that an experiment lies within each project. This is how we learn more about our own work and how to continue developing as an architect.
In truth I found designing my first house very confronting. I picked apart what I thought were faults and beat myself up for not doing things the way I thought I should have done them. Now, ten years later, I am perhaps a bit easier on myself, slightly more patient and aware that the profession is a bit of a long road. The first project is where you learn the most, as your ideas and methods haven't yet been tested.
This project was first published in Houses 100 as part of the First House series where architects revisit their first built commission.
Credits
Architect

Scale Architecture
Sydney, NSW, Australia
Project Team

Matt Chan
Consultants

Builder Nick Milis
Structural engineer R. Balas Consulting

Site Details

Location Sydney, NSW, Australia
Site type Suburban

Project Details

Status Built
Completion date 2002
Design, documentation 18 months
Construction 12 months
Category Residential
Type New houses

Source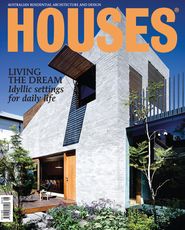 Issue
Houses, October 2014
Related topics