Is anyone else convinced this bathroom was shot in black and white? Prepare to be surprised because, as are all the images of Benn and Penna's alteration and addition to this inner-western Sydney cottage, it's in full colour (see page 38). A duo-tone palette lends the bathroom an intriguing two-dimensional quality and, as was architect Andrew Benn's intention, contrasts it dramatically with the living areas. It's not a room that is visible when entering the home because the door is treated as a piece of joinery, which makes its reveal all the more impactful.
The bathroom undeniably adds an element of surprise to the overall design, with a quality of light that's both controlled and intimate. A custom mirror wraps one corner and connects with an existing window, visually expanding the space and bouncing light off its surfaces. It may look very different to the kitchen, dining and lounge, but they all share the Benn and Penna leaning to hero natural light within residential settings, heightening its most evocative qualities. "Abram and Renee liked the calm and contemplative atmosphere we achieved in our Surry Hills Pocket House and wanted the same in their home," says Andrew, referring to the clients. "Materiality is important, but it's also got a lot to do with light and that's why it's fundamental to this design."
Sunlight primarily enters the kitchen and dining areas via the clerestory windows and then filters through the tunnel-like space to the lounge at the rear. It evenly reflects off the white surfaces and is softened by the pale timber joinery and flooring. The decidedly minimalist scheme is perhaps best resolved in the kitchen, which essentially comprises two elements: a bench that extends as far as possible to maximize the capacity for cooking and entertaining, and an overhead cabinet integrating a built-in planter.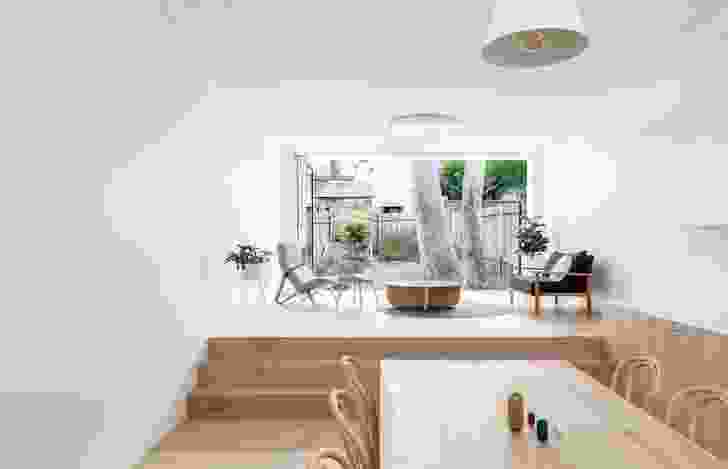 While the heart of the home may appear simple, it's working very hard. "It's performing as more than just a kitchen, because at the end of the day, it's also an 'office' and a place for the clients to study," explains Andrew. "The joinery is extremely functional too, which is practically a requirement for small, inner-city spaces, where you don't have a lot of floor space and so everything has to operate at an optimum level."
Flexibility is key and this was the rationale behind the semi-open plan, in which the living areas can be used as either a single space or as two different zones, one upper and the other lower, with steps in between. The steps also provide another place for people to sit when the clients are entertaining, contributing to a collection of well considered elements in a design as intelligent as it is exquisite.
Products and materials
Internal walls

Di Lorenzo Muro 41 tile
Flooring

Tongue n Groove flooring in 'Bistre'
Joinery

Navurban veneer in 'The Oaks' and 'Silkwood'; Dekton benchtop in 'Zenith' from Cosentino; Madinoz door hardware
Sinks and ta-ware

Brodware bench-mounted City Stik mixer with pull-out tray; Franke Kubus Fragranite Polar White undermount sink
Appliances

Ilve gas cooktop and oven; Miele Active fully integrated dishwasher; Fisher and Paykel integrated fridge; Bosch under cupboard rangehood
Doors and windows

Victorian ash clear-finished doors; Parisi doorhandles
Furniture

Thonet No. 18 Bentwood chair; Totem Road table
Other

Hafele Hideaway Bins and Dispensa pantry unit; inbuilt planter box
Credits
Architect

Benn and Penna Architects
Surry Hills, Sydney, NSW, Australia
Project Team

Andrew Benn, Sean Tran, Michelle Dunas, Courtney Raad
Consultants

Builder Invue Homes
Joinery Nu Space Joinery

Site Details

Location Sydney, NSW, Australia

Project Details

Status Built
Category Residential
Type Alts and adds, Bathrooms, Kitchens

Source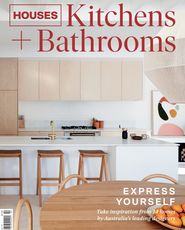 Issue
Houses: Kitchens + Bathrooms, June 2019
Related topics