In the competitive and international wine-making industry, one that is dominated by big players, branding in wine is a critical component in establishing and maintaining reputation and market share. This market is significant and widespread – in South Australia alone, 63 percent (close to $1.5 billion) of total wine revenue is generated annually through exports1. Unquestionably, the branding of wine is largely achieved through name, logo, label and awards. But increasingly important, particularly in relation to wine tourism, is the physical presence of the producer through the cellar door experience. This is true for the owner-operators of Mitolo Wines, whose vineyard is located in the busy McLaren Vale wine region of South Australia, located one hour south of Adelaide. Mitolo Wines' new cellar door and restaurant, designed by Tectvs, provides an engaging setting for the establishment of this experience.
The typology of the contemporary winery is elusive because of this quest to develop a recognizable and unique identity; to distinguish the modern winery from the traditional atmospheric pattern inherited from Europe. Some projects aim to capture and represent a particular terroir, offering a picturesque distillation of the character of the region. They often do so by incorporating predictable references to wine production, rural materiality or historic built form, and many are realized through the adaption or imitation of working winery buildings. These projects may appeal to popular taste, but they rarely break new design ground. At the other end of the spectrum, other wineries audaciously opt for the spectacle, on occasion hiring renowned architects to produce buildings that are as much contributors to the reputation of the architect as the winery, as characterized by Frank Gehry's Marques de Riscal Hotel and Santiago Calatrava's Bodegas Ysios, both in Spain's Rioja region.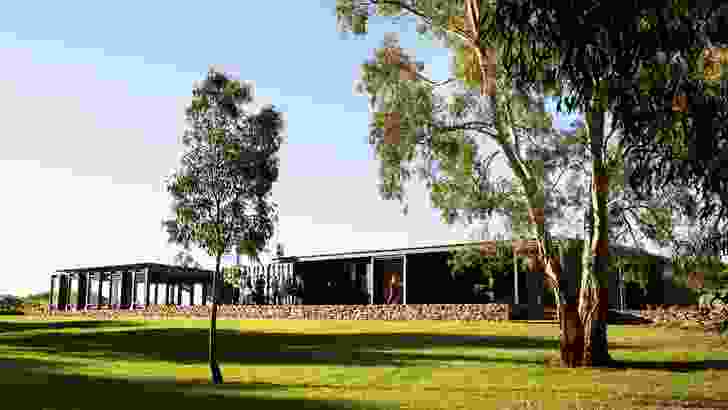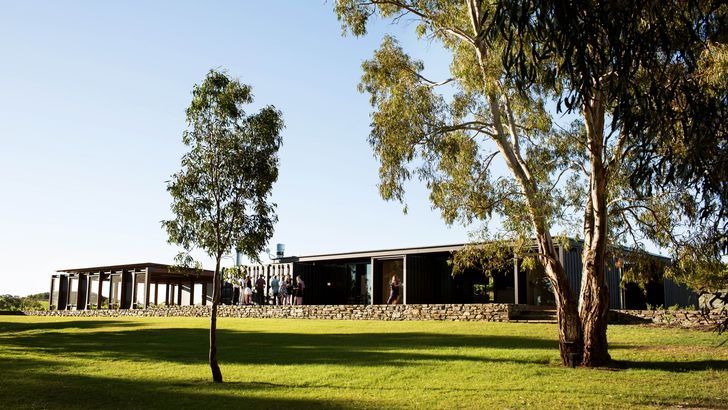 Mitolo Wines is different, and deliberately so. A glimpse from the road across vineyards and tree-lined Turraparri Creek offers a first impression of a low-lying and unassuming built form. The view is then obscured by a poplar-lined avenue, which creates a patterned parade of light and shadow and guides visitors past a working rural shed and a dilapidated Victorian homestead, which act as reminders of European settlement and decades of cultivation. The first full view of the Mitolo Wines building is of a slender roof resting on two black boxes – a silhouette as much as a building. A circular gravel carpark, which despite its geometry is both informal and incidental, is treated more as a landscape element than necessary infrastructure and poses a challenge to the visitor: where and how do I park? Nearby, a South Australian black granite boulder has been singularly sliced and polished to reveal its igneous pith. Sculptural, playful and symbolic, this rock marks the entrance that is otherwise concealed from view and found via a subtle, folded and weathered steel ramp. There's no real front or back to this building.
The arrival sequence speaks of the strategy behind Mitolo Wines – that of enhancing the experience – and is meant to be transformational, especially for the international visitor. Architect Francesco Bonato of Tectvs likens the building to a reinvention of the Italian sagra – a rural, open-air festival celebrating culinary specialities that can be sampled in temporary booths, sometimes afforded shade by a tent-like canopy. It's a crisp idea, one that pervades throughout the project, and it clearly relates to the family heritage of the winery's founder Frank Mitolo. The use of shipping containers, first considered for the project as a pop-up" cellar door, instead provided a module allowing for incremental growth and an ever-evolving brief. The adoption of this modular design was a fortuitous move, for the project expanded considerably to include the restaurant and a large outdoor function terrace with integrated arbour and landscaping designed by Oxigen.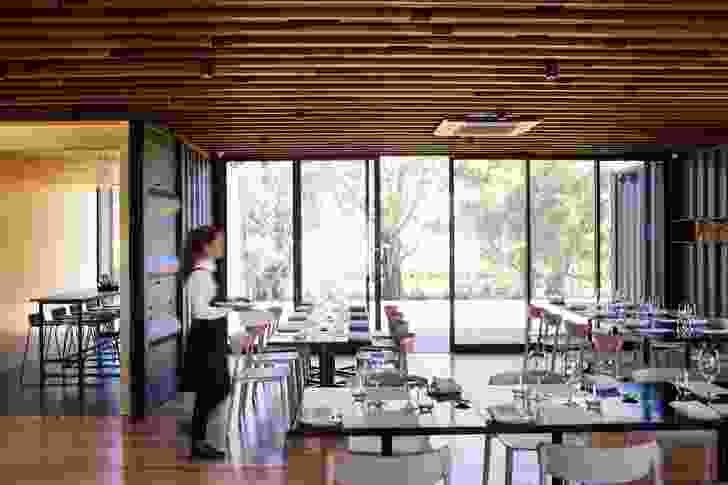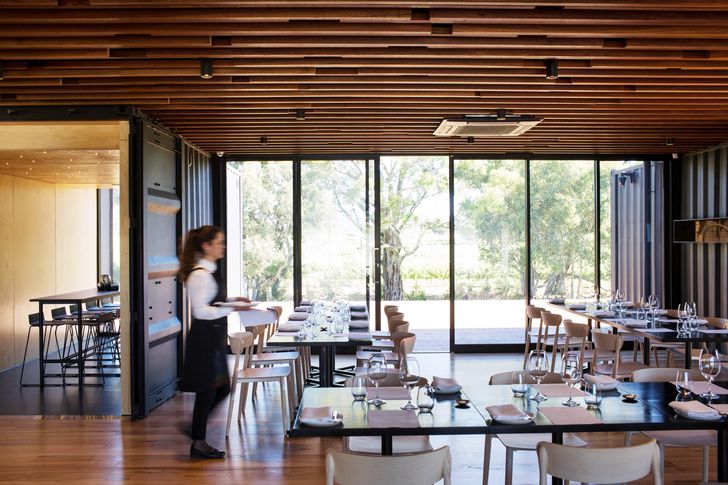 Given the popularist adoption of shipping containers as architecture, their use in a project seeking its own identity is perhaps a risk. In this case, however, the ten containers are not simply a glib reference to export or a material of convenience, but are treated seriously and respectfully. According to Bonato, the containers are an expression of a project that is "almost temporary"; one that can be dismantled and the land returned to how it was. While the legitimacy of this strategy might be questioned, the containers are used in such a way that they are absolutely critical to the ethos of the project, creating cornerstones, defining space, anchoring the building to the site, providing the structure (there are no columns) and accommodating specific functions such as a tasting room, amenities, storage, an office and a kitchen. Although partly camouflaged by their blackness, the containers' identity and honest expression have been preserved. Considerable effort has been taken to ensure the existing doors remain operable, and cuts to the skin of the containers have been minimized by only providing new openings where necessary: a compact slot reveals the workings of the kitchen, while an end panel is removed to frame the creek beyond. The space left around the containers – both inside and out – offers a variety of opportunities for communal or intimate wine tasting and dining, and in this respect the building can be understood as a sheltered grove providing permeability and an immediacy of connection with the environment.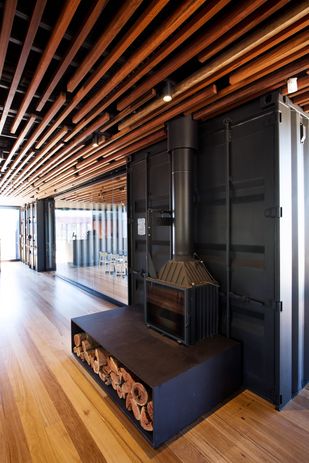 Other than the all-pervading noir (which coincidentally matches the winery's logo and labels), materials are limited to a simple palette. Inside, an open ceiling of random lengths of spotted gum enlivens the main space while floors of figured wormy chestnut are reminiscent of aged wine barrels. Joinery and linings are in utilitarian plywood, steel and fibre cement sheets. The rectangular tasting bar of off-form concrete provides mass and is centrally located to always place the visitor in the position of a view. Externally, this neo-modernist and reductionist approach continues: the building skin and other elements have been composed with restraint, employing steel, timber and glass in undulating rhythm. As a whole, the interior and exterior are left neutral to encourage the visitor to focus on the colour of the wine in hand and that of its source, the vineyard beyond.
Despite its apparently modest appearance, the Mitolo Wines cellar door breathes exclusivity and indulgence. For the uninitiated, it is often a source of wonder how a single ingredient – the grape – can be worked to produce wines that vary exponentially in cost and quality. The same observation might be made of architecture, and although this building has been made from the stock ingredients of the contemporary architect, those ingredients have been skillfully, boldly and confidently assembled in the manner of a high-end wine to produce a memorable and gutsy building of unexpected refinement and character.
Related topics