Mixed-use tower to replace central Brisbane's Suncorp Plaza tower
A proposed 30-storey mixed-use tower, designed by Guida Moseley Brown Architects, would replace a 20th century office tower that was at one point Brisbane's tallest.
The tower would replace the extant 118-metre, 24-storey Suncorp Plaza tower, designed by Conrad Gargett (then Conrad and Gargett), which sits at the corners of Turbot and Albert Streets.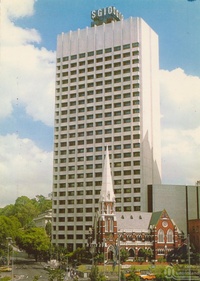 Constructed in 1972 for the State Government Insurance Office, Conrad Gargett later moved its offices to the 21st floor of the building. The tallest building in Brisbane at the time, the office tower boasted a rotating restaurant, later a nightclub called Top of the State. The nightclub was removed in the 1980s when a 10-metre digital clock was installed.
The proposed tower would comprise office and retail space, sport and recreation facilities, food and drink outlets and a childcare centre.
The lower levels would be composed of open atrium space, with pedestrian access opened up between Albert and Turbot streets and with the built form angled and recessed at ground level to create a new public plaza. 
Neighbouring the site is the heritage-listed Albert Street Uniting Church, designed by architect G. H. M. Anderson, which was constructed in the mid-1880s.
Described in a heritage report compiled by Urbis as "arguably one of Brisbane's most recognized and well-regarded heritage buildings," the Methodist church is "one of the best Gothic Revival designs in Brisbane of the late Victorian period."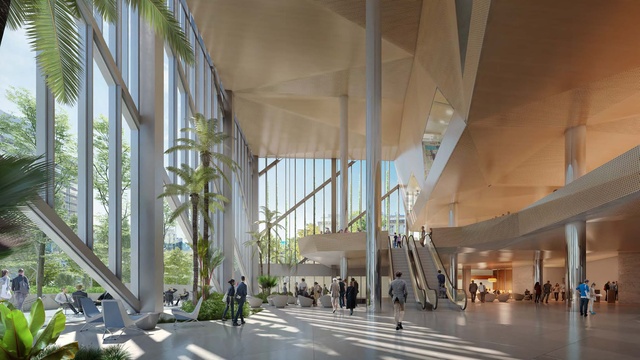 "The new development will activate the street frontages along Turbot St and Albert St, including an extension of the existing green park from the west into the landscaped interior foyer, and a generous landscaped plaza shared with the adjacent heritage listed Albert Street Uniting Church," reads the architects' design statement. "Together these new public spaces will activate the public realm and create a unique sense of place that compliments the existing Church and city context."
The site is also located opposite the Brisbane Dental Hospital, which was built in 1941 to the interwar Georgian Revival style.