Step through the front door of Model House and the first thing you'll see is a small scale model of a building. Fastidiously assembled from crisp white card, it is, of course, Model House in miniature. It was not created by the building's architect, but rather by the client. Breathe Architecture designed Model House, located in Melbourne's south-west bayside suburb of Williamstown, for theatrical set designer Richard Roberts and his wife Joan Morgan, a teacher. It was Richard who made the model, and its meticulous crafting and pride-of-place location speak volumes about the very personal nature of this architectural project.
The impetus for Model House is familiar – with their children grown up, Richard and Joan had sold their family home and acquired a site for a house designed specifically for their needs, both current and future. At the top of their list of requirements was the inclusion of a studio space where Richard could work on his set models, and that the house be designed and built with sustainability in mind. It was a long-term vision – they imagined the workshop might one day serve as living quarters for an aging parent, while sustainability was of interest for economic and energy-saving reasons as much as for ethical ones.
Breathe Architecture has developed a well-earned reputation for its sustainability-focused approach to design. The practice's methodology is deeply rooted in the "passive systems" approach: instead of relying on mechanical gadgets to temper the internal environment of its buildings, Breathe designs to take maximum advantage of the natural elements. This means plenty of north-facing openings to let in light, double-glazed windows that occupants can open for cooling breezes in the summer or close to seal in heat in the winter, and shading, too, that has been positioned to keep the sun out or welcome it in, season dependent.
All of this allows its buildings to operate with as little electricity usage as possible, an especially vital consideration for green designs in coal-powered Australia. Likewise, from the perspective of "embodied" energy, Breathe prefers to make use of salvaged, recycled or sustainably sourced materials and works to ensure material usage is minimized, thereby reducing the carbon footprint of its buildings still further. All of this combines to make Breathe's architecture sound very sensible, earnest and, well, a little bit joyless – the architectural equivalent of a hairshirt, you might say.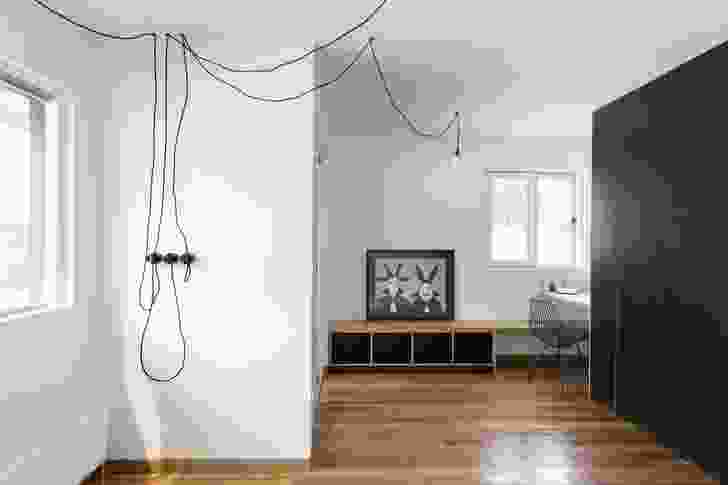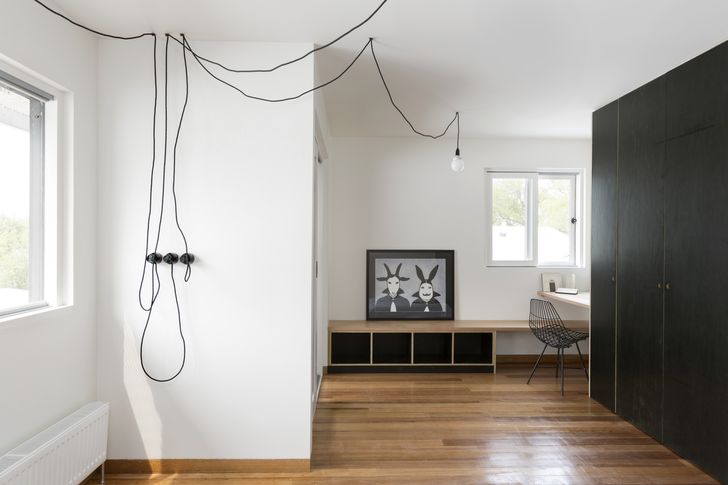 What elevates the practice's buildings from being more than just survival pods for fending off environmental apocalypse is its focus on design that makes a meaningful, human connection. Its buildings have a story to tell, about themselves and their occupants, and they project a sense of warmth that is not just the result of a well-modulated passive system. In Model House, we see evidence of this in the use of lightly finished recycled timber throughout the interior, which brings a natural radiance to surfaces. The timber's patina of marks and blemishes, a record of past lives well lived, also contributes a personality that is otherwise absent in standardized new cuts. As Joan was quick to point out, this level of imperfection means she and Richard can also live well in the house without worrying if a glass or two of red wine gets spilled every now and then.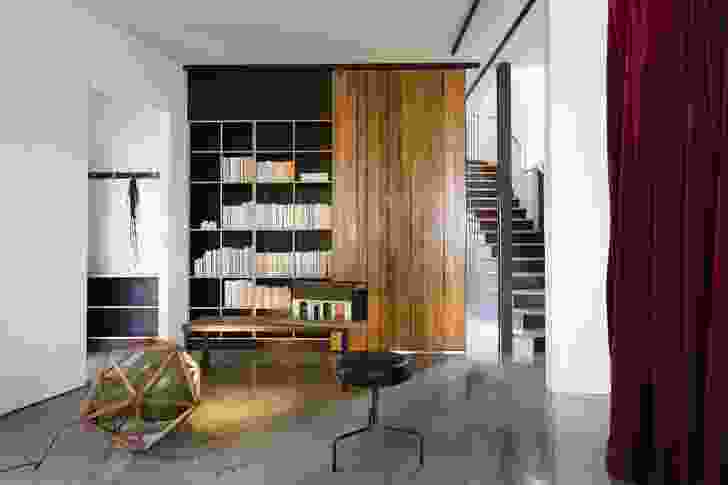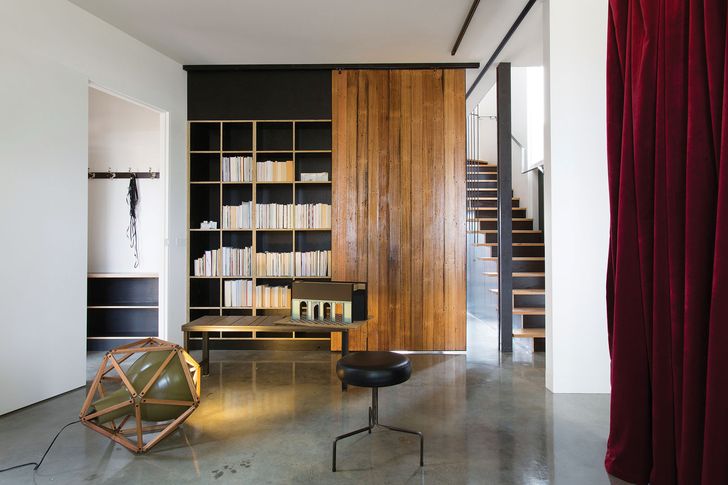 Other than timber, the material palette is a tough conglomeration of steel, copper and pressed fibre cement sheet (in the case of the bespoke kitchen bench). It might seem a little spare and utilitarian for a domestic setting, but in the detail and planning these elements have been employed with sensitivity and a careful consideration that belies this impression. A good example of the clever things Breathe can manage with seemingly simple elements is the floor-to-ceiling curtain that spans the ground-level living areas. In one fell swoosh this red velvet curtain provides a bright foil to the tawny toughness of the interior's dominant material palette, adds flexibility to the way the living areas can be used, dampens their acoustics and gives the option of sealing off the central staircase to prevent heat loss. It also, of course, directs us a playfully hammy wink as to at least one of the clients' obsessions.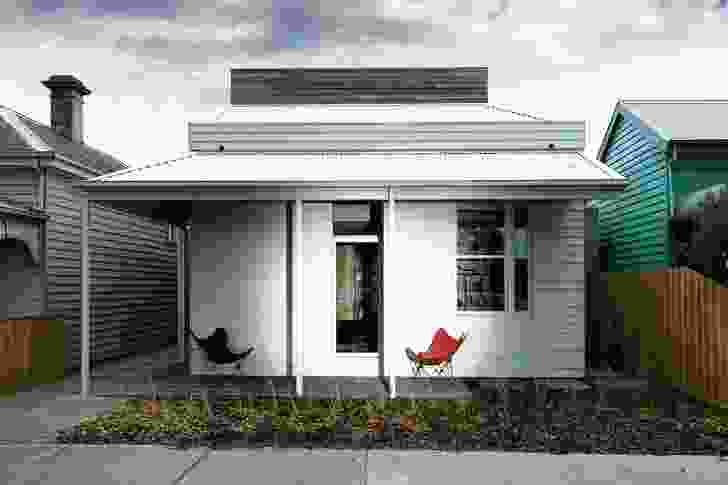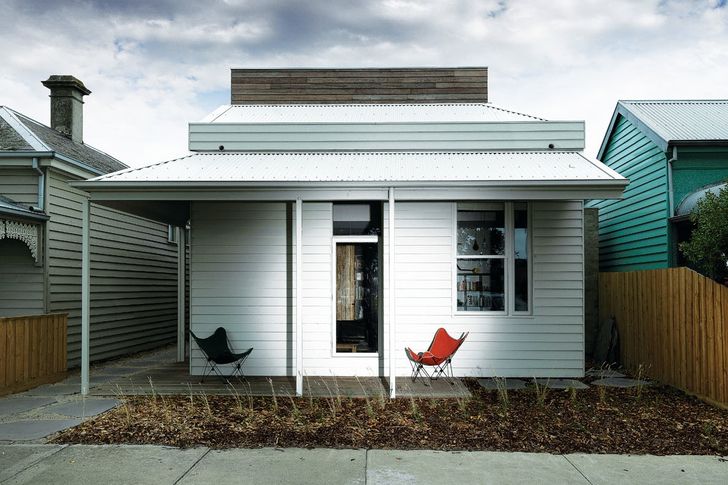 Theatrical allusions are present in the house's street elevation, too. Here, the building is dressed up to resemble a Victorian workers' cottage – or rather a 1:1 model of one. Unlike the rest of the "new" house's exterior, which is accented with black detailing, the street elevation is entirely white to lend it the appearance of white card, a loose approximation then of Richard's creative medium. As the architects describe it, the original vision for Model House was contemporary and would have seen the building clad in large squares of steel sheets, "scored and folded" to make it read much more legibly as a "model." Despite the previous building on site being a spec-build, brick veneer 1980s mansion, the local council demanded it appear as a weatherboard Victorian cottage, to bring it into keeping with the street's historical condition. Nevertheless, it makes for a convincing portrayal – as Joan points out, one of the first things visitors to their new house often ask is, "Have you renovated?" Perhaps most importantly, though, is its performance as a space for living. Joan continues, "It's a very calm environment – everybody loves coming here."
Products and materials
Roofing

Lysaght Klip-lok roof decking and Custom Orb roofing in Colorbond 'Surfmist'.
External walls

Ironbark shiplapped cladding; Paddy's Bricks recycled bricks; Square-edge weatherboards in Ecolour finish.
Internal walls

Plasterboard lining, and pine to recessed skirtings, both in Ecolour paint; recycled mountain ash to stair in Loba 'Black Japan' finish; mild steel plate with wax finish.
Windows

Canterbury Windows and Doors kiln-dried hardwood double-glazed windows with Ecolour paint to interior and Resene Lustacryl Cool Colour paint to exterior; Graham Group expanded mesh, galvanized.
Doors

Canterbury Windows and Doors kiln-dried hardwood glazed door frames with Ecolour paint to interior and Resene Lustacryl Cool Colour paint to exterior; Locker Group raw brass door hardware.
Flooring

Concrete with Duraseal clear finish; recycled timber floorboards in Loba wax coating.
Lighting

Ambience Lighting Mono track spot lights; Anibou Henry Pilcher light.
Kitchen

Carter Holt Harvey Woodproducts Australia structural formply with beeswax edging; compressed fibre cement sheeting with Eco Choice water-based epoxy; Consolidated Brass raw brass tapware; Omega oven; Miele dishwasher; Robinhood rangehood; Imperialware sink.
Bathroom

Amerind formply with beeswax finish; Consolidated Brass raw brass tapware; Caroma sink; Porcher toilet; remilled recycled hardwood benchtop.
Heating and cooling

Hydronic panels and in-floor hydronic coils; Graham Group expanded mesh screen shades.
External elements

Tankworks Modline rainwater tank; ironbark decking.
Other

Velvet curtain in 'Plum' from Production Resource Group; stage track from Theatrical Supplies of Australia; wire chairs from The Junk Company; concrete ping-pong table and bench seat by Breathe Architecture.
Source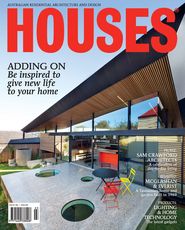 Related topics