"Sunrise, 6.15 am – meet me on Collins Street" was typical of architect and writer Robin Boyd's assignments for the émigré photographer Mark Strizic. Now, his 1960 photographs of Boyd's Walsh Street house dominate an exhibition of mid-twentieth-century works by Strizic and seven other Melbourne-based photographers. Their stylish compositions capture changes in the city's architecture, industry and society.
"Modern photography" – characterized by its clean lines, sharp focus, pronounced camera angles and an emphasis on geometric shapes and patterns – was founded in Germany and the USSR in the 1920s. Scenes of modern and industrial life predominated, and the modern style suited product illustration and advertising.
Following Bauhaus principles, modern photographers did not distinguish between their commercial practice and fine art, and their images were used promotionally. Only two of the photographers in the exhibition – Athol Shmith and Norman Ikin – were born in Australia. Like many of his generation, Shmith largely learned about new international movements and photographic techniques through books and periodicals. His own copies of the influential American, British and German photographic annuals – US Camera, Modern Photography and Das Deutsches Lichtbild – are displayed. These and other publications provided inspiration, and Australian photographers adopted the new visual styles they promoted.
Another important catalyst for change was the arrival of émigré photographers from war-torn Europe. Helmut Newton, Wolfgang Sievers and Henry Talbot had trained in Germany. Dacre Stubbs came from the UK and Maggie Diaz was from the US. With Strizic, they contributed significantly to Melbourne's postwar cosmopolitanism.
Locally published periodicals also played their part. Australasian Photo-Review first appeared in 1946 and Australian Photography followed in 1947. The same year the Institute of Photographic Illustrators was founded, "to raise the standard of photography in Australia and to encourage a creative approach to the use of the camera in advertising and illustration." Publication of the first Australian issue of Vogue in 1959 also raised the bar. "For a manufacturer who wants a simple PR job … I may go through thirty to forty negatives per garment," commented Talbot. "But for a single Vogue illustration I may take one hundred and fifty of each."
For companies and individuals commissioning photographers, the end result was usually the printed materials in which they were published, not the photographs. The exhibition curators have taken pains to display many original photographic prints alongside their commercial manifestations, as illustrations to advertisements in contemporary magazines or in corporate brochures, highlighting synergistic connections between photographic aesthetics and commercial concerns.
Then, as now, people animated the city. In 1962, Talbot photographed models wearing Holeproof stockings, seated outdoors at the Paris end of Collins Street in Melbourne. "There is little an Australian fashion photographer can do that has not already been done overseas," he said in a 1966 interview for Australian Photography. "But one thing they do not have is our Australian environment." Sievers photographed men drinking at the Club Bar at the Menzies Hotel in 1965. One of very few colour prints exhibited, it resembles a still from Mad Men. But drinkers wearing knee socks and shorts, in his companion photograph of the beer garden at Lennon's Hotel in Toowoomba, evoke Les Patterson, not Don Draper. Stubbs brings the sexes together in his photograph circa 1951 of a young couple using Kodak printing equipment.
Striving to raise the standards of Australian illustrative photography, Sievers continually asked himself whether it was as good as anything done overseas. "I must do this because much of my work is being shown in countries where the standard is extremely high. If mine is not equally high, I have failed myself. And even more important, it will not do anything for Australia."
As Modern as Tomorrow: Photographers in Postwar Melbourne was on display at the State Library of Victoria from 1 July 2011 to 5 February 2012.
Source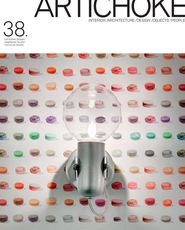 Review
Published online: 1 Mar 2012
Words: Colin Martin
Images: Courtesy of Lynette Anne Talbot
Issue
Artichoke, March 2012
Related topics