The modernist Peter Ice Cream factory administration building in Melbourne's Mulgrave has been recommended for state heritage listing by the executive director of Heritage Victoria.
The building was designed by the office of D. Graeme Lumsden and was officially opened by the Governor of Victoria Sir Rohan Delacombe on 12 May 1964. Lumsden's firm focused mainly on industrial buildings with commissions from the likes of Volkswagen Australia, Glaxo and Leyland Motors. The firm also designed the Royal Mail House office building in central Melbourne in 1963. Lumsden was described a "one of Australia's most successful industrial architects" by Neil Clerehan in his obituary for Lumsden.
Petersville is the manufacturing complex of the Peters Ice Cream company. The administration building is H-shape in plan and is set back generously from Wellington Road. Its projecting upper level supported by concrete columns and its narrow balcony is covered by a full height, full length, honeycomb patterned metal screen.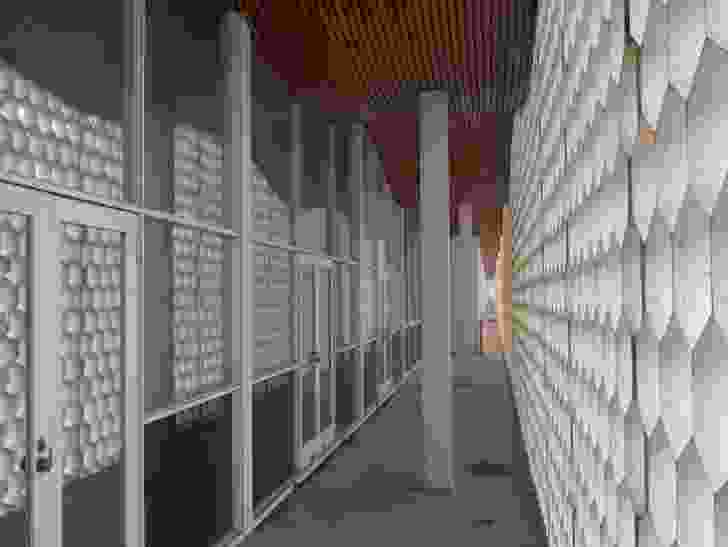 "The design of the Administration Wing incorporates both standard Modernist principles and more distinctive and decorative elements. Its unusual wave-form roof, full-length decorative screen, and prominent position alongside a major road, reflect the 'façade as billboard' approach to the design of factory administration buildings in the era," said Steven Avery, executive director of Heritage Victoria in his recommendation.
"The Administration Wing was designed to both announce an extensive manufacturing complex and reflect the corporate identity of Peters Ice Cream – a major food manufacturer." The company later expanded to include Four'n Twenty Pies, Edgell and Birds Eye.
The recommendation deemed the building architecturally significant "as a notable example of a post-war factory administration building."
The building was occupied by Peters staff until 2016 when a new administration building designed by Gray Puksand was built elsewhere on the site. The building is currently vacant.
An interim protection order was placed on the building in April 2019.
Related topics