NORMAN DAY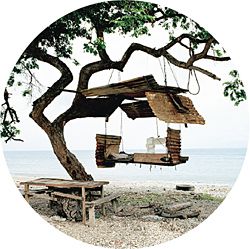 As architects operating in Asia we face complex demands. One is to provide international-level architecture, adopt world's best practices and help elevate local construction standards via our projects. We teach. The other is to observe how to operate in an Asian manner – we respect customs and histories much older than ours, and we learn to operate within difficult cultural mechanisms, which can be challenging. We learn.
In Timor-Leste we learnt mainly to listen. Our job was not to sermonize, but to capture the spirit of the people, while realizing how desperately poor they are, and to suggest options for long-term futures. We learnt to wait. For example, arranging a meeting in Dili at 10:00 am meant, for us, being at the place just before 10:00. For our counterparts, it would mean them leaving where they were at 10:00, perhaps arriving over an hour later. Patience.
Our architecture in Vietnam is premised on the basis of a respect for their cultural precedents. After all, the Vietnamese built their Temple of Literature (university) in Hanoi in 1076, making it one of history's earliest seats of education. We wished to reflect on traditions of planning, such as the Citadel and royal tomb layouts of Hue, but also the indigenous shaping of Vietnam villages built using timber frames and bamboo, and later the stark neoclassical villas of modern Vietnam, with their ambitious styles, colours, decoration and embellishments. But we also wanted the process of making our architecture to engage local habits and thereby use the most available commodity there is in Asia – people – to have the most impact on the building process. That way, the international funds that were paying for our projects would be absorbed into the Vietnamese economy and be recycled many times.
We have tried different means of delivering our services. One was based on us moving into Ho Chi Minh City as a group, living and working there. This is expensive and drains resources from the Australian base. Operational structures such as licences, taxes, rentals, staffing and the basics of living on the ground are not easily resolved and absorb valuable time from the main task. We then tried operating offshore with a small local presence and using local architects to outsource production. But that relies on the locals having the necessary knowledge and professional training and talent to implement the work, which we found wanting. It is an approach better suited to a long-term strategy for training and operations, not to an immediate project delivery.
Finally we hit on a hybrid model – we use our offshore base as the design studio, with a mix of local and international consultants, and a small management and administration team in Hanoi. Most documentation and production is managed in another office (which could be anywhere). Ours happens to be in Bangkok. This seemingly dislocated practice relies on having good people at each place and on sophisticated IT systems operating smoothly and fast.
The main trick to succeeding in Asia is no trick. You must embrace the culture and its people, accept the way their systems operate and realize also that they are willing listeners, they want to learn and they work hard.
Norman Day is a principal of Norman Day Associates.
JOHN DENTON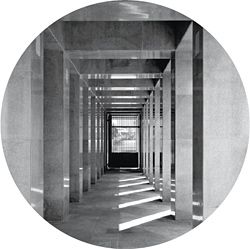 As I see it there are two main ways for Australian architectural practices to work internationally. One is to be a celebrity firm with an international reputation. The other – without that reputation – is to open a lot of offices to seek out the work locally. This is what we did twenty to thirty years ago. We have had offices in London, Warsaw, Hong Kong, Jakarta, Singapore, Ho Chi Minh City and Kuala Lumpur. Establishing an overseas presence is an expensive business, requiring a major investment that you're not likely to see a return on inside five years. It transpired that these arrangements were ultimately not ideal. We are a "design" practice and we prefer to design from a single point. A network of offices inevitably diffuses and degrades design integrity.
We now maintain just two key offices outside Australia, in London and Jakarta, with our design base in Melbourne. Over the past decade our decision to cut back offices coincided with technology advances that allow us to work remotely from a single location, namely speedier and more reliable transmission of large digital files anywhere in the world. For example, we won the international competition for the Manchester Civil Justice Centre with the Melbourne office sending the competition entry to London at 4:00 pm on the day of the submission closing. It arrived at the London printers at 7:00 am local time, and an eighty-page bound report plus mounted drawings were delivered to Manchester in time for the 2:00 pm closing. We would not have risked that a couple of years earlier.
The practice has largely been built around its success in competitions. We enter a lot and win enough to keep trying. Early competition wins levered us into subsequently larger and overseas projects, where increasingly we are working with local executive architects on projects outside Melbourne, be it Adelaide, Brisbane, Singapore or China, where the local design institutes commonly act as the executive architects.
London is key to our working across Europe and is the easiest place for us to operate from in terms of language and the regulatory regime.
Also, we are a UK registered company, which gives us an entry to EU projects that as Australians we would be excluded from. The London office manages our projects as far afield as the Caribbean, Sicily, Moscow and Portugal as well as central Europe. But the design comes from Melbourne.
We've worked extensively in China since designing the Australian Embassy in Beijing in 1982. We tried to get work in China by setting up a Hong Kong office, but found that Chinese clients didn't want to work with a Hong Kong-based practice. We now do all our China work from Melbourne, where we have sixteen Chinese-speaking staff, including a dedicated translator.
We opened the Jakarta office in the 1980s and it has come into its own over the past few years. Whether on resorts in Bali or office buildings in Jakarta – even a 10,000-seat charismatic Christian church – the office is very busy. Our Director Budiman Hendropurnomo (ex-Melbourne University) enjoys his close relationship with Australia and but for him we would probably not have persevered in Indonesia.
The new Australian Embassy in Jakarta and our $800 million office development in Singapore are our largest overseas projects currently.
John Denton is a principal of Denton Corker Marshall.
EARLE ARNEY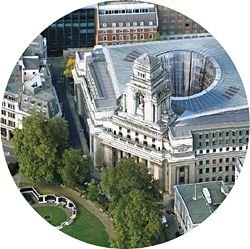 Woods Bagot's expansion across five continents in the past decade has been founded on a single guiding principle – "Global Studio".
During the last ten years the nature of our work and the size of our firm have grown significantly. A guiding principle of the directors has been to maintain the DNA that originated in the practice's initial successes and to ensure that it proliferated across all fourteen studios as we grew.
This led to the Global Studio concept – international expertise, combined with local knowledge to produce world-class design solutions mobilized within a very compressed response time. In essence, experts from across different sectors and disciplines are called in, virtually and physically, from any one of our global locations to lend their experience to projects of significance anywhere in the world.
A prime example of the Global Studio ethos is the Qatar Science and Technology Park (QSTP), a collaboration between our Dubai, Melbourne and London studios. This project has been recognized globally by our peers, including the Leading European Architects Forum. The ability to bring design of the highest order in conjunction with local knowledge to create a research-based design solution was fundamental to its success.
A similar engagement of specialists happens daily. As I write from our London studio, I have within the past two days collaborated face to face with colleagues from Melbourne, Hong Kong, Dubai and New York. I believe that this mobility, the willingness to collaborate and gearing our firm's structure to celebrate a combination of skills produces the best architecture and also provides the best opportunities for our staff.
While Woods Bagot can now be considered a global studio, our Australian roots are never forgotten and designers from the Great Southern Land work in most of our international offices. Australian education is world-class and highly valued overseas, particularly in the United Kingdom. Australian architects bring a fresh perspective and respect for European cities. I have also found that Aussies are particularly adept at integrating with others – a skill that is invaluable in the Global Studio structure.
Surprisingly, there are still occasions when we are described as an "Australian firm". We are in no doubt as to where we originate but the firm has now expanded beyond such easy definitions. Indeed, to succeed at the most senior level of Woods Bagot demands a passport, but the colour of one's passport is irrelevant.
In older, established markets such as London and New York, we have found that our proposition of collegiate expertise spread across studios, and not reliant on a single "star" designer, is compelling. So much so that last year the architectural fraternity in the United Kingdom recognized us as the AJ International Practice of the Year and this year as the Design Practice of the Year. Our recognition outside Australia (often greater than within) has come about by our people relocating to these markets, by hiring local designers, and by taking the time to understand the context in which we practise and what our local clients and the environment demand.
I believe that the days of "iconic" architects who jet in and out of far-flung locations for an afternoon of review meetings will soon be history. It is our civic responsibility as architects working internationally to maintain a thorough understanding of context, respect local relevance and demonstrate design creativity at the highest level. The "suitcase architect" is challenged to effectively achieve such outcomes. Most of all, as architects "abroad", we must strive to create places that are deeply embedded in an understanding of place and a contemporary celebration of diverse landscapes. This requires a rethinking of past models of practice.
Earle Arney is a director of Woods Bagot, responsible for workplace globally and currently leading the design of a forty-storey tower in the City of London.
RORY HYDE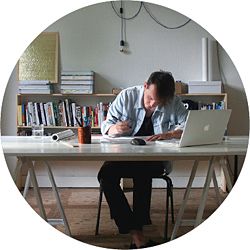 It's quite surprising to be invited by Architecture Australia to reflect on my practice for the international issue. When people say "oh, they have international work", the implication is that their practice is so large and successful that they've outgrown their local pond. Well, that's certainly not true in my case.
I left Melbourne for Amsterdam looking for a different, more expanded conversation. The definition of "architecture" in Australia seemed somehow limited, largely perceived and understood as simply a commercial profession. As someone equally interested in research, broadcasting, teaching, writing and events – as well as the design of buildings – I had a hunch there was something else happening in Europe.
I currently work on my own as a freelancer out of an apartment in Amsterdam's south. My projects have ranged from the more conventional – interiors for an ad agency and an apartment in Amsterdam, and product design work for Viktor and Rolf – to the more speculative, including running a satellite studio of the NAi, various interventions under the banner of "unsolicited" architecture, and some editing and writing for Volume magazine. I still have ties to work back home, designing a beach house for a site near Geelong and preparing for a trip to Venice to report on the biennale for The Architects radio show.
While this mix of projects can make one feel slightly schizophrenic, in the Netherlands it is not an unusual scope. A certain breed of architect exists here who is perhaps closer to the fine artist than the professional practitioner. This is made possible largely by funding opportunities specifically for architects to support independent research or to build speculative proposals, for example. Although this system has its shortfalls, it does encourage a different kind of exploration of the medium and creates space for practices not purely focused on building.
And yet to call this a "practice model" would be too generous. My hodgepodge of projects is simply the result of random opportunities which I am pleased to be able to survive off. The most exciting of these opportunities was to work with Rem Koolhaas on Al Manakh, a publication project on the architecture and urbanism of the Gulf States in the Middle East. He spoke angrily of the questionable professional ethics of consultants working in the region, and the poor quality of their built work. It was my job to find out as much as I could about these practices, many of which are of course Australian.
Through regular visits by the team, working with our network of over one hundred contributors in the Gulf, phone interviews with architects and clients over there, and a lot of digging around on the internet (skyscrapernews.com is basically WikiLeaks for the built environment), we were able to put together a fairly comprehensive picture of the way these practices operated.
Although the book is firmly focused on the Gulf, underneath it is ultimately concerned with the way architecture and urbanism interface with the larger forces of global capital, human rights and political and social change. These issues are inherently international in scope and offer lessons for architects and researchers operating all over the globe today, whether they be big multinationals or one-man bands like myself.
Rory Hyde is a freelance architect based in Amsterdam.
CHRIS BOSSE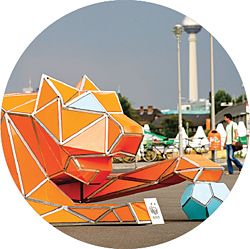 There is an old saying: why would you buy a cow when you wanted a glass of milk? Or, why would you employ specialists in every possible discipline and building type – marine architects, ski slope designers, retail gurus, event planners – just to service all potential clients' potential projects and to engineer, document and site-supervise them?
As a practice we decided early on that our biggest asset is our good ideas and our vision for the future potential of a place. Being classically trained architects who keep Vitruvius in mind – where the architect knows about medicine, geography, biology, materials, climate, space, art, philosophy, literature and red wine, while coordinating an army of professionals in all those disciplines – we content ourselves with just that. We bring the best people on board for each project; we custom-tailor the team to the job and coordinate it from various epicentres in a polycentric network. We spread ourselves across the globe in smaller teams of highly skilled experts, who know a little bit about everything and about how to bring ideas to life.
The only problem is the perception of clients. "If you are not huge and you haven't done this for one hundred years, well you can't …" The main reason big traditional companies are in business is precisely because they are big traditional companies and it is assumed that only they can do the job. Their track record is often based on people who left years ago, and the internal politics often surpass those of federal elections.
Traditional practice is based on experience, knowledge and capability ("How many opera houses have you built in the past five years?"), but this also means predictability, repetition and mass production. The emerging mode of network practice is based on novelty, curiosity, innovation, and emergence of new ideas and vision. This leads to a true contribution to culture in a Vitruvian sense, making use of the latest materials technologies and craftsmanship to create spaces for the generation we live in. And such practices do actually care about the project. For every question out there we will find the right team who can answer exactly this question, and find an answer that you didn't already know in the first place.
And things change … Now, if you didn't want a glass of milk in the first place because you have become lactose-intolerant or you are now into diet coke, wouldn't the cow have been a pretty bad investment?
Chris Bosse is a director of LAVA: Laboratory for Visionary Architecture.